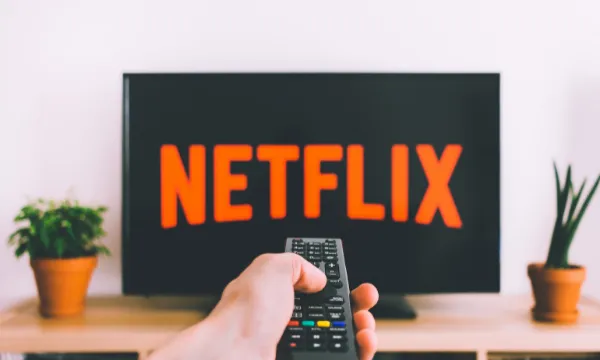 Just 15-20 years ago we had no idea that there would be so many options available in TVs based on different platforms and features. The TV viewing experience has evolved rapidly because of the latest technologies being developed and the massive amount of quality content being produced.
The availability of so many apps and media content across multiple streaming platforms has also made smart TV system a must-have thing in households. But choosing one type of smart TV over the other comes with the dilemma of missing a lot of things.
One key purpose a smart TV serves in comparison to the previous TVs is the option to use the internet. And different operating systems in smart TVs give you that option modified in their own way. Android TVs are also a type of smart TVs but there are some uncommon things between Android TVs and other smart TVs.
Here, we are discussing what separates an Android TV from other smart TVs. Firstly, we will see what they offer in general then a detailed 'Android TV vs smart TV' comparison will follow.
Comparision Of Smart vs Android TV
Smart TVs
A simple definition of smart TV is, 'the TV that runs on an operating system, has the internet accessibility and a lot of apps can be run on it. It is pretty much like a computer but mainly meant for entertainment at homes, offices, hospitals, airports, cafeterias, hotels, etc. Web browsing, surfing, video calling, gaming, etc can be done on a smart TV.
Smart TVs started getting produced for common households in the late 2000s and till the late 2010s, they were immensely popular all over the world. With dozens and dozens of big tech companies manufacturing and marketing these TVs, their sale surpassed the sale of traditional flat-panel TVs.
The features of a smart TV may vary from brand to brand and model to model. The operating system, screen resolution, refresh rate, processor, sound technology are some major factors that determine the performance of a smart TV.
Android TVs
As we said earlier, Android TVs are also smart TV and most qualities you find on smart TVs stand for Android TVs as well. In fact, Android TVs are the latest development in the smart TV arena. And the users have an edge in a lot of aspects over other smart TVs here.
Android TV is basically your phone's Android system but specifically designed by Google to run on your TV. When you unlock your Android phone, you can see the apps and widgets on the home screen. On Android TV, you see different horizontal bars with titles and apps recommended to you based on your usage and watch history.
A lot of Android and iOS games that you might have enjoyed on your phone can be found on Android TV's Google Play Store. Another prominent feature of an Android TV is voice search using the Google Assistant. The top brands to sell Android TVs are Sony, VIZIO, Phillips, Hisense, etc.
Android TV vs Smart TV: Head To Head
We hope you have a broad overview of what Smart TVs and Android TVs are. Now, let's compare them according to the feature they offer and how your TV viewing experience with both these types of TV is going to be different.
User Interface
In smart TVs, the webOS by LG is considered to have the best user interface among all other operating systems including the Android TV. This has become more true with the latest webOS 6.0 update. It has got a very minimalistic look with access to your favorite apps on the home screen. With the new update, you also see the apps on full screen.
The UI in Tizen OS by Samsung is similar to the older webOS. At the bottom of the home screen, you see a shortcut for apps just like there is a taskbar on your PCs. Another segment on the left side gives you access to recently used apps. We will discuss more under different segments below to give you more understanding of the UI in smart TVs.
The UI of the Android TV is very much similar to the Android devices. It is pretty user-friendly with easy navigation right from the home screen. The first row on the home screen of Android TVs is different according to the companies they are sold by. Then there is a ribbon for popular streaming apps based on your usage and below that you get suggested content from different platforms based on your interest.
Speed
The high-end Android TVs come with powerful processors so that the TVs can offer seamless performance. But Android TVs are not as fast as the other smart TVs. Both the webOS and the Tizen TV are operating systems based on the Linux platform. They offer you faster search results and switch fast from one app to another.
The webOS LG TVs also allow you to minimize and app keeps it in the background. You can quickly access it later. That being said, Android is also doing its best to give a tough fight to other operating systems. The latest Android 9.0 in the new Sony TVs like Sony XH90 are very fast and smooth.
Overall, if you have a high budget, you don't have to worry much about speed on Android TVs. But for mid-range and low-budget TVs, other smart TVs are better in terms of performance.
Apps
Most of the smart TVs come with a pre-installed apps library and you don't have many options. But when it comes to Android TV, there is no popular app missing. The Google Play Store has thousands of apps and games you can download on your TV.
Major streaming apps like Netflix, Prime Video, Hulu, HBOmax, Apple TV, and YouTube run very smoothly on an Android TV. If you love listening to music on Spotify, Android TV is the best TV platform for that. Apart from this, learning apps, news apps, file sharing apps also run on an Android TV.
Another good thing about the Android TV is that you can sideload apps on it through your phone. This feature is missing on all the other OS like WebOS, Tizen, Roku TV, and Fire TV.
In smart TVs, webOS is the platform that comes nearest to the Android TV. It has all the popular apps you need for streaming your favorite movies and TV shows. You can also download apps from the LG content store on your webOS smart TV. Tizen OS by Samsung also offers similar apps available for free.
Firmware and Apps Updates
The apps on the smart TVs don't get updates from the developers frequently. But on Android TV, the apps get updated regularly and you are up to date with the latest features of your favorite apps.
You do not require firmware updates in TVs that often, so the new update can come after a year or two. LG's webOS brought major changes in the 6.0 version this year. The updated home screen will be more customized and the voice command has also been improved. Tizen OS by Samsung is a Linux-based platform and they too give firmware updates after years. But your TV will be upgraded quickly when the update comes.
The same is true for Android TV. You get a regular update for the apps but the firmware update comes after a long time. The process though is very easy and you set the auto-update to 'ON' so that the new update is installed overnight.
As LG has now started licensing their webOS platform to other TV companies, their smart TVs might overpower the Android TV in this segment. As there will be more devices with the operating sytem and more users for the apps, you will experience drastic changes in the TV app and firmware. It is already evident from webOS 6.0.
Voice commands
When it comes to voice commands no one is winning or losing here. Earlier the Android TVs had only the Google assistant compatibility but now they too have included Alexa in their catalog. The smart TVs of Samsung and LG already support Amazon Alexa and Google Assistant so that you can control the TV from your phone or the respective devices.
Samsung also has its own Bixby AI that is found on their high-end devices. But voice search should not be much of a concern while choosing between Android TVs and smart TVs because they all offer almost the same convenience now.
Screen Casting
Android TVs have a built-in Google Chromecast for casting content from your Android phone on the TV. It does so without compromising on the video and sound quality. This is the best screencasting system you will find on any smart TV. For iPhone users, Android TVs can use the AirScreen app to cast from their phone to the TV.
Smart TVs other than the Android ones aren't that smart with the casting feature. The LG webOS's Miracast is pretty average for mirroring your Android phone to your TV. It supports up to 1080p quality and the sound quality is not that impressive.
The Tizen TVs are too use Miracast and other screen mirroring systems that mostly get a thumbs down from buyers. However, smart TVs can also get better at screencasting by using an external device called Google Chromecast.
Final Word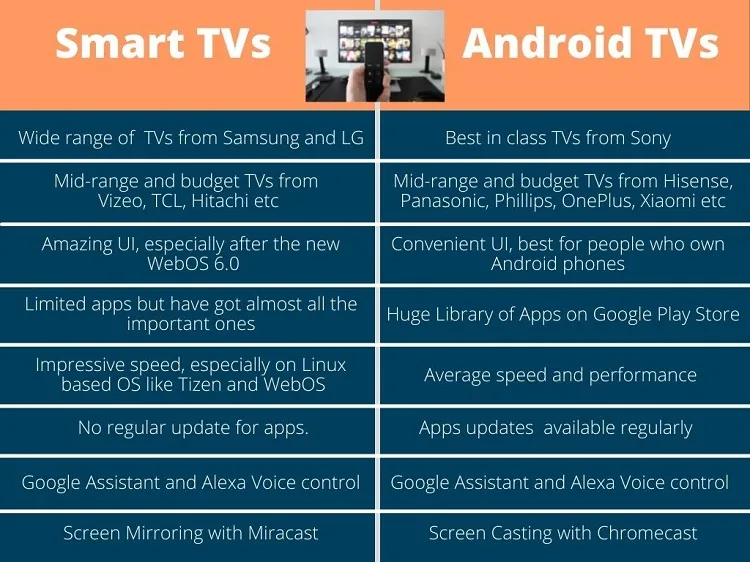 Generally, all types of TVs have some pros and cons. Also, there are a lot of similarities between the Android TVs and the other smart TVs. We have given you a detailed outlook of the factors that play a key role in selecting one of them.
Some things like budget, Image quality, Sound Quality, and the processor totally vary from model to model of the TV makers. You can find them totally apart or almost the same in Android TVs and smart TVs.
Considering the factors we examined, Android TVs do seem to be a little advanced than others. They have more apps, a familiar user interface, better screencasting, and the latest updates for the apps. But low-budget Android TVs can disappoint you at times.
If you are not much concerned about using Android apps, you can opt for other smart TVs. The new updates on Tizen and the webOS have also facilitated a phenomenal development for smart TVs.
FAQs
Which operating system is best for TV?
It depends on your usage requirements. If you want to use your favorite Android apps seamlessly on your TV and also screen-cast high-quality videos and music from your phone, laptop, etc, Android TVs are the best. And, if you are looking for a smooth user interface and fast performance, go for the webOS or Tizen OS.
What are the best apps for Android TV?
Apart from the popular video streaming apps like Netflix, Prime Video, Hulu, YouTube, Disney+, etc, Music apps like Spotify, Saavn, and Pandora are good apps for music lovers. Other useful apps on Android TVs include Google Chrome for browsing, AirScreen for mirroring your iPhone or iPad, and VLC for playing videos.