Struggling with weak signal connectivity? Unable to watch your favorite TV channels? Facing constant interruptions while watching TV due to poor signal reception? The solution to all these commonly occurring issues is simple, the Omnidirectional TV antenna!
Having a 360-degree beam width, Omnidirectional antennas can receive signals equally from all directions unlike a directional antenna which focuses on receiving signals from one particular path. With its strong signal connectivity, Omnidirectional TV antennas not only prevent any signal interruptions while watching TV but also enable users to access multiple TV channels including HD which were otherwise unavailable due to poor signal connectivity.
However, purchasing a good quality Omnidirectional TV antenna that promises optimal performance can certainly be an ordeal due to the availability of numerous competing brands. Therefore today, we're bringing you our list of the 7 Best Omnidirectional TV antennas from highly reliable brands that are sure to deliver spectacular performance so you can experience smooth, convenient, and uninterrupted TV viewing sessions!
Best Omnidirectional TV Antennas
1. 1byone Antenna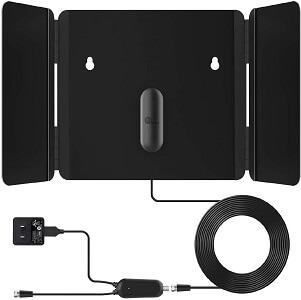 Starting off our list with one of the most popular and reliable brands, the 1byone Omnidirectional 2020 edition TV antenna possesses a unique and advanced interior design having 2 foldable side panels with an enhanced VHF 360 degree signal reception which allows users to access multiple 720p and 1080p channels. This helps users save money by avoiding expensive cables and satellite connections.
The antenna not only has a 120-mile long-range reception but is also equipped with an advanced clean-filter technology that blocks any cellular or FM signal for high definition picture and better sound clarity. The high-quality 16.5 feet coaxial cable allows users to install the antenna anywhere at home with extreme ease and its protective insulation coating helps prevent any electromagnetic and radio frequency interference. Enjoy smooth, high quality, and HD clarity at minimal cost with the 1byone Omnidirectional TV antenna!
Specifications:
Color: Black
Weight: 1.32 pounds
Dimensions: 19.7 x 9.6 x 0.2 inches
Easy to install and use
Lightweight
Adjustable reception
Long coaxial cable
More than 100 mile range
2. RCA Flat Digital Antenna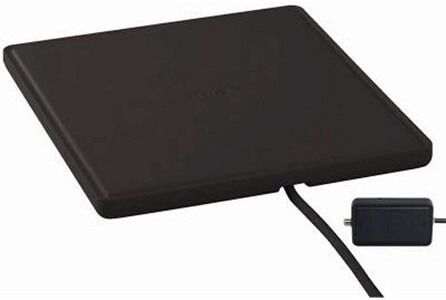 The RCA flat digital multi-directional antenna features a patented sleek and low profile design offering a 360-degree signal reception with a maximum 20 mile range which also amplifies weaker signals for strong connectivity.
The antenna supports 1080p broadcasts and offers high picture clarity and audio so you can enjoy HD channels at ease. Along with a built-in Coax cable, the antenna is also extremely easy to position allowing you to lay it flat, hang it on walls or simply stand it up thereby offering flexibility for the best signal reception and convenience.
Moreover, the RCA flat digital antenna has a paintable body enabling users to paint the antenna which would best suit the aesthetic of the house without disturbing the beauty.
Specifications:
Color: Black
Weight: 2 pounds
Dimensions: 8x7x9 inches
Easy set up with flexible positioning
Multiple HD channel availability with clear image and great audio
Sleek, compact and modern build
Short reception range
Amplifier sometimes fails to perform optimally
3. Antop Digital Omnidirectional TV Antenna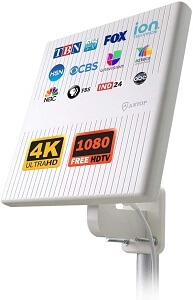 The Antop Digital Antenna possesses a sleek modern build with a UV coating which helps enhance its durability. Equipped with built-in crystal clear-filter technology, an upgraded amplifier signal booster, and a next-generation smart IC chip, the antenna is able to not only pick up signals from an 85+ mile range but also offer crystal clear image clarity for HDTV shows between 720p, 1080p, and 4K.
Speaking of shows, the Antop Digital Antenna can receive some free HD channels thereby helping customers save money by not purchasing an overpriced monthly subscription for entertainment channels. Moreover, the antenna also includes a Coaxial cable with a strong copper wiring and removes any signal interference for a smooth and reliable high definition signal reception.
Finally, the Antop Digital Antenna is extremely easy to set up and can be conveniently stuck on walls or hung under a roof to best suit the user's desirability in terms of adjusting its positioning.
Specifications:
Color: White
Weight: 3.41 pounds
Dimensions: 12.28 x 12.12 x 4.92 inches
Great picture and audio clarity
Easy to install
Lightweight and durable
Good signal reception quality
4. Lava OmniPro HD 8008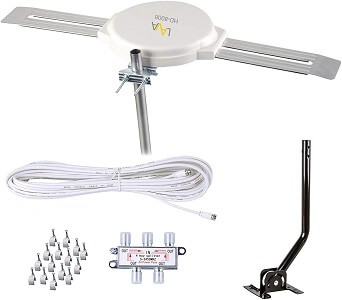 From one of the most well-known and top-performing brands, we have the Lava OmniPro HD 8008, having a spectacular 150 miles long-range and full 360-degree reception which is the perfect antenna for both rural and urban areas.
The antenna has a special coating that not only makes it waterproof and durable but also protects against harsh Ultra Violet rays. Moreover, the antenna is equipped with a low noise amplifier for enhancing signal strength and is even capable of receiving UHF, VHF, and FM signals.
Offering over 45+ HD channels to choose from, the Lava OmniPro HD 8008 is bound to keep you and your family entertained with the latest TV shows, news, and movies without spending enormously on expensive monthly cable/dish TV subscriptions. Simply set up the Lava OmniPro antenna at your preferred spot and without requiring any tuning or adjustments, enjoy your viewing experience endlessly!
Specifications:
Color: White
Weight: 7.11 pounds
Dimensions: 17.24 x 11.77 x 6.49 inches
Easy to install and use
Good reception
High image and sound clarity
Durable and waterproof
Comparatively lesser number of HD channels available
5. Antennas Direct ClearStream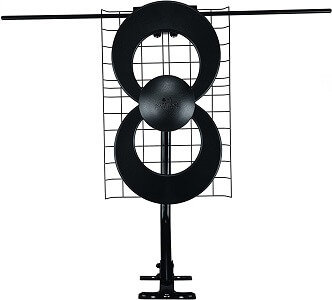 The Direct ClearStream antenna has a unique ecliptic ultra-thin loop-shaped design which is also easy to set up on any smooth surface of your choice without any hooks, velcro, or damage to your wall. It's advanced patented technology is able to receive a greater range of frequencies with over a 60-mile range and a wide beam angle with a dedicated UHF and VHF multi-directional element for optimal signal connectivity.
The antenna also includes a ClearStream 15db USB in-line amplifier system to further boost your signal reception which is ideal for suburban and rural areas where due to heavy foliage and roofing material, the signal range and connectivity are highly compromised.
You can now enjoy a variety of your favorite tv shows and news channels such as ABC, NBC, CBS, FOX in full HD and 1080p absolutely free thereby helping you save your wallet whilst witnessing non-stop entertainment!
Specifications:
Color: Black
Weight: 5.1 pounds
Dimensions: 9.13 x 11.75x 20.06 inches
Easy to install
Ultra-thin attractive design
Great signal reception
Crisp image and audio clarity
Weather conditions does compromise it's reception
It's ability to stick to walls and surfaces wears out overtime
Short Coax cable
6. 1byone 360 Antenna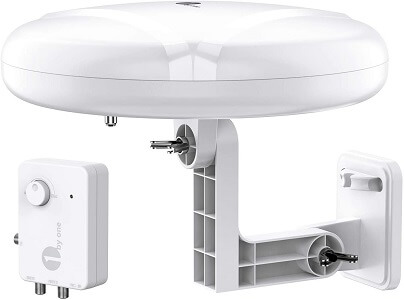 Another spectacular addition to our list from 1byone, we have the 1byone 360 degrees Antenna having enhanced durability and the ability to withstand harsh weather conditions from rains to wind without compromising on its performance. Not only is the antenna waterproof and snowproof, but it is also coated with a special high tech anti UV ray coating which provides sufficient shielding to the antenna for long term durability.
Moreover, the antenna has the ability to receive signals from all directions without needing frequent rotations and an improved VHF reception with a 150+ miles range which helps provide users with an array of HD channels including local broadcasts, news channels, and much more completely free of cost and no expensive monthly bills.
Furthermore, the 1byone 360 antenna ensures users a smooth and uninterrupted TV viewing experience due to its built-in 4G LTE filter that shields any signal interference thereby blocking all unwanted 3G and 4G wireless signals which help deliver stable connectivity. Get the 1byone 360 Antenna now to enjoy a TV visual feast with the whole family!
Specifications:
Color: White
Weight: 4.14 pounds
Dimensions: 12.8 x 12.1 x 5.8 inches
Easy to set up
Lightweight, durable and weatherproof
Crystal clear HD image and audio clarity
Long range reception
Antenna has a bulky frame
Short coax cable
7. Direct 8 Bowtie Antenna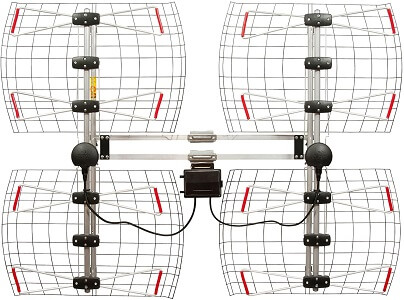 Finally, on our list, we have one of the most powerful 8 element bowtie antenna, the Direct 8 bowtie antenna which includes all-weather mounting hardware and possesses an unparalleled gain of 17.4 dBi establishing itself as one of the finest and most powerful antennas in the market today!
Not only does the antenna have a multipurpose arrangement to enhance its flexibility and ease of installation, but it's patented technology enables it to receive signals from 70 miles away making it highly ideal to use in rural and suburban areas where due to heavy foliage and roofing materials present, signals are hard to receive. With it's added ability to protect against multipath interferences, the Direct 8 Bowtie Antenna is bound to deliver unmatched performance against other extreme range bowtie antennas indeed.
Moreover, the antenna offers users a variety of broadcasts from networks such as ABC, CBS, NBC, Fox, and plenty more news channels and shows of your desired choice in crystal clear full HD so you can experience your favorite content in spectacular high resolution surpassing the likes of cable and satellite performances. The Direct 8 Bowtie antenna packs half the size of legacy bowtie antennas but delivers twice the power so you and your family can enjoy the finest TV viewing experience with no interruptions and maximum benefit!
Specifications:
Color: Black
Weight: 10 pounds
Dimensions: 36 x 6 x 48 inches
Great build quality
Spectacular signal reception
Easy installation
Heavy and bulky frame
Comparatively more expensive
ALSO READ: Best TV Screen Cleaning Kit
And that concludes our list for the Best Omnidirectional TV antennas! Say goodbye to expensive monthly cable and satellite subscriptions and welcome high clarity full HD TV shows and broadcasts of your favorite choice with these omnidirectional antennas! Our list consists of antennas from some of the most positively received and highly popular brands thereby bringing you only the finest to choose from.
They're extremely easy to install, absolutely suitable for rural and suburban areas and are sure to provide you and your family with nonstop entertainment. Grab your Omnidirectional antennas antenna now and change your TV viewing experience!
1. Checklist Before Buying Omnidirectional TV Antenna
Price: Now the first thing you would want to look for before buying an Omni directional antenna, is the price point. The purchase of an antenna should help you cut down on expensive monthly costs due to a cable or satellite system. Hence the price you're looking for should not only help you save money by shifting to an antenna but must also be suitable enough to justify the content and performance it delivers.
Range: Another major factor to consider, is the range of the antenna and the maximum distance it can perfectly receive signals from. Ideally, you should opt for long-range antennas as it would help further enhance its performance and deliver smoother and better quality content with HD clarity due to its ability to pick up strong signals from greater distances.
Size: The size of the antenna is an essential factor to consider as it will eventually determine where you finally position it in your house. Opt for the most suitable size according to where you desire to position it so that it not only works best with the environment of your house but also helps the antenna receive strong signals with no interruptions. If you have much space to spare, you can go for a bulkier size. However, if you require a compact and smaller antenna, choose one which is sleek, compact, and ultra-thin.
Durability and Build Quality: The antenna's ability to last long and provide long term performance depends upon its durability and build quality. Hence you must keep in mind whether the antenna possesses essential qualities such as its weatherproof capability, the UV coating it has, and its ability to withstand harsh weather conditions.
Essential Features: The antenna must contain important features that help contribute to its optimal performance such as 4G filters, the ability to prevent multipath interference, and block out unnecessary signals in order to provide smooth and uninterrupted high-quality TV content.
Directional Vs Omni Directional TV Antenna
Directional antennas are designed to receive signals from great distances from only one particular path by literally facing the direction of the transmitter and possess a strong signal reception. They cannot pick up signals from various directions and hence this eliminates any multipath interferences or signal interruptions that antennas may face.
Omni Directional or Multi-Directional antennas on the other hand are designed to pick up signals from multiple directions and are not focused on a specific path. These are a great choice of antennas to opt for when numerous transmitters are situated relatively close to one another thereby giving a powerful signal reception. However, due to its ability to receive signals from various directions, the Omni Directional antennas also tend to face multipath interference issues and pick up unnecessary signals and frequencies.
This is exactly why good quality Omni directional antennas are often engineered in such a way, that grants them the ability to block out unnecessary signals and prevent any multipath interference or interruption while picking up signals to deliver high-quality performance.