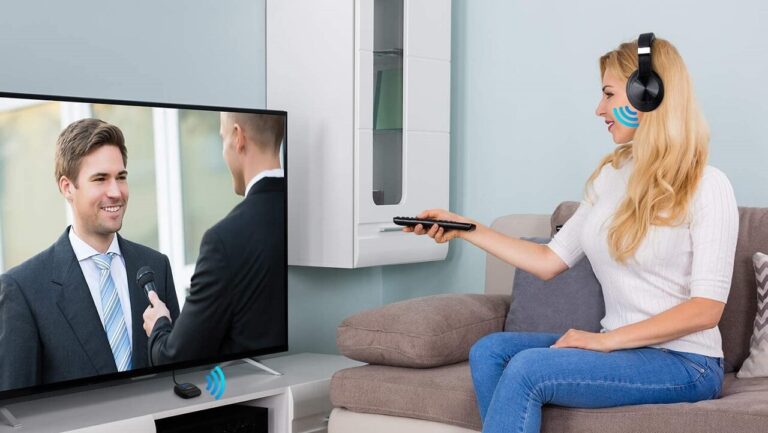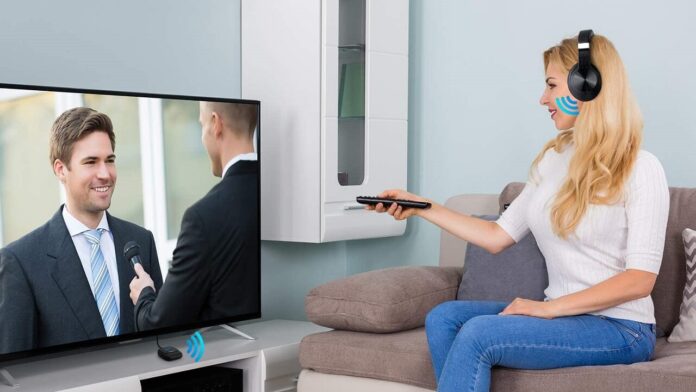 Do you want to enjoy watching TV at your home, late at night, but without disturbing your family members? Or do you want to listen to your TV's audio in a louder or clearer volume?
A lot of our old TVs and PCs do not come equipped with Bluetooth technology which is very important for connecting them to your earphones and speakers. And this problem can be solved easily by using a Bluetooth transmitter with your TV.
Here, we have listed the best Bluetooth transmitters for TV to make them connect to your wireless audio system. All these transmitters have different ranges, compatibility, and other useful features. Our descriptions will surely help you to choose the best one for you.
List Of The Best Bluetooth Transmitter For TV
1. 1Mii B06TX Bluetooth 5.0 Transmitter for TV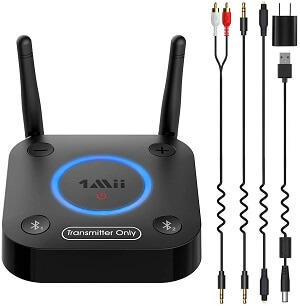 The first Bluetooth transmitter we are introducing to you is by 1Mii. They are known for making Bluetooth adapters and amplifiers to make your audio experiences more dynamic. This transmitter is an ideal companion for your old TV that did not come with an in-built Bluetooth feature.
It is very easy to install the device and you need not be an expert in wired and wireless connections. The device is powered through a 5V power cable from any USB port on your TV or a USB power adapter plugged in near your TV.
It supports 3 audio outputs i.e Optical, AUX, or RCA audio output. So most of the TVs available in the market today can use this device even if they do not have a USB port.
At once, you can connect up to 2 Bluetooth devices to enjoy the audio from the TV without disturbing the people in your room. There are two dedicated Bluetooth buttons on the device itself to quickly pair your headphones or the speakers with the TV.
1Mii B06TX Bluetooth transmitter device has a dual antenna to enhance the TV signal. Because of the antennas, the operation range of the device is very long and you can go with your Bluetooth headphone up to the distance of 60 meters.
The voice you'll get to listen to is of crisp quality due to the Aptx technology. This technology is mainly on the device to curb the latency and minimize the lip-sync delay.
2. ZIIDOO Bluetooth 5.0 Transmitter and Receiver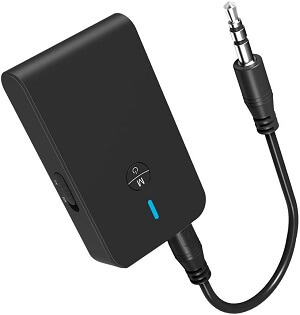 This is the bestselling Bluetooth audio transmitter on Amazon that helps you keep the entertainment at your home to yourself. It is compact, it comes in a pocket-friendly budget, and it has 2 different functions.
The primary function of the device is common i.e. to work as a transmitter to stream audio from your TV and PC devices to your Bluetooth speakers. Secondly, you can wirelessly stream music on your non-Bluetooth speakers with help of this device.
You can play music from your phone not just on the wired speaker you have at home but also on your car speakers. It is easy to switch between these two modes – transmitter (TX mode) and receiver (RX mode) by toggling just one button on the device.
Its Aptx low latency technology ensures high-quality sound without any audio-visual delay. The signal transmission is strong and very stable with the fairly reliable Bluetooth 5.0 technology. To use the device, you just have to plug it into your non-Bluetooth device with the help of an AUX cable.
Some buyers have complained about a noise you hear when this device is connected to your TV. That is because of an unwanted feature on the device i.e a microphone.
In case you face this issue about noise, you can remove this small microphone and enjoy your TV audio without interruptions.
ZIIDO Bluetooth transmitter is powered through a rechargeable lithium-polymer battery. The transmitter weighs only 3 ounces and can be carried around easily.
3. TROND Bluetooth V5.0 Transmitter Receiver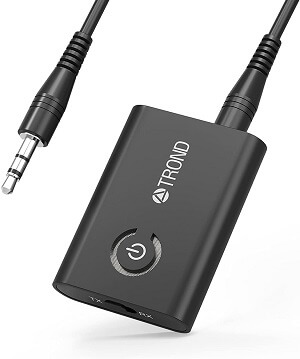 TROND makes a lot of high-quality products that can solve our day-to-day connectivity and compatibility problems. They have some of the most-rated travel and Bluetooth adapters on Amazon. TROND Bluetooth transmitter offers similar functions as the ZIIDO transmitter and receiver.
It is powered by a premium csr8670 chipset to support its Aptx low latency technology. This Aptx low latency helps you receive clear sound in both receiver and the transmitter mode.
The audio works in perfect synchronization to the video and you get to listen to seamless audio from your TV, MP3, CD players, PCs, etc.
The dual-stream function of the transmitter allows you to enjoy music on two Bluetooth devices at the same time.
You can pair two phones or tablets in the receiver mode too, but then your speaker will receive audio from only one, at a time. Also, when you connect two devices simultaneously, the audio quality is compromised a little bit.
4. Carpuride Bluetooth Transmitter for TV/PC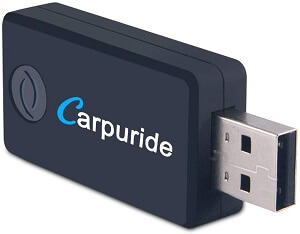 Capuride has a good compact Bluetooth transmitter device for your TV. You can connect this to a lot of audio output devices other than your TV i.e CD players, PCs, MP3/MP4 devices, etc.
The TV you want to transmit audio from must have 3.5mm headphone output or an RCA audio port to be compatible with this transmitter. To use it with the PC, you do not need any jack or the AUX cable.
This Bluetooth TV transmitter device can transmit audio to all the Bluetooth devices you have like stereos, earphones, speakers, etc. It is equipped with Aptx low delay technology.
There is no need for charging as this device does not have an in-built battery. You do not even need a separate power source for this Bluetooth device as it is powered through your TV'S and PC'S USB ports as soon as you switch them ON.
If your TV has an audio jack but not a USB port, you can plug the transmitter into any other 5V USB outlet of a charger or other device.
Using a Carpuride Bluetooth transmitter, you can stream audio to 2 headphones at once. The working range of this adapter is around 10 meters which is ideal for enjoying your favorite shows in your TV room without disturbing anyone.
5. Avantree Oasis B Bluetooth 5.0 Transmitter Receiver for TV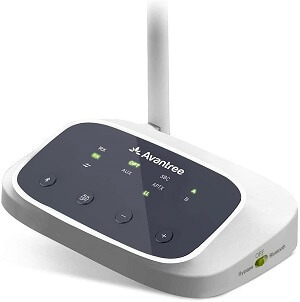 This is one of the best dynamic Bluetooth transmitter devices available online for your TV. It is actually more than just a transmitter and has overall 3 functions.
Firstly, you can use this device to stream audio on your wireless headphone from your TV, PC, or even a radio. The RX mode can add two Bluetooth devices at a time and play simultaneously.
Secondly, this Bluetooth TV adapter can be used as a link between your TVs and the soundbars or home theatres that do not have Bluetooth compatibility. It works because of the bypass mode made for the time when the Bluetooth is already occupied with another gadget.
And lastly, it can act as an audio receiver to stream music from your phone or laptop to your wired speakers.
Oasis B Bluetooth transmitter by Avantree is an improved version of their previous variants. It is capable of removing the audio-visual lag from your devices because of the Aptx low latency codec technology it houses.
For enjoying your music and TV shows better, Avantree has suggested you try their headphones as they too come equipped with the same technology.
The range of this transmitter is very impressive with up to 50 meters. There are minimum chances of wireless interference but physical obstructions in between can harm the Bluetooth signal strength.
It has optical, AUX, and RCA audio ports, so most of the TVs in the market are compatible with this device.
6. TOKSEL Bluetooth 5.0 Transmitter Receiver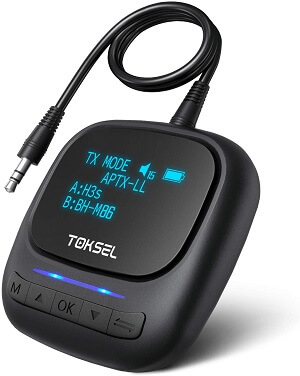 Here is another TV Bluetooth adapter by TOKSEL and it comes with an OLED screen. This screen shows you a lot of information including the Bluetooth headsets or speakers available to connect. And then you can choose the device of your choice leaving no chances to connect to the wrong device.
With the latest Bluetooth 5.0 technology and the OLED screen, this is probably the best Bluetooth transmitter for TV you will find online.
This is a 2-in-1 device that is capable of transmitting audio to your Bluetooth headset and speakers from your TV and also stream audio on wired headphones and speakers from your phones, tablet, laptop, and gaming consoles.
It can transmit audio to your devices without any syncing delay. The Aptx low latency is supported on this transmitter but the audio output device must support the same for best results.
TOKSEL Bluetooth transmitter comes with a rechargeable battery that you can charge through a micro USB charging port at the back. It can charge fully in 3 hours and last up to 18 hours.
This transmitter also has 15 levels of volume controls. Its operating range is around 10 meters. You can carry this small, compact device to carry anywhere easily.
7. 1Mii B03 Long Range Bluetooth 5.0 Transmitter Receiver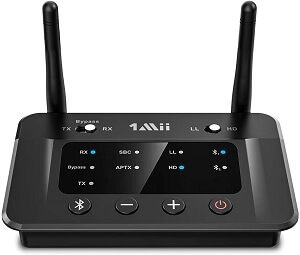 1Mii has another Bluetooth transmitter for you that is made for transmitting audio to your listening devices placed at longer distances.
This one too has 3 functions like the Avantree Oasis B Bluetooth transmitter we discussed above. It can stream audio from your TV and PC to Bluetooth devices, stream audio from your phone, laptops, etc to the wired speakers, and thirdly, bypass audio from one device to another.
The range of this device without physical barriers is around 70 meters which is the best in these types of devices. In the indoors with walls in between, the range is up to 25-30 meters. So using this Bluetooth transmitter, you can listen to what's playing on your TV in a different room.
You can also use this 1Mii transmitter as a Bluetooth extender by connecting it with short-range devices.
This device supports different audio connections i.e. Optical, 3.5mm AUX jack, and the RCA audio output. Most TVs, Home stereo speakers, projectors, PCs, etc will be compatible with it.
The transmitter features Aptx low latency technology that eliminates any audio delay. You not only listen to the audio in perfect synchronization but also listen to crystal clear sound.
This Bluetooth adapter also has a dual-link feature that allows you to stream audio in 2 headphones or speakers at the same time. Once you have paired the devices, they automatically connect the next time they are within the range.
The device is not too big and you can easily place it on the TV top shelf.
Conclusion
Using the best Bluetooth transmitter for TV, you can now make maximum use of your new Bluetooth earphones. Most of these transmitters feature the technology to minimize latency and deliver a very clear sound.
We liked the compact shape of the TOKSEL Bluetooth transmitter and the long-range workability of the 1Mii B03 transmitter and receiver. If you have wired speakers at your home and you want to play music without using the jack on your phone, choose the devices that work as receivers too. We hope you will like these products and we wish you good luck with uninterrupted entertainment.