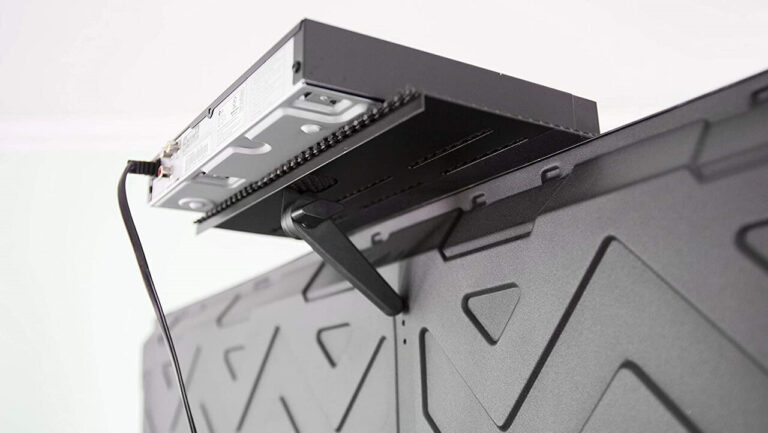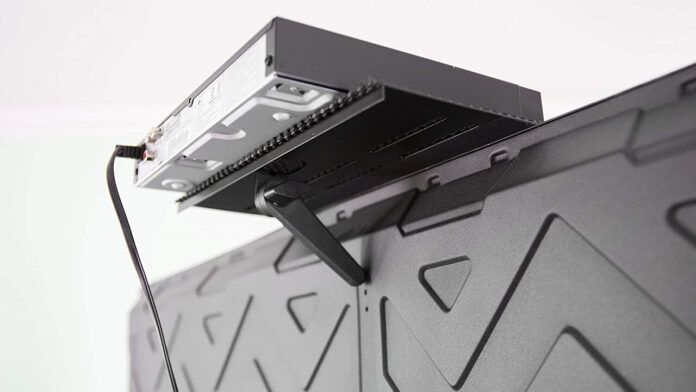 Are you tired of organizing your extra gadgets that go with your television? We have soundbars, speakers, DVD players, Wi-Fi routers, Dish TV boxes, etc. that make the area around your TV very messy. Like you have a TV remote holder, similarly, there are TV top shelves for keeping items like media boxes, WiFi routers, and others.
To make your living room look tidier, you can install a TV top shelf. In this article we have listed the best TV top shelf. These shelves come in different build materials and weight capacity. We have included their specifications so that you can choose the most suitable one for yourself.
Best TV Top Shelf
1. WALI Flat Panel TV Top Shelf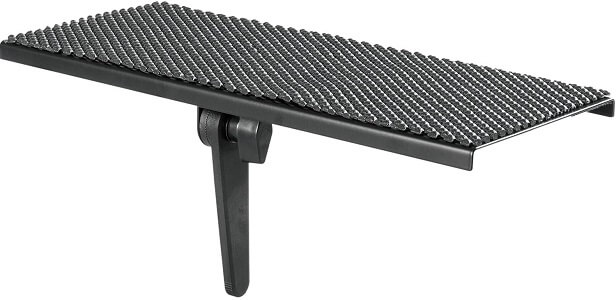 WALI has a 12 inches flat TV top panel capable of lifting up to 13.2lbs of weight. There is enough space on it to keep two-three things out of your streaming devices, Bluetooth speakers, gaming console, remotes, photo frame, house plants, etc.
This shelf is compatible with the straight panel display and not with the curved ones. There is soft fabric attached under the shelf so that your TV doesn't get damaged by its metallic build-material. If you choose to keep some electronic items over it there are vented slots in it for heat dissipation.
WALI TV top shelf also comes with a mesh rubber pad so that the items you keep on your shelf won't slip. Installing this shelf is pretty easy as you just have to move the knob and place the shelf on your TV in a suitable position. Users have highly praised the utility of this product as it has 4.7 stars average rating on Amazon.
2. VIVO Easy TV and Monitor Top Shelf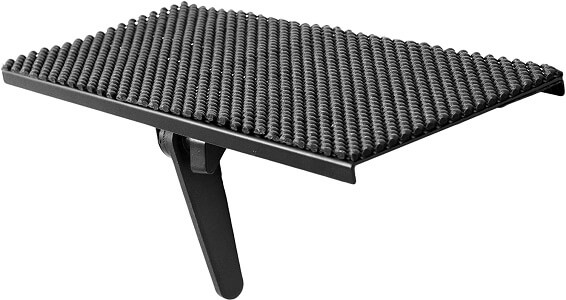 Here is another highly-rated TV top shelf for organizing things around your TV. This is also a 12 inches wide shelf meant for keeping small speakers, DVD players, decorative items, etc.
You don't require any extra tool to mount the shelf as this one too features a rotary knob. It will only take few seconds to install it by simply placing it over your TV. There are holes for ventilation so that you can keep your devices without any risk of heat getting trapped.
The anti-slip pad that comes with the shelf makes sure that the things you keep on the shelf do not slide off. Underneath the shelf, there is a fabric to save your TV's bezels and display from getting scratched. This shelf comes in another 24 inches variant, in case you need some extra space over your TV.
3. Mount Plus MP-APM-05-01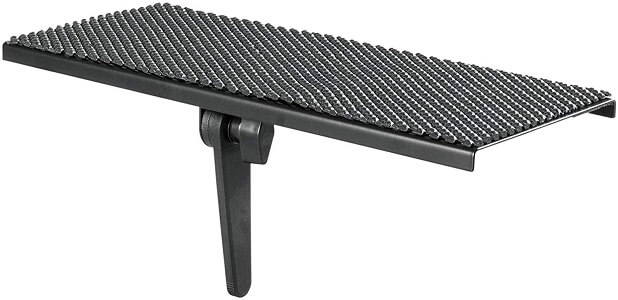 Mount Plus makes promising mounting products for TVs and speakers. This is a useful TV mounting bracket by them that can easily lift up to 13lbs of weight. You can place it over your TV for a complete entertainment setup. With this, your media boxes and audio-visual receivers can be organized within your reach.
The simple design of the shelf makes its installation pretty easy. You can set it up within seconds without any tools by just fixing the support at the back of the TV. The panel will sit stably over your TV without any risk of scruffs. There is flocked fabric under the panel for such protection.
This TV top shelf is meant to last longer as it is made up of solid steel. Though the body is metallic, there is no risk of your things getting slipped off from the top. It comes with an anti-skid pad for holding all your devices stably. It also has air vents for proper heat dissipation. For its design and durability, it has 4.6 stars average ratings from hundreds of users.
4. WALI TV Top Shelf 23.6 Inch Flat Panel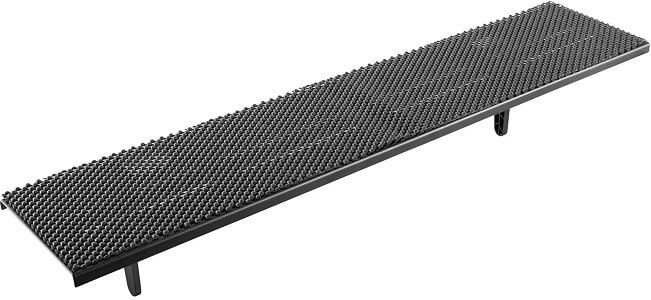 This is another best TV top shelf by WALI. Though pretty similar in build and features to the last one we discussed but double the length. It is a 23.6 inches flat panel for you to enhance your TV viewing setup.
It is made up of good-grade metal but remember that its weight capacity is the same as the 12 inches panel. So, other than a small speaker and a streaming device, you can keep lots of lighter objects like photos, remotes, table clocks, etc. These things will stand stably because of the anti-slip mesh rubber pad on the top. In case you put DVD players or routers on the top, the venting holes make sure that heat is not trapped.
The setup of this shelf is easy and quick. You have to turn the knob to fix it on the back of the TV. Your TV will be safe from any abrasions from the shelf because of the soft fabric attached below it. Like the 12 inches WALI TV top shelf, this one too has received very high ratings (4.7 stars average) from the buyers.
5. Hztprm Adjustable Screen Shelf Mount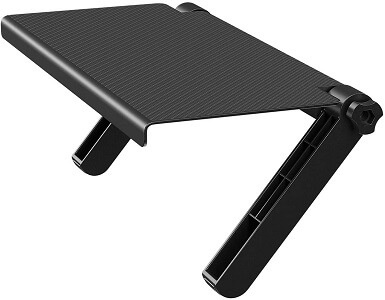 If you are looking for a little wider TV top shelf to mount on your TV, this is a considerable option. It is 6.3 inches wide and 13 inches long for placing your remotes, gaming console, VR sensors, home décor items, etc.
The design of the shelf makes it accommodating for almost all types of TV with straight panel displays. You can also use this on your computer screens for keeping WiFi routers in an organized manner. Installing the shelf is easy, just by placing the supporting legs behind the screen and panel on the top.
This TV top shelf comes with a double support structure which makes it comparatively sturdier. But there is a drawback. Its body is made up of plastic material so the weight capacity is lower than most of the TV top shelves on the list. It can lift up to 3.3lbs of weight which is enough for a lot of TV accessories but not so much for heavy soundbars and speakers.
6. VIVO Adjustable TV Top Shelf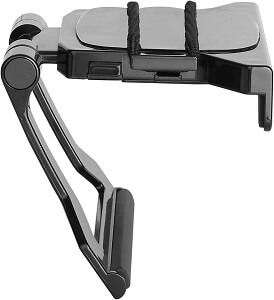 Are you looking for a budget space to keep your TV essentials? VIVO adjustable TV top shelf creates a convenient place to keep your streaming devices and media boxes like Fire TV, Roku 3, Apple TV, WiFi routers, etc. Your devices will be safe above your TV, far from the risk of spills or collisions and easily accessible at the same time.
Though it is only 4.7 inches wide, offers very limited space. This shelf comes with an adjustable extension arm which you can set according to the size of your media device. You can choose three lengths settings, which are 3.3 inches, 3.9 inches, and 4.6 inches.
This TV top-shelf features soft anti-slip padding to provide a stable place for your media boxes. For extra protection, there is a rubber band to hold the box firmly. You can install this on your TV within seconds and it fits well because of the strong ratchet mechanism.
7. SHOHEN TV Top and Computer Screen shelf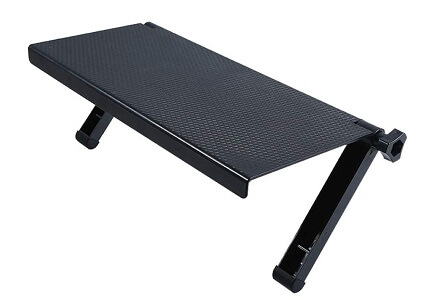 Here is a non-slip surface TV top shelf to hold your streaming devices like wireless speakers, WiFi routers, remotes, gaming consoles, house plants, home décor items, etc. But its lifting capacity is comparatively lower than other TV top shelves so it will be able to keep just 2-3 of the above things. It can carry up to 6.6lbs of stuff.
You can easily attach it to the top of your TV and computer screen with the help of a double support structure. You do not need any tools to install it. Just rotate the knob, place it and tighten the knob. The top does not have a rubber pad but the exquisite anti-slip design can offer useful protection for your devices.
Have A Look: Top Outdoor TV Covers
Conclusion
Your streaming and gaming devices occupy a large space in your living room. These were the 7 best TV top shelf to save the nearby TV area from getting messy. We hope this list gave you useful details about the most liked TV top shelves.
How to mount the TV top shelf?
Mounting a TV top shelf above your TV is quite easy. You need not have any special tools. Loosen the rotary knob and rotate the support according to the build of your TV. Place the support on the back and the shelf panel above your TV and tighten the knob.
Before putting things above it, make sure that your TV top shelf is stable. There are few shelves with double support as well. You just have to do the same with both of the supports.
What all products can be put on top of TV shelf?
If you keep your TV on a stand, anything that weighs lesser than your TV can be put on the TV top shelf. TV top shelves can hold remotes, TV cable boxes, Wi-Fi routers, streaming devices, gaming consoles, pictures on photo frames, toys, table clocks, small house plants, and other decorative items, etc.
If your TV is mounted on the wall then you can also put little heavier items like electronic stabilizers and DVD players. But make sure to check the weight lifting capacity of the TV top-shelf before you purchase it.
How much weight can TV top shelves lift?
There is a wide range of TV top shelves with different weight capacities. It also depends on their build material and your TV's weight.
Good steel-made TV top shelves can lift up to 13lbs and the plastic ones are capable of lifting 3lbs to 6lbs. 
According to the capacity, WALI flat panel TV top shelf and the Mount Plus TV top shelf are the best as they can carry around 13lbs of your stuff like gaming devices, streaming boxes, routers, etc.