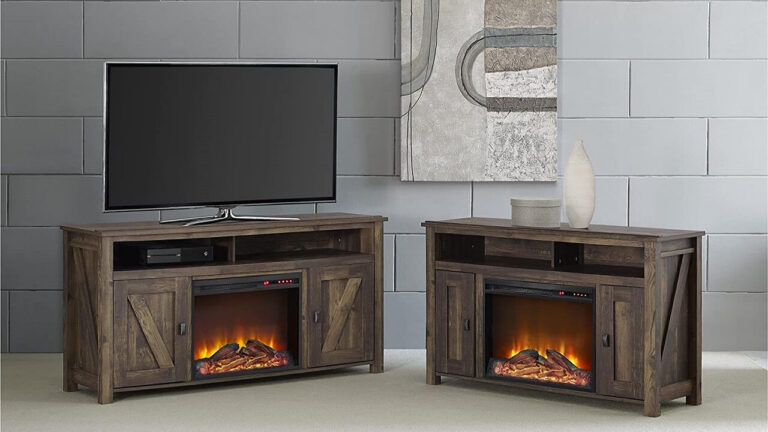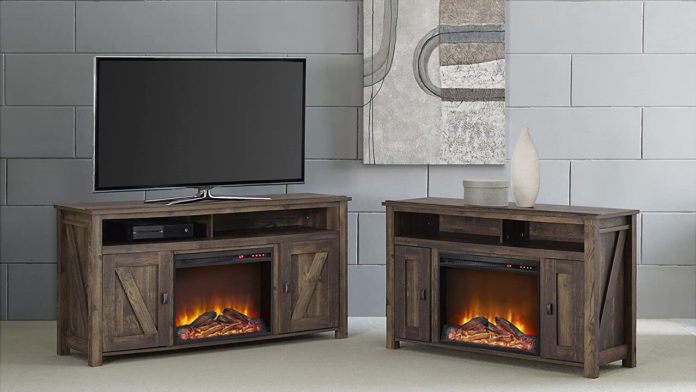 Are you looking to combine a TV stand and a fireplace? But you must have heard that it is not a good idea to burn fire near your electronic equipment but what about the electric fireplaces?
Well, they are safe for your TV and can make your room warm and cozy on those chilled winter days. These electric fireplaces in the TV entertainment center look stunning and save you a great amount of space in the living room.
But where do you find the best of them? The product you are looking for will be the focus of your living room. They provide you utility and at the same time, look pretty. Here, we have made a list of some best TV stands with electric fireplace.
They will enhance your interiors, accommodate a lot of your TV essentials, provide you warmth, and also features the cable management system to manage the extra and messy cables.
Top 7 TV Stands With Electric Fireplace
1. Ameriwood Home Farmington Electric Fireplace TV Console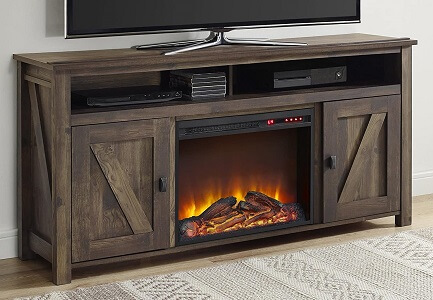 The first TV stand we have is from Ameriwood Home. They are a trusted name for different types of stands, drawers, and other furniture. This TV stand is ideal for TVs up to 60 inches and if you need a smaller one, they have the same version in 50 inches variant.
There is a total of 6 shelves (2 on each side and 2 on top) in this TV stand and the fireplace is at the center. This electric heater fireplace is perfect to warm up a room of up to 400 square feet.
The plug of this fireplace can be inserted into any standard wall outlet. It uses Ameriwood Home's exclusive AtraFlame technology for creating realistic effects of flames with built-in reflectors. The LEDs that emit light have around 50,000 hours of life.
With the remote controller, you get in the package, you can choose from 3 brightness settings. The other controls on the remote include the power button, temperature, timer, and heat On/Off button. The batteries are included in the remote.
The other cabinets in this TV stand provide ample storage to keep your TV essentials, gaming accessories, books, etc. This TV stand is made up of laminated MDF and particleboard with 3 color options i.e. Rustic, Ivory Pine, Black Oak, and Natural. If you want more storage space, you can choose the combined package of TV Stands plus the Night Stand.
2. Walker Edison Georgetown Modern Farmhouse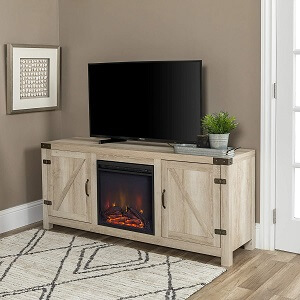 This Fireplace-equipped wooden TV stand is by the furniture maker Walker Edison. It comes with a lot of color and size options.
The top of the shelf can lift up to 150lbs of weight and the 2 adjustable cabinets at the sides with 2 shelves each have a weight capacity of up to 30 lbs each. There are cord management ports at the back to keep your place clean.
The fireplace with this TV stand comes with is perfect to create a cozy setup in cold weather. It can heat up a room of 400 square feet easily after you plug it in. Its display and heat can be customized separately. You can choose to show the realistic flame effect without any dissipation of heat.
The TV stand is tough wooden built and reinforced at corners with steel. The color options are White Oak, Rustic Oak, Barnwood, Grey Wash, Stone Grey, etc. With the easy guide, you can assemble it within minutes.
3. Ameriwood Home Fireplace TV Stand with Lighted Shelves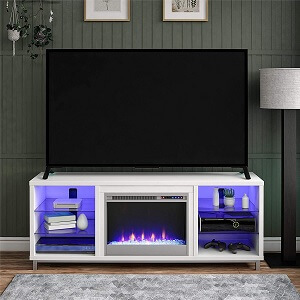 Ameriwood Home has one of the most rated TV stands with a fireplace. Currently, it has got around a 4.7 stars average rating from thousands of buyers because of the utility it provides.
This TV stand is apt for big screen-sized TVs of up to 70 inches. It can hold up a weight of up to 120 lbs. You can also choose the smaller version for 48 inches.
This fireplace TV stand has used an excellent combination of Glass, wood, and steel in the construction. It looks beautiful for different types of room setups. You can choose from 3 colors of the laminated finish according to your room – White, Black Oak, and Graphite Gray.
There are a total of 6 shelves including 2 tempered glass shelves on each side. These glass shelves can lift up to 20lbs. You can keep your DVDs, books, video games, decorative pieces, etc safely on them. The shelves can be lit as they are equipped with blue LED lights.
The electric fireplace part is obviously metallic. You can control this fireplace from the touch panel on the console. You also get a remote controller in the package that runs on 2 AAA batteries. There are all the necessary settings for heat, temperature, timer, and power controls, etc on the remote control.
4. Walker Edison Wren Classic 4 Cubby Fireplace TV Stand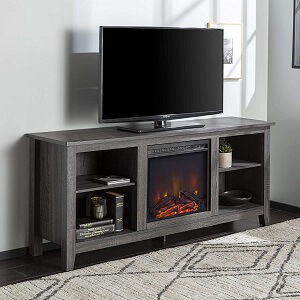 If you are looking for a budget TV stand with a fireplace and are okay with the open shelves, you should consider this one.
This Walker Edison's Wren Classic model fireplace is available in very beautiful colors and can carry TVs of up to 65 inches screen size and up to 150lbs in weight. Its total height is 25 inches from the ground, which keeps your TV at a good viewing angle.
There are two open shelves on each side of the fireplace. The fireplace can be operated through the button panel on it. Though they provide remote control, the customers haven't found it that useful.
The assembly of this stand is easy and you won't need help from any Handyman or electrician. You have to simply assemble the unit and plugin to your regular wall socket.
5. Walker Edison Traditional Wood TV Stand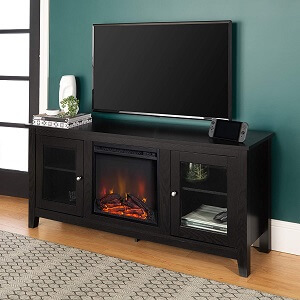 Your decorative items below the TV can also be visible in this Walker Edison TV stand. They are also going to be safe from the dust because of the see-through glass door.
This TV stand is 58 inches wide, so your TV up to 60 inches screen size can easily rest on top of it. There are 2 options you get in the height though. You can choose between the 24 inches variant or the 32 inches tall one, which has 2 more open shelves at the top.
While setting up the TV console, you do not need a handyman. You can even set up the fireplace very easily. This electric fireplace media console does not come with remote control and you have to regulate it from the console only. There are separate settings for the display and the heat.
The material used in the making of this stand is manufactured wood with classy colors finishes. You have a lot of options when it comes to the colors and some good ones include Espresso, Barnwood, Traditional BROWN, etc.
On the back of this fireplace stand, you get cable management holes so that your living room doesn't look messy with all the cables lying around.
6. Ameriwood Home Lamont Mantel Fireplace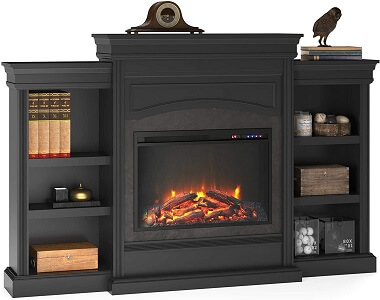 Here is a stunning Ameriwood Home fireplace cabinet for your TV room. This one provides great utility in terms of decoration, storage as well as comfort in the cold weather.
It is available in black and white and both of them look absolutely fabulous in all types of interior setups, especially the former one. It is made up of laminated MDF and particleboard that makes it easy to dust and wipe with a damp cloth.
Around the electric fireplace insert, they have given it a dark grey marble effect for adding more aesthetic. The electric fireplace it features comes with AltraFlame technology that gives realistic fire effects.
You can control the flame and the heat from the touch panel above the fireplace or with the remote controller. The remote functions are the same in almost all Ameriwood Home cabinets with fireplaces. They are powered through AAA batteries and the timer button is their key specialty.
This is not a proper TV stand but people have used it quite well placing the TV on the top. You can also mount your TV on the wall and use this piece as a TV cabinet. It houses 6 open shelves with ample space to keep your books, board games, gadgets, clocks, etc.
7. Walker Edison Faye Modern Farmhouse Metal X Fireplace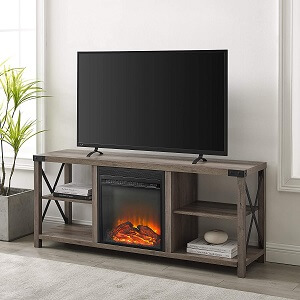 Walker Edison has this pocket-friendly and more open TV stand with an efficient electric fireplace. It is a plug-in fireplace and you won't need an electrician to set it up.
As the display and heat can be regulated separately, you can turn off the heat and keep the fireplace just for a show. The heat it emits is enough to keep a room of 400 square feet warm.
This fireplace console is available in 2 different sizes i.e. 60 and 70 inches wide. Their top is capable of handling up to 175lbs of weight.
It would look great in your TV lounges with ample space for your books, magazines, newspapers, TV essentials, and gadgets.
If you need similar furniture to create a good matching set, you will find the coffee table, side table, and entry table options on this TV stand's Amazon Page.
Conclusion
These were the best TV stands with electric fireplace available online. Before finalizing your purchase, you should know the area of your room and if the fireplace will be suitable for it.
The color of the TV stand should also be selected wisely. The TV stands we discussed above come with fireplaces with a lot of customizing options. We hope they help you provide comfort and the shelves help you organize your room better.
FAQs Electric Heaters In Your Living Room
Do electric fireplaces uses a lot of electricity?
Electric fireplaces are powered through the 120V connections at your homes. They use electricity equal to normal room heaters. So, relatively, they do not use much electricity.
But if you compare their electricity usage with other electronic items, they use 3-4 times more electricity than your TV and almost half of what dishwashers use.
Do electric fireplaces in TV stands give off heat?
Yes. The electric fireplaces have heating elements and heat is blown from them to the room. Most of the electric fireplaces come with a control panel or a remote controller that you can use to regulate the fire.
How are TV stands with Electric Fireplaces Useful?
Apart from providing the necessary warmth in the winters, there are a lot of benefits associated with getting an electric fireplace TV stand.
Firstly, you need not get the wood, burn them and put your room and TV at any risk. Electric fireplaces are a safe and environmentally sound option.
Secondly, It saves a lot of space in your room as you can keep the fireplace and a TV together. Lastly, TV Stands with electric fireplaces go well with your interiors and the TV room looks more lively.