A TV stand is a piece of furniture that adds beauty to your room besides just holding your TV. And if you own a TV, which you most probably do, then you must know how hectic it is to find the right stand for your TV. That is because while looking for a TV stand, you have to keep 2 factors in mind. First, the stand should be absolutely stunning, because you don't want an ugly stand sitting along with your furniture. And the second and most important factor is that the stand must not give up on your TV too easily. So, it should be incredibly strong as well.
After extensive research, we've filtered out the 8 best stands for TVs ranging from 55 to 65 inches. Because that's the size range that is common for every household. And on our list, we've included almost every type of TV stand that is out in the market. So, if you're curious enough, then let's get started.
Rundown
Product
Ameriwood Home Galaxy TV Stand
Product
Ameriwood Home Galaxy TV Stand
Best Stands For 55 To 65 Inch TVs
1. PERLESMITH Universal Swivel TV Stand 
The Perlesmith universal TV stand is a cheaper alternative to expensive TV stands that costs you hundreds of dollars. However, by cheap, we didn't mean that it is not strong or sturdy as other TV stands. On the contrary, it is very strong and durable, all thanks to its steel body and tempered glass base.
Since it is a universal TV stand, it can hold any sort of TV be it LCD, LED, Plasma, etc provided that it does not exceed the 65-inch mark.
However, the best part about this TV stand is that it can swivel up to 60°(30° on right and 30° on the left side) to provide you the best TV viewing experience. Also, it has 9 different height adjustment levels so that you can choose the best tv viewing angles accordingly.
You can actually increase the stand height up to 8 inches, which provides you enough space between the lower part of the TV and the base of the stand. In this given space you can easily place your soundbar and enjoy the home theater experience.
Sturdy and strong design
Supports height adjustment
60° swivel design
Assembling it alone is not that easy
2.
FITUEYES TV Stand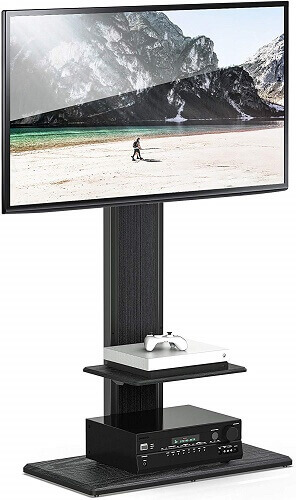 Budget TV Stand
Up to 65 Inch
Made out of steel and wood
Holds up to 88 lbs
Price not available
Have you been looking for a TV stand that also adds luxury to your home? Well, if yes then your search ends here. This TV stand from FITUEYES is made out of a combination of steel and wood which makes it look nothing less than luxury itself.
Apart from its looks, it is a very practical TV stand that can easily hold your TV weighing up to 88 lbs. Moreover, it has dual shelves at the bottom that lets you put your audio and video equipment on it.
It also features the swivel design and 2 level height adjustment, so that you can get the most comfortable viewing angles as per your liking. However, still, the best part about this TV stand is that it comes with a cable management system.
Yes, you can actually hide those ugly looking cables and wires using the cable management channel on this stand. Basically there are clips attached at the backside of the frame that lets you keep all the wires hidden and organized.
Although it supports most of the TVs in the 32 to 65-inch mark, to be 100% sure you can check the VESA bolt patterns of your TV before ordering it. If the VESA bolt pattern of your TV falls between 200(w)mm x 200(h)mm up to 600(w)mm x 400(h)mm, then it can easily hold your TV.
Looks amazing
Has a cable management system
Adjustable viewing angles
Might not support all the TVs out there
3. WE Furniture AZ70CSPTB
This amazing piece of wood looks absolutely stunning and easily grabs everyone's eye in an instant. The color and design of the table make it go really well with the rest of the furniture in your room. It is big enough to hold a TV up to a maximum size of 75 inches and supports weight up to 250 lbs. Pretty amazing, right? Because that means you'll have plenty of space left if you place a smaller sized TV on the table.
The table is beautifully made with the highest quality MDF(Medium Density Fibreboard) and the laminate texture definitely makes it look more appealing. But it's not only the looks but the convenience that comes with this stand. The 2 adjustable shelves give you enough room to place some decor or your electronics on the table. And if you're worried about the wire setup being messy, then don't be. Because there is a cable management port behind every shelving space.
And finally, when it comes to assembling the stand, it is really easy to put everything together. You'll get the clear assembling instructions in the manual with the help of which you can get the work done easily.
Cable management
Strong built with a stunning look
Enough space to place decor and electronics
Size of the stand is not suitable for compact spaces
4. Ameriwood Home Galaxy TV Stand
Looking for a solid wooden TV stand that is designed to take very little space on the floor? If yes, then the Ameriwood TV stand is a good option for you.
It can very easily hold a Flat-screen TV up to a size of 70 inches with its mount. As of the weight, it has a maximum holding capacity of 105 lbs. But it's always better to go a little lightweight on the stand for your television's sake. Also, you can set the height of the TV at your convenience by adjusting the mount. So, if you think your TV is mounted too high or low, then the stand has got you covered to provide you the best viewing angle for your TV.
It is beautifully designed with 3 wooden shelves and 2 drawers at the bottom. So, if you own a gaming console then you don't have to worry about finding a separate space for it. Also, you can be really subtle with the heavy wire setup; all thanks to the cable management on the center spine.
Obviously, like most TV stands ordered online, this stand also needs to be assembled upon delivery. But the process is really easy if you follow the instructions as they are mentioned in the manual.
Looks unique and modern
Height can be adjusted
Quite spacious shelves
Cable management
Can't trust the mount if you get too close to the recommended weight
5. Kanto MTM65PL
Tired of wood? Well, then maybe you should try a steel stand. This sleek designed TV stand by Kanto is made up of strong durable steel with a powdered coated finish. The mount in the stand can easily hold a TV with a size ranging from 37-65 inches with a maximum weight of 80 lbs. So we can say that it can work along with most of the TVs.
The fact that this is a mobile stand to move your TV around the place makes it best suited for office use. The 4 wheels in the stand very smoothly enable you to move the TV from one place to another. And when you're done moving it around, you can simply press the lever with your foot to lock the wheels. So, you don't have to worry about it rolling over the stairs. Also, the integrated cable management and ability to adjust the height of the stand adds more to the convenience. But it doesn't stop there, as it also has a steel tray and a top shelf where you can place your laptop or other accessories.
So, keeping aside all the work you need to assemble the parts together, this stand is surely the best for presentations in offices and schools.
Made with best quality steel
Good cable management
It can be moved and then wheels can be locked for precaution.
Design is not meant for house.
6. WE Furniture AZ58CSPES
If you own a television that is not huge in size, then we have a stand specifically for you. There's not much difference between this and the 3rd stand on the list we've discussed. The only difference is the size, as this stand is best suited for televisions that are under 55 inches. And the good part is that with a smaller size, it can still handle a weight up to 250 lbs. The espresso color with a beautiful texture makes sure you don't regret buying this stunning stand.
You can put something pretty in the shelving space to amplify the look of the stand. And believe me that there's more than enough space in the stand. Also, if you're wondering about the quality and durability of the stand, then you should know that this stand is Amazon's choice. So, if you take good care of the stand, then maybe you can get old with it.
If you're ready to spend some extra bucks, then you can go with another model of the same stand that comes along with the mount. The steel mount attached to the stand is really strong.
Best stand for 55 inch TVs
The high-quality wood makes it durable
Takes less space than other stands of the same kind
Also comes with a model that has a TV mount
7. Nexera 105131
We can all agree on the fact that the wooden stands will never get old. And this TV stand is a perfect example of that. If you get this melamine finished stand for your TV, then you won't be looking for another for a very long time. This is one of the best stands for a 65 inch TV.
The distinct part about this stand is that it doesn't stand that tall. If you're thinking of placing the stand in your living room in front of your couch, then this stand is a perfect choice. Because the TV will be at a straight angle from you when placed on this table.
The 3 deep drawers and shelves make it perfectly easy to set up your gaming console along with the TV. It also stands out in terms of durability, as it is scratch, stain and water-resistant. So, if you accidentally drop a glass of water on the stand, then you only have to worry about the electronics on the stand.
Good for placing in living room
Scratch, stain and water-resistant
Good texture with melamine finish
Not good if you want your TV to be placed really high
8.
WALI Universal Table Top TV Stand 
This TV stand from Wali has a TableTop design, i.e you can place it on your existing TV cabinet and enhance your TV viewing experience. Moreover, it costs under $20 so it is a great product for anyone who's out of budget for a new TV stand.
It is a universal TV stand which means it can easily accommodate TVs of various sizes. To be precious it can hold TVs ranging from a screen size of 22 to 65 inches. Also, the TV should not be heavier than 110 pounds for it to hold the TV firmly.
Moreover, it has 2 height adjustment levels that allow you to fix the TV's height according to your comfort. Not just that, it supports 3 mm feet with soft pads that provide it a solid grip on the cabinet surface and also saves the surface from scratches.
Now you must be wondering that how can you trust a $20 product for your expensive TV. Well, this stand is made out of high-quality steel so you can be sure of its durability. If that's not enough, you can provide more protection to your TV by anchoring it to the surface using the anti-tip TV safety straps.
Easy to assemble
Lightweight and strong
Allows height adjustment
Conclusion
So, that's it. We've played our part to provide you with this list of best stands for 55 to 65 inch TVs and even bigger sizes. Now, it's you who has to decide what you are actually looking for. Like, if you have a confined space then go for the one that is compact in size. On the other hand, if you have a lot of empty space in your room, then go big.
For confirming that you can match the VESA standards of your TV with the stand. You can read this article to know how to measure the VESA standards of your TV.
You don't have to worry about the durability of any of the stand we've discussed, because they all are pretty strong. But if you're paying heavy bucks for a TV stand, then it's always better to be a little careful while handling it.