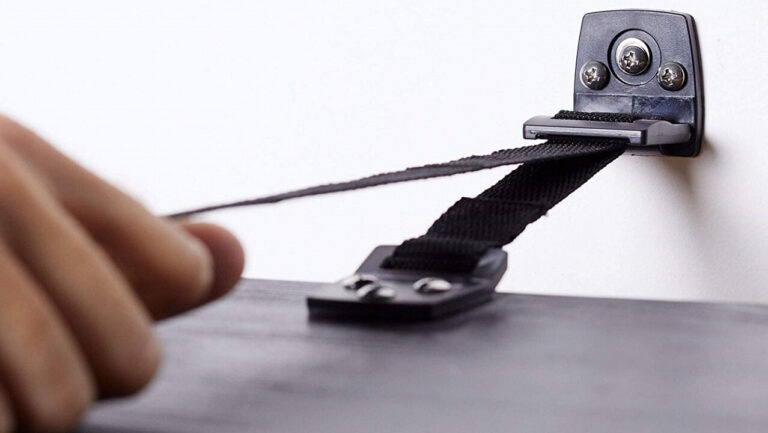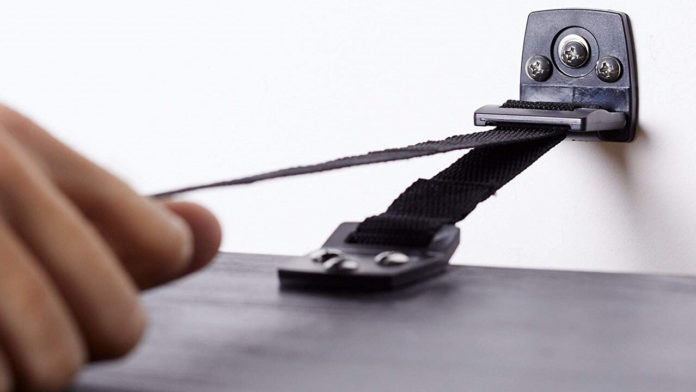 Your TV is surely important, and that is because you've spent a lot of bucks on it. So, it goes without saying that you would never like your TV to fall off the TV stand. There are so many scenarios in which that could happen, but it's highly possible when you have kids in your home. Because they could very easily knock the table while playing around causing the TV to tip over. And this situation gets even scary if anyone gets injured due to that. So, we can all agree that it's always better to make sure that your TV holds on to its position no matter what. And that is where the Anti-Tip TV safety strap comes in.
These safety straps make sure that your TV doesn't fall off if someone accidentally moves the table. Anti-tip TV safety straps are an amazing way to stabilize your TV's position without spending a lot on safety through other measures. However, it's hard to find out the reliable and strong safety straps in the market. But we do care about your TV and the safety of your loved ones. And that is why, in this article, we're going to discuss Anti-tip TV safety straps that are surely the best.
Best Anti-Tip TV Safety Straps For Better Protection
1. Safety 1st TV & Furniture Safety Straps
These are multi-purpose safety straps for your TV as well as furniture. Saftey 1st straps are made up of high-quality nylon material with promising durability. The thickness is also sufficient for security against any hard impact. Saftey 1st TV and furniture straps are very easy to install and require no expertise.
There are 4 different ways how this TV safety strap works. You can attach your TV to the wall, your TV to your furniture, your TV and furniture both can be attached to the wall or only your furniture can be applied to the wall. The makers claim this strap to be the first of its kind. They feature hand-crafted triple stitching to be extra sure about the safety. There are 3 types of screws – the mounting screw for VESA compatible TVs, 1 wood screw for furniture, and 2 drywall screws for attachment with the wall.
2. Metal Anti-Tip Strap Kit
There's a saying that when it comes to safety, you should never rely on plastic. Well, to be honest, I totally made that up. But it is actually true when it comes to the Anti-tip safety kit. On the other hand, you can put your complete faith on a strap like this one, which has strong metalwork and triple-stitched nylon webbing.
The straps in this anti-tip safety kit are sturdy enough to hold an object up to a maximum weight of 400 lbs. That means apart from your TV, you can use it to secure other objects like cabinets, bookcases, etc. So, I can confidently say that these straps are perfect if you live in an earthquake-prone area. And the amazing part about this product is that it comes with a set of 4 straps. So, you can secure at least 2 objects at a very cheap price. And as a bonus, you get a babyproofing lock to make sure your child doesn't open something that isn't safe.
The wall brackets on both sides of the straps can be attached to the wall and to the object using the screws that are included with the straps. Moreover, after anchoring the object to the wall, you can adjust the length of the straps using metal fasteners. So, when it comes to convenience and ease of usability, these metal straps surely get 10 out of 10.
3. The Baby Lodge Anti-Tip Straps
If a safety strap is strong, then it can easily secure your TV or any other heavy object like a bookshelf. But most straps don't have an easy detach option. This means that it gets tough for you to move the object in case of maintenance. But fortunately, this anti-tip strap doesn't fall in that category.
Of course, the straps are strong and reliable because they completely left out the use of plastic to prevent any weak points. The straps are a result of thick nylon webbing with high-quality metal plates. Along with that, the straps are designed with a metal cam buckle. This buckle is what makes the straps detachable and enables you to adjust the length of the strap.
As for mounting, you get screws of multiple sizes in the kit. So, if one particular size doesn't work well on your TV, then you can try another. Pretty considering, right?
4. The Wappa Baby Metal Anti-tip Straps
Now, this particular Anti-tip TV strap is truly unique, and that is mainly because they are entirely made of metal and steel cable. The fact that they aren't using any plastic or any kind of webbing, makes them pretty strong and durable. And apart from that, their design makes them blend in with the surrounding really well. Also, these metal straps come as a pack of 2.
One may think that the material used in the straps may have a limitation when compared to other straps on the list. But surprisingly, there isn't, because you can use the steel cable as per your convenience. This further means that you can very easily manage the length of the straps by just pulling the cable; the maximum length is 75cm. Like, if you want to decrease the length of the cable to restrict the movement of the object, then you just have to press the pusher against the metal plate and pull the cable.
The screws included with the straps are of different sizes, so you do have options in that regard. And they'll go into the wall or the back of your TV through strong metal plates at both ends.
5. Bebe Earth Anti-Tip TV Straps
If you're looking for conventional TV straps that use a very limited amount of plastic, then you can also go with these straps. Unlike other straps on the list, this one has plastic plates on both ends. These plastic ends are supposed to be mounted on the wall or at the back of the TV using the screws. Also, the plastic buckle in the strap allows you to adjust the length of the strap.
So, we can say that this one works exactly the way you want it to. But the only downside with this is the use of plastic. Although, that doesn't mean the plastic material will always come off that easily. It can still hold an object with a maximum weight of 100 pounds.
Finally, if you're looking for an affordable Anti-Tip safety kit option, then this one may work fine for you. And that is because it comes with 8 safety straps with a free door stopper. Apparently, eight straps can easily be used to secure up to 4 objects, including your TV.
6. Jambini Metal TV Anti Tip Straps
Jambini safety strap is an adjustable anti-tip strap for your TV or furniture. Unlike the first one in the list, this one can't be used in separate ways with TV and furniture at the same time. Either you can attach your TV to the wall or to the furniture. Considering this, the price should have been a little lower. The built material is also similar to the safety 1st safety strap, it is of high quality with hand-crafted triple stitching.
However, the brackets on the strap are made up of metal that adds more durability to the safety strap. There are times when you need to move your TV or furniture for cleaning the house. This attached strap will be no trouble here as you can adjust its length and move your objects. These safety straps can be set by you easily on your own by putting the screw in their place. For this, you do not need any handyman to even guide or help you.
7. WALI TV Heavy Duty Anti-Tip Straps
WALI TV heavy-duty nylon anti-tip straps are specifically designed to give your television maximum safety. You can use these straps to secure your furniture as well. The strips feature thick strong nylon and metal brackets attached with triple stitches. You can secure your TV by attaching it to the wall or the dresser where you keep it. The adjustable metal buckles are non-slip so that if your kids or pets apply force on your TV it won't topple off.
Each strap is capable of handling weight more than 100lbs. Installing the straps is also a cakewalk and there is no extra tool required other than a screwdriver. But you might need a drilling machine to make a place for the grooves of the screws. They are available in packs of 2 straps and 4 straps and the latter come with more discount than the former.
Wrapping Up
As we conclude our listing, we want to say that baby-proofing the TV along with other objects is something you should definitely do. Accidents can happen anytime and with anyone, so it's better to take precautions rather than being sorry. It's not so much about protecting your TV, instead, it's about making sure your loved ones stay far away from any injuries. And we do care about your safety, that is why we've included the best of the bests Anti-tip TV safety straps. But it's always better to test the strength of the straps by yourself before actually putting your blind trust in them.