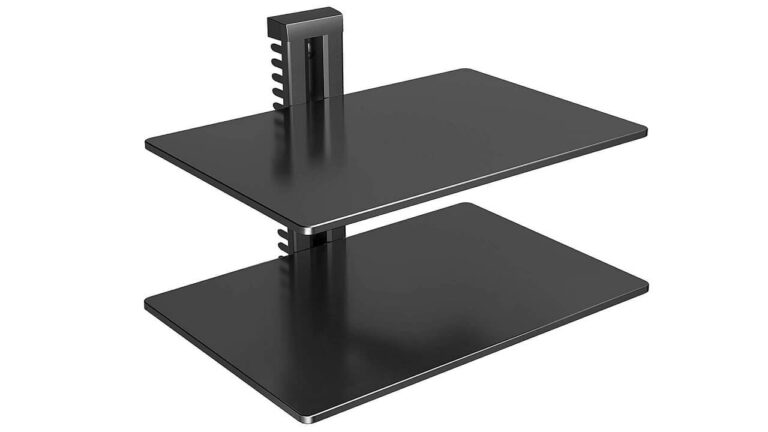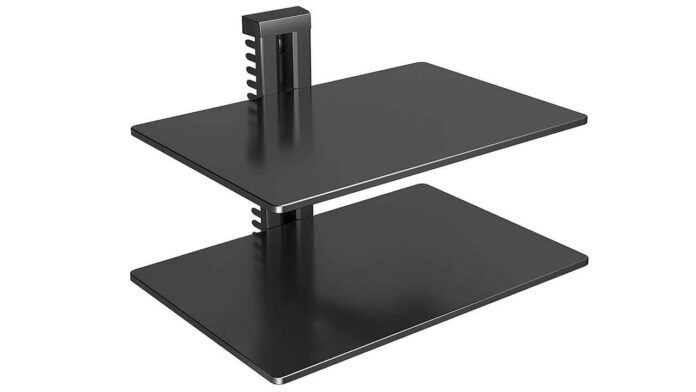 The TV area has a lot of accessories like remotes, media players, router, speakers and similar devices. Interior designing for this specific area have to be well organized so that the room looks appealing. 
As mounting the TV on the wall is now a common aesthetic to use the space efficiently, other TV essentials too need a well-structured setup. TV floating shelf is the best solution to avoid your room getting messy with media devices like speakers and DVD players. However, TV top shelf could be an option if you have less number of devices and accessories.
We have made this list of the best TV floating shelf to organize your TV space better. By including the floating shelf in the home decor, you can get rid of the TV stands. Also, the other home essentials like clocks, small house plants, pen holders, etc can be put on them as well.
The Best TV Floating Shelf Of 2023
1. WALI Tempered Glass Floating TV Shelf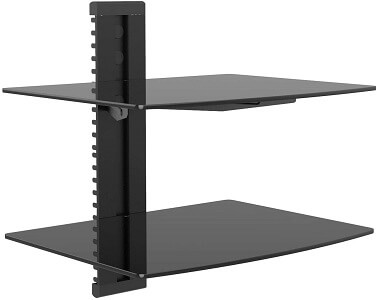 WALI has this pocket-friendly floating TV shelf that looks decent with different room decors. It comes in two different colors that will suit most of your TVs especially black colored ones. 
The options are not just in colors but you get to choose this product in 1 shelf, 2 shelves, and 3 shelves variants as well.
The backplate of the shelf is made up of aluminum and steel and the shelves are made up of strengthened tempered glass. Each shelf supports a weight of up to 17-18 lbs. You can easily put satellite boxes, DVD players, Wi-Fi routers, gaming consoles, etc.
You can also adjust the height of the shelves depending on the size of the devices you would keep. At the back, there is a cable management system so that your TV area looks tidy like a TV cable raceway organize the wires.
Installing WALI Glass floating shelf can be learned from the instruction manual in the package. You just have to attach the plate to the wall with the screws, assemble the glass holders, and place the shelves on them.
2. PERLESMITH Floating TV Shelf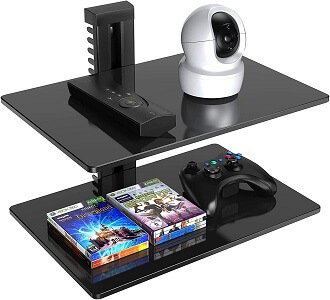 Here is one of the best TV floating shelves you will find on Amazon with 4.6 stars average ratings. This is a promising option for you to organize your TV room without spreading the TV essentials on the ground or table.
The design of this shelf is appealing and it can carry the load up to 16.5 lbs. The surface area is wide enough to accommodate lots of devices like media players and remotes, however, dedicated TV remote holders are also available to keep things more organized.
This one too is available in 3 variants but most people prefer the '2 shelves' one. 2 shelves are enough to keep important stuff without making the TV space jammed.
You can mount the shelf on wooden as well as concrete walls. This sleek designed shelf features 5 mm black tempered glasses that will suit your TV system and the surrounding area.
The cable management of this floating shelf ensures that all your cables are out of reach from your pets and kids. The adjustable height allows you to keep your objects at preferable positions. You will get all the necessary hardware in the package for mounting it very stably.
3. VIVO Floating Wall Mount Tempered Glass Shelf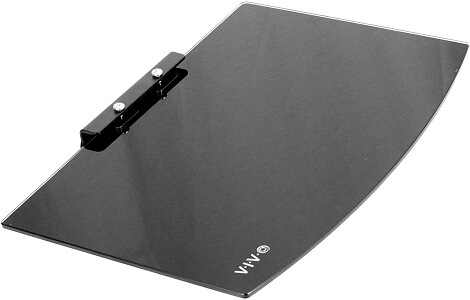 If you are looking for a very minimal setup to make your TV area less messy, this is a very considerable TV floating shelf by VIVO. VIVO makes promising TV top shelves, tables, and different home and workplace solutions.
This floating shelf has only one low-profile panel that can carry around 22 lbs weight. It will be enough to put on one important device like a DVD player or speaker. The 14 inches long and 10 inches wide shelf panel is built with sturdy 5mm glass. Its solid steel frame ensures extra stability.
Not only this floating shelf is good for organizing the media players, but it also blends well with your flat-screen TVs. No matter it's your living room or entertainment center at the office, it suites all interior décor styles.
Assembling the shelf is easy with all the required hardware available in the package. You get all the instructions in the manual for a quick setup. One thing lacking in this TV floating shelf is that it lacks a mechanism to hide the cables.
4. PERLESMITH Floating Wall Mounted Shelf for TV essentials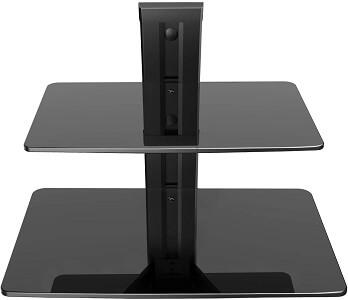 This is the second TV floating shelf by PERLESMITH featured in this list. As this is the newer version, you are getting some extra space below your TV but you will have to compromise a bit on the budget. The space is big enough to organize your Blu-ray players, gamepad, clocks, speakers, routers, etc.
Again, it's built with strengthened tempered glass with a weight capacity of 16.5 lbs on each panel. You can mount it on wooden walls, concrete blocks, or drywalls as well. You will get all the mounting material in the kit and it takes around 20 minutes to install it.
Other features of this TV shelf include easy height adjustment and cable management. The metallic back allows you to smoothly move the shelves at the most suitable height depending on your space and the objects you are going to put on it.
If you are looking for a well-styled floating TV shelf for your TV room, this is probably the best you will find in terms of looks. The all-black coating on the glass makes it perfect to be placed in all types of home interiors.
5. Fenge 2 Tiers AV Wall Mount Shelf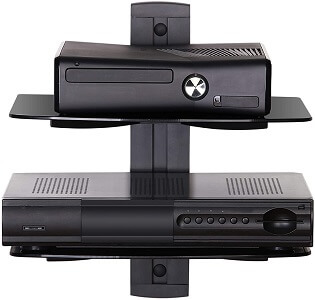 Fenge TV floating shelf is another good option to place all your TV accessories in an organized way. It is a wall mount shelf bracket that costs you a little more than other shelves but provides impressive utility with its larger space and weight capacity.
You can keep your audio-visual receiver components, gaming console, routers, remotes, camera, wired and wireless speakers, surround sounds, etc on its 15 inches wide panels.
The panels are 5 mm thick made up of tempered glass. They are not only stylish but provide a secure place for your media devices with a weight capacity of 22 lbs. Very few TV floating shelves come with this much weight capacity without compromising on the ideal home décor looks.
It is also a great option for clearing the mess in your TV room that is created because of the cords from media devices. It has got a cable management system at the back to organize all the cables neatly. The back also offers a height adjustment facility from 3.9 inches to 12.4 inches.
Conclusion
TV floating shelves are the most required things in a TV room set up in terms of utility. If you have kids and pets at home, you can't afford to place your electronic TV accessories on the floor or anywhere near their vicinity. The wires can be dangerous as well.
These were the best TV floating shelf available that offer safety from the above risks. We will update the list when we find any better options. All these shelves have stylish glass panels that are ideal for living room setups. The adjustable height in most of them is suitable for keeping your tall objects like a clock or house plants.
FAQs
Can floating shelves hold a TV?
That depends on the specific floating shelf you are talking about. The above floating shelves are meant to place below the TV for your TV essentials like remote, CDs, DVD players, streaming devices, etc. They have limited weight capacity and space. If you are going for bigger shelves, you should verify how much they can hold in respect to your TV.
What can you put on a TV floating shelf?
You can keep things like Blu-ray players, gaming consoles, speakers, Wi-Fi routers, satellite/cable TV boxes, skybox, tivo box, alarm clocks, remotes, etc. Obviously, they can't accommodate all of them but before choosing the shelf, you should check its weight capacity depending on your requirements.
How to mount the TV floating shelf?
Mounting a TV floating shelf is a lot easier than it looks. You require a very basic kit like a screwdriver, drill machine, a pencil, and maybe a measuring tape for perfect accuracy.
Determine and measure the area where you want to mount the shelf. Place the back support of the shelf on the wall and mark the holes with a pencil.
Now, drill the holes carefully and place the anchors in place. Mount the back with help of screws using a screwdriver.
After that, you have to mount the shelves on the back. For that, firstly screw the shelf's support, place the shelves on it and screw them as well. You can adjust the height by loosening the last screws used to place the shelves.