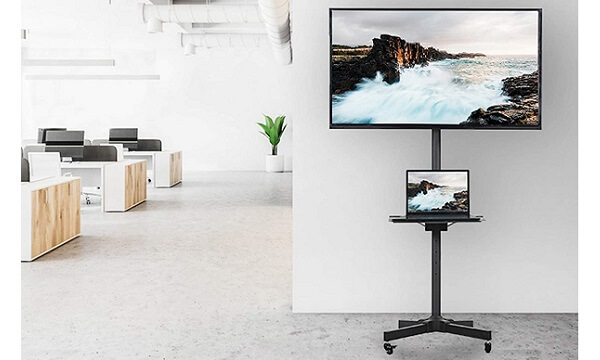 Movable TV stands are garnering attention and taking up the space of wall mounts as well as TV cabinets. The reason for that is pretty obvious. The TV stands with wheels can be shifted to any room in your home, office, school, hospital, studio, etc. You can move your TV freely without worrying in such movements.
These TV stands also allow a lot of height adjustment so that you can set the TV at a healthy viewing angle. Here, we have listed some best TV stands with wheels that are safe for your TV.
Best TV Stands With Wheels For 13 To 70 Inches Size
They all include a shelf which makes them ideal for conferencing, gaming, and streaming boxes. These TV stands support TVs of different sizes from almost all popular brands like Sony, LG, Hisense, Vizio, Samsung, Hitachi, TCL, Panasonic, etc.
1. VIVO TV04M Universal Mobile TV Cart (23 – 55 inches TV)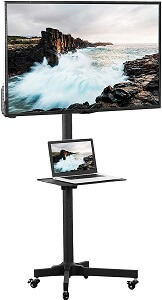 VIVO makes home and office desk solutions that also include different types of mounts and stands. This is one of their best TV stands meant to carry TV of screen size from 23 to 55 inches.
It features VESA standard mounting system which is supported by almost all major television brands. If your TV has VESA patterns of 50×50, 100×100, 200×100, 200×200, 300×200, 300×300, 400×200, 400×300, or 400x400mm, the stand will be a good fit for your TV.
The weight capacity of this stand is 55lbs that is not that impressive but still pretty enough for a 55 inches TV. For an ideal viewing height, you can set the center of the TV at a maximum height of 58.5 inches from the ground.
There are wheels at the base of the TV stand that can be locked to make the stand stationary. From classrooms to office meetings and homes, this stand serves your purpose of moving a TV. It has a height adjustment feature and also 15° tilting option upwards as well as downwards.
This portable TV stand also features a storage tray that you can use to keep TV essentials like remotes, streaming boxes, and different adapters or even your laptop. The height of this tray is also adjustable.
You can easily set up this stand in your space using the necessary tools available in the package. There are two different colors available i.e black, and white. You won't find a white color variant in most of the quality TV stands.
There might be some concerns if the TV stand can be stable enough, given that it has just one pole to hold your TV. But there is nothing to worry and the stand remains firm on its position. This rolling TV cart currently has 4.7 stars average rating on Amazon. Buyers have also found it quite pocket-friendly.
2. NB North Bayou Big TV Stand with Wheels (32-70 inches TV)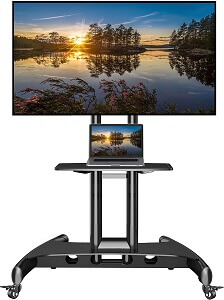 If budget is not your concern, this is probably the best moving TV stand you can find online. This is a universal rolling cart that can accommodate a TV of almost all the regular sizes. All your flat screen TVs like LCDs, LEDs, and OLEDs will find a safe house on this.
It supports VESA mounting patterns from 100x100mm to 600x400mm. So, even if your upgrade to a bigger TV in the future, the stand will be very much useful then too.
As we said, it is suitable for bigger TVs, this stand has a weight capacity of up to 100lbs. The wide base made up of steel and two supporting poles make it very sturdy. The base has effortlessly smooth, rolling casters to take your TV to any room. These caster wheels are good for all types of floors.
The height of this stand can be adjusted from 44 to 60 inches between which you will surely find a good viewing angle. At the back, the stand features a wire management system to help you organize your TV cables better.
The shelf in this stand is very spacious. It is ideal for placing lots of equipment from speakers to laptops. In offices, this TV stand can be used for giving presentations from your laptop and projecting that on a big screen.
Because of its toughness, durability, stability, and spacious shelf, this TV stand has received 4.7 stars average rating on Amazon. The steel body and the black powder coating make it a preferable choice for high-end spaces, especially offices and studios. Its installation is easy and can be done quickly.
3. VIVO TV07W Movable TV Display Stand for Small Flat Panel Screens (13-42 inches TV)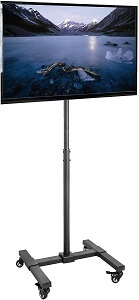 Here is another highly-rated TV stand with wheels by VIVO. LCDs and LEDs from 13 to 42 inches can be mounted on it with VESA mounting system. You will find the mounting patterns of 75x75mm, 100x100mm, 200x100mm, or 200x200mm, that a lot of TV brands adhere to. The weight capacity of this TV stand is up to 44 lbs.
There are 12 different setpoints for adjusting the height on this stand using the pin lock mechanism. You can set your TV up to the maximum height of 52 inches (from the ground to the TV's center). It is enough for an ideal viewing but if you do not get satisfied with that, you can tilt it up to 30°.
The wide base of 20 x 18 inches keeps the stand stable. The 4 wheels ensure smooth mobility on carpets, concrete, or wooden floors. To stop it from moving unnecessarily, the front wheels can be locked. This TV stand is also available without the wheels and that variant is priced at a lower rate.
Installing the stand is pretty easy with important hardware and the assembly guide in the package. You are advised to follow the pictured instructions on the guide including taking all the hardware out, in the beginning, to identify which bolt and nut go where. There is no tray or shelf on this stand.
4. 1home Rolling TV Stand (23-60 inches TV)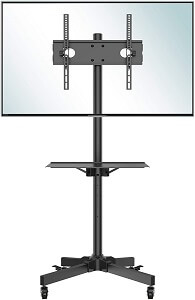 1home has this high-quality aluminum and iron-made TV stand for flat and curved TVs of up to 55lbs of weight. TVs with screen sizes of 23 to 60 inches can be mounted on this stand.
It has VESA mounting compatibility of 50×50 to 400x400mm. If you have a branded TV, the stand will surely accommodate it. But you are advised to check your TV's mounting patterns before making the final purchase.
This rolling TV stand offers height adjustability from 39.3 to 59 inches. Its tilting angles can also be customized at preferable angles of 15° upwards or downwards.
The cart on the stand also comes with 6 adjustments levels with an adjustment of 2.36 inches. It can hold up to 22lbs weight, sufficient to keep a laptop, mini speakers, streaming devices, phones, etc.
The stand features a good quality steel frame with a gloss finish that is pretty durable and facilitates the required stability. There are 4 heavy-duty caster wheels enabling swift movement of the TV stand. You can make it stand firmly at one position by locking wheels.
Another useful feature of this TV stand is that its rear feet are smaller than the front ones. It allows you to make the TV stand closer to the walls of the room, thus, saving some space. To organize the chords, you have the integrated cable management system at the back so that your room or the conference hall doesn't look messy.
You get a graphical installation guide in the package to assemble the stand easily. 1home also provides 24-hour online query settlement in case you need more assistance.
5. ABCCANOPY TV Cart Rolling Trolley (32 – 65 inches TV)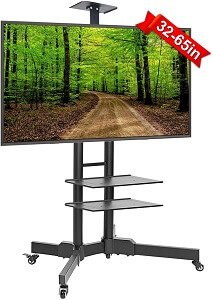 If you need a movable TV stand with some storage space to keep your TV essentials, gaming devices, DVD player, or laptops, here is one for you. This ABCCANNOPY rolling TV stand is equipped with 2 metallic tray shelves capable of holding a weight up to 30 lbs.
The height of these trays can be adjusted. It is ideal for office presentations, gaming setups, or studios and editors.
As it's a heavy-duty TV stand and is supported by two strong poles, it can hold up to 100lbs. Flat screen TV with display size from 32 to 65 inches can rest on this using the VESA mounting pattern holes from 50×50 to 600×400 mm.
With different height adjustment points, the maximum height your TV's center can be at is 57.5 inches. To make the viewing angle more suitable, you can tilt it 15° upwards and 15° downwards.
This TV stand has a wide base to ensure that your display remains stable. The base is equipped with 360° rotating casters that can also be locked for making the rolling stand stationary.
At the back, there is a cable management system to keep your messy cables organized. You will get the tools required to assemble the TV stand in the package.
6. TAVR Heavy Duty Mobile TV Stand (32 – 70 inches TV)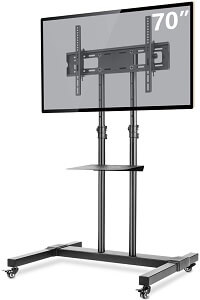 Here is another good TV stand with wheels to set up your TV set at different places at your home or office. It is compatible to be used with TVs of screen sizes from 32 inches to 70 inches. LCDs, LEDs, and OLEDs of weight up to 110 pounds are suitable to keep on this stand.
But your TV must have VESA mounting patterns anywhere from 100×100 to 600×400 mm. TVs from brands like LG, Sony, Vizio, Hisense, Panasonic, Hitachi, etc will fit on it.
This TAVR movable TV stand offers 8 height adjustment points. The center of your TV can be placed anywhere between 50 inches to 72 inches from the ground. This height is enough for setting up a healthy viewing angle from a suitable distance. In this one too, you have a 15° tilting option.
The metallic adjustable shelf on this TV stand is comparatively better because of two reasons. Firstly, there are more height adjustments i.e 5 inches to 32 inches. And there are small holes on it to ensure airflow and prevent heating of your electronic equipment. It is spacious enough to keep your laptop, cable box, tablets, or other audio-visual equipment.
The 4 caster wheels are in 2 parallel stands that are around 25 inches apart from each other and help the TV stand to be stable.
This TV stand has been appreciated a lot by buyers because of its shelf and the adjusting knob. The knobs make you customize the height very fast. Managing your messy cable effectively with the cable management system at the back is another advantage here. Though this TV stand is a little expensive, its utility and ability still make it a considerable option.
7. ONKRON Mobile TV Stand (40- 70 inches TV)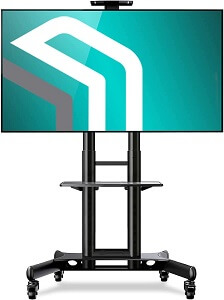 ONKRON is known for making high-quality TV stands and display mounts. This is their heavy-duty Television stand with wheels and a shelf. Its strong steel frame makes it suitable for TVs up to 100lbs of weight and screen size of 40 to 70 inches.
You can mount a flat panel TV or curved screen TV, be it an LCD LED, OLED, Ultra HD, or a plasma TV. The VESA mounting standards available on it are from 200×200 to 600x400mm.
This TV stand comes with double telescopic columns that have 7 small holes at 2 inches gap to adjust the height of the TV. To adjust the height, you don't have to unscrew the TV. The adjustment range of the center of the TV is from 47.2 to 59 inches from the ground.
There are 2 AV shelves on this stand one below the TV mount and one is the top shelf. Both have a weight capacity of around 10lbs which is very low given the price of the TV stand. But you can still keep your gaming accessories and tablets on the lower shelf and small equipment like webcams or remotes on the upper one.
All the cables of the equipment including the TV are well organized with the help of built-in cable management on the stand.
The rubber caster wheel is the prominent feature of this high-budget rolling TV stand. These casters are reinforced to be able to maneuver freely across smooth and semi-smooth surfaces like chipped concrete and uneven tiles. Lockable wheels are provided to make the stand stationary.
Have A Look: Top 7 Full Motion TV Wall Mounts
Wrapping Up
These were the best TV stands with wheels available online. We have to include the best from different budget levels.
If you need a heavy-duty TV stand, you will surely like the North Bayou mobile TV cart. It is quite strong and stable, has got a spacious shelf, and looks classy overall. If you are low on budget, the VIVO TV04M Universal TV Cart will do your work. For small TVs, we would advise you to go for the VIVO TV07W Movable TV Display Stand.