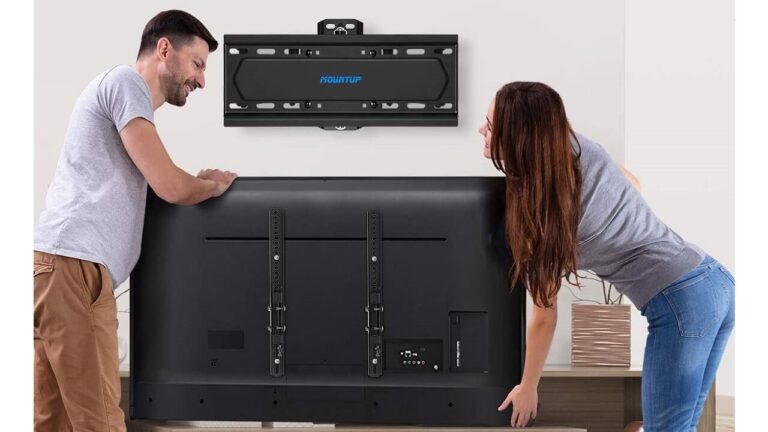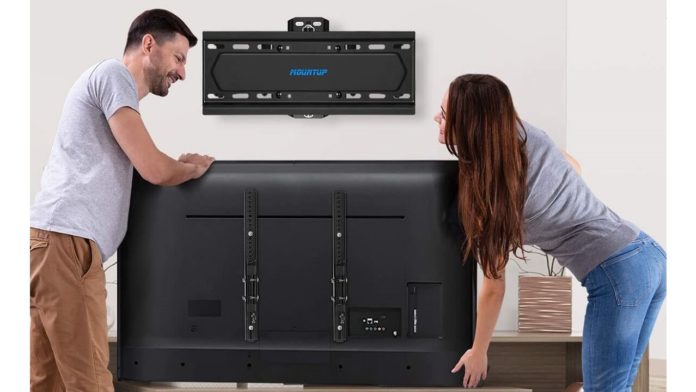 Do you want your TV to be watchable from different angles in your room? Well, it is actually possible if you mount your TV on full-motion wall mounts. There are many advantages associated with it. Let's have a look.
How do Full Motion Wall Mounts enhance the TV viewing experience?
There are reasons people like to spend some extra bucks to choose these wall mounts over the flat or tilted wall mount or the TV stand. Here are a few benefits of having a full-motion wall mount to place your TV.
Eye-Level Viewing – A full motion wall mount allows you the flexibility to adjust your TV screen according to your Eye level. Keeping the screen at your eye level provides comfortable viewing and prevents any strain in your eyes and neck. It is a healthy way of watching TV for long hours.
Safety of the TV– Good quality full motion mount is stronger than the fixed wall mount, so these are the safer choices, especially for bigger screen size TVs. Also when TVs are mounted, they remain safe from children and pets at your home.
Adjustability towards all directions– This is probably the main reason people buy a full motion wall mount for their TV. You can point your TV towards any corner of your room from sofas to the bed. You must have seen in the features of different full motion wall mounts that your TV can be tilted sideways, tilted upwards and downwards, and also pull it farther from the wall.
Avoid light reflection– The tilting and swivel function of these TV mounts is very useful in stopping your screen from light reflection.
Saves space – This is a common benefit of all types of wall mounts. When you mount your TV, there is a lot of space left in your room that can be used for other purposes.
Now that you know how much utility these wall mounts have, where do you find the best of them? Well, there are plenty on the online market and we have already selected the best ones for you.
In this article, we will discuss the 7 best full motion TV wall mounts with their important specifications. All of them have different weight capacities and compatibility you should check out.
Top 7 Full Motion TV Wall Mounts
1. Mounting Dream TV Wall Mount (32-55 Inch TV)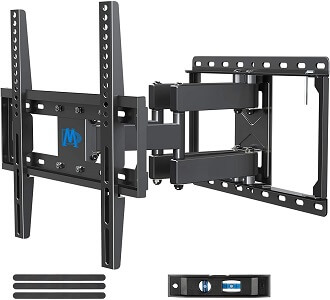 The first wall mount we have on the list surely deserves to be on the top. This full-motion TV wall mount is one of the highest-rated wall mounts with whooping 4.8 stars average ratings by thousands of buyers. There are right reasons for that.
Mounting Dream universal TV mount is ideal for TVs from 32 inches to 55 inches. It features the VESA standard mounting system with mounting holes present at 16×16 inches spacing. Although most TVs now are compatible with VESA mounts, you should check it on your TV before ordering the wall mount.
There are a lot of viewing angles that this mount will facilitate for your TV. It allows the TV bracket to tilt upwards up to 5° and downwards up to 15°. These movements not only help you avoid glares but for better viewing angles if you are sitting above or below the TV height level.
The TV can also be tilted left and right and moved forward and backward using the 6 articulating arms of the wall mount. You can pull out the TV up to 15.2 inches and retract it back to 3 inches depending on your viewing area.
All the adjustments can be made stable using the Allen key that you get with the package. There is storage space on the TV mount to place your key safely.
Installation of this TV mount is easy with the instruction manual and the hardware they provide in the labeled bags.
2. JUSTSTONE Full Motion TV Wall Mount with Height Setting (27-65 Inch TV)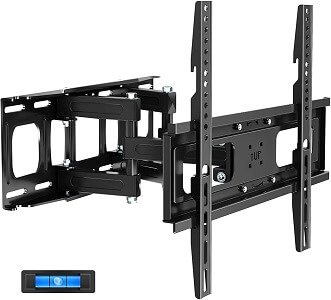 JUSTSTONE makes different types of tables and wall mounts for smart TVs. This TV wall mount is one of the most universal wall mounts that can accommodate TVs from 27 inches screen size to 65 inches. Its maximum weight capacity is around 121lbs and it supports VESA mounting standards.
The wooden studs of 8, 12 and 16 inches can fit with this mount and you get anchors that can fit in brick and concrete walls. Other things in the package include a 6 ft HDMI cable and 3-axis magnetic bubble level to help you install it in perfect alignment.
However, a 3° level adjustment option is available after you have installed the wall mount to correct the leveling error without having to reinstall.
The unique feature you get here is height adjustability. After you install the TV mount, you can still make changes in the TV's height for up to 4 inches. Installation is quite easy and you will be able to put it permanently on the wall within 15 minutes.
As this is a full-motion wall mounting bracket, it allows a lot of movement for the TV. You can tilt it downwards up to 15° and tilt upwards up to 3°. The swivel of this TV mount allows the TV to move 45 degrees left and right for adjusting glares and viewing angles. It can come forward up to 14 inches and retract back to 2.6 inches.
3. ECHOGEAR Wall Mount for Big TVs (Up to 90 Inch TV)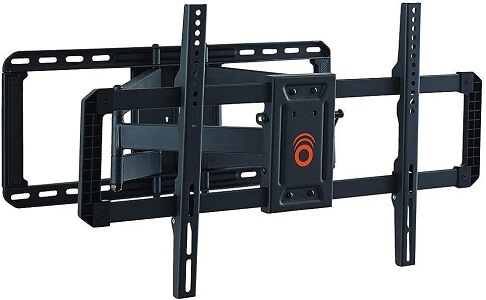 Here we have another remarkable full motion TV wall mount by ECHOGEAR. This is a safe house for your big-sized TVs with a lot of adjustment possibilities. It comes with a strong frame that can hold TVs of up to 125lbs. TVs from 42 inches to 90 inches from different brands can be mounted on this.
The movement this TV mount offers are pretty unmatchable. With the help of its smooth swivel, you can point the TV in any direction up to 130º angle. It also allows you to pull your TV from the wall up to 22 inches and retract back up to 2.4 inches to save some space.
It will take you around 30 minutes to install your TV on this mount with 3 simple steps. First, you will have to mount the wall plate, then attach the brackets to your TV, and finally, connect the TV to the wall plate. You will get a drilling template with the hardware in the pack which makes the installation process easier.
This is the EGLF2 model of ECHOGEAR full motion wall mount and they have promised to plant a tree for every piece sold. Without this gesture too, this wall mount is a good combination of quality and affordability. Currently, more than 9000 buyers have showered 5 stars ratings to this wall mount on Amazon.
4. MOUNTUP Full Motion Budget TV Wall Mount (26 – 55 Inch TV)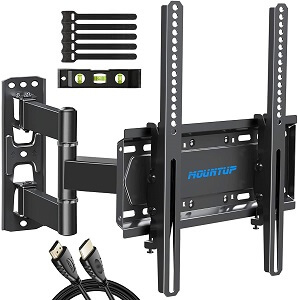 If you are looking for a pocket-friendly wall mount for your TV, this is a considerable one. This universal full motion wall mount is made for medium and small LED, LCD, and plasma TVs with 26 to 55 inches screen size. Its weight capacity is up to 60 lbs and it supports the VESA wall mounting system.
The tilt angle offered by this TV mount is 5° upwards and 10° downwards. You can get a comfortable viewing angle by turning it left and right up to 90°.
If you want to place it on a corner to save space in your room, you can do so because it can extend 19.6 inches farther from the wall and the turning option will also help you.
MOUNTUP tilting TV wall mount package comes with a bubble level to help you with the installation. With the help of clear instructions on the guide, you can install it within 20 minutes. Even you can't get the leveling accurate, you can adjust the level up to 3° post-installation.
5. Everstone Full Motion TV Wall Mount (32 – 65 Inch TV)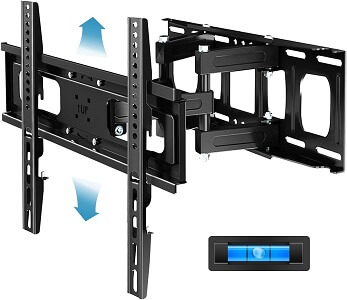 This is another highly rated full motion TV wall mount that comes with a height adjustment option. You need different viewing angles of the TV when you are watching the TV from a sofa or when you are watching it from your bed.
Everstone full motion wall mount's height can be adjusted up to 4 inches to enable a comfortable viewing experience for you.
There are dual articulating arms on the wall mount which are capable of lifting up to 121 lbs of weight. The body is made up of strong alloy steel that ensures the full safety of your big-sized TVs. TVs of screen sizes from 26 inches to 60 inches are compatible with this wall mount.
It features VESA mounting system (16″x16″) that all the popular brand's TVs come with. You can set it up on wooden studs or concrete walls. They have specifically suggested not to mount it on drywall.
Like most wall mounts on this list, you can tilt the TV up to 3° upwards and up to 15° downwards.
But what sets this articulating TV mount apart is the left and right swivels. It turns up to 180° on both sides which is a great adjustment choice in comparison to other full-motion wall mounts. The extension option from the wall is a little less on this one i.e. 14 inches and it can retract back to 2.65 inches.
To install the flat screen TV with symmetrical height, you get 3 axes magnetic bubble in the package. Installation is quite easy with the easy-to-follow user manual.
6. Mounting Dream Mount (26 – 55 Inch TV)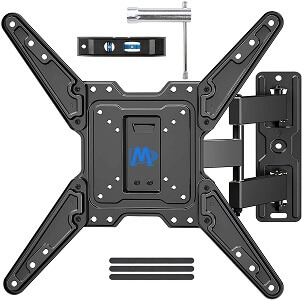 Mounting Dream presents you with another reliable full-motion wall mount for medium-sized TVs. It is compatible with TVs from a screen size of 26 inches to 55 inches and can hold a TV up to 77lbs of weight. The wall bracket has VESA mounting pattern from 3×3 inches to 16×16 inches.
The upward tilt in this one is 5° like most of the Mounting Dream TV wall mounts. You can tilt it downwards up to 15° to avoid glares from the lights in your room and sunlight from the windows.
It has got a 180° swivel to turn the TV towards any part of your room. You can pull the TV out up to 16.7 inches and it goes near the wall up to 2.7 inches. It will be very helpful if you want to mount your TV in a corner of a room.
The parts of this TV wall mount come in pre-labeled bags. And with the easy instruction manual, you can set it up within few minutes. You will get the cable ties, bubble level, and socket wrench in the package. This wall mount offers one of the best post-installation adjustments with the option of +/-4° leveling.
Mounting Dream has made this wall mount using heavy-duty aluminum and steel with robot welding technology to keep your TV safe and sturdy.
7. Mounting Dream Full Motion TV Wall Mount (26 – 55 Inch TV)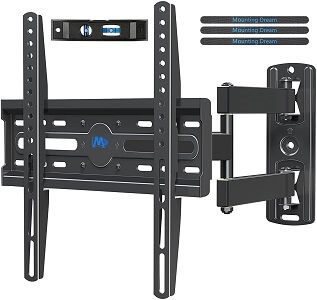 We present you another Mounting Dream TV wall mount because they all are really good and full of utility. This one too is for medium and small-sized TVs with screen sizes of 26 to 55 inches.
You can mount OLED, LED, and Plasma TVs on its wall bracket that features VESA mounting holes. It has got the capacity to carry up to 60 lbs of weight which is lower than most TV wall mounts we have discussed.
The swivel options are also limited in this one with 90° adjustment on both sides. But as you can pull the TV far from the wall up to 17 inches, 90° is decent adjustability. It can retract back up to 3 inches from the wall. The tilt adjustability up to 5° upwards and 15° downwards is available in this one too.
You get mounting hardware with it, like, cable ties for better cable management. Then there are bubble level and pre-labeled bags for hardware to help you with the installation. With the instruction manual and all the required accessories, you can install the wall mount within 30 minutes.
Have A Look: Top 7 TV Stands With Electric Fireplace
Conclusion
Depending on the size of your TV, budget, and adjustability requirements, you can choose any of these TV mounts. They all have quality construction and your TVs are going to be safe on them. These were the 7 best full motion TV wall mounts. We hope you find the one that lets you be entertained comfortably.