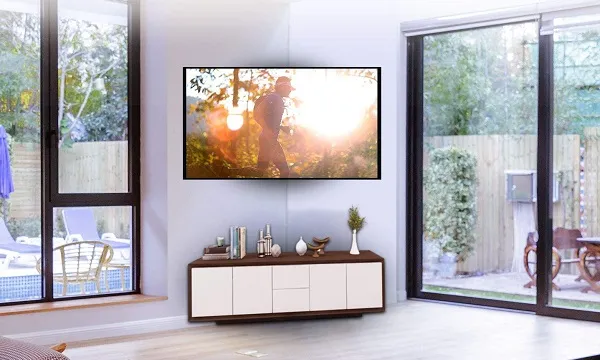 Mounting your TV on the wall leaves a lot of space in your room for other important things. For small rooms, flat-panel TVs with wall mounts are always advised. But a lot of times the walls of your rooms are occupied with doors, windows, cupboards, slabs, paintings, or there is just not enough space. For such scenarios, corner TV mounts are the best thing.
The corner mounts also save a lot of space in your room and serve as a safe house for your flat and curved TVs. Here, we have compiled a list and made it easy for you to pick the best corner TV mount. You can rely on them for reliable support and they also offer good adjustability to enhance your TV viewing experience.
A lot of people have the misconception that the wall mounts or the corner mounts are not safe for bigger TVs. The corner TV mounts included here have been purchased by innumerable satisfied customers and those customers have shown immense satisfaction. These mounts come in different capacities and can lift TVs of up to 75 inches screen size.
Our Recommended 7 Best Corner TV Mount Reviews
1. FOZIMOA Corner TV Mount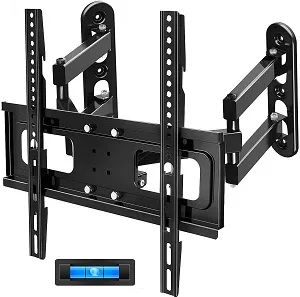 32-50 inches / 32-65 inches TV
Max weight capacity – 77 lbs
50x50mm to 400x400mm VESA mounting pattern
Starting off with one of the highest-rated corner TV mounts on Amazon, we have this one from FOZIMAO. It comes with split mounting plates so that you can easily install the mount on two adjacent walls or even on the same wall.
TVs from 32 inches to 50 inches can be mounted on this and if you have a bigger TV, the other variant is capable of holding up to 65 inches TV.
The mount features 90° of swivel which makes sure that your get up to 45° viewing angles on the left and 45° on the right. It also tilts upwards (up to 3°) and downwards (up to 15°). so that you can deal with glares.
From the wall, it can extend up to 17.2 inches and compress around 2 inches to the wall. That will definitely save you some space.
As the mount offers universal compatibility, almost all types of flat-screen TVs like LED, LCD, Plasma, etc can be mounted on this one. But they should have the VESA mounting pattern holes at the back. They have included a 6 feet HDMI cable to connect other devices with the TV.
You will not face any difficulty with its installation as all the mounting hardware comes with the package along with an easy instruction manual. Wood stud, concrete wall, or brick wall are all suitable for the installation.
This is one of the best budget corner mounts you will find in the market with a full-motion swivel.
2. InstallerParts Heavy-Duty Mounting Bracket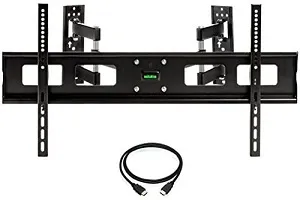 37 to 65 inches TV
Max weight capacity – 130 lbs
200X200mm to 800X400mm VESA mounting pattern
Installerparts is a small company that makes very reliable audio-video and network parts. This is a heavy-duty corner mount by them for installing on the corners. It is ideal for 37-65 inches flat-panel TVs and has a weight capacity of around 130 lbs. So, you can also install a TV top mount on your TV for keeping important accessories without worrying about weight.
The swivel here is 60° on each side (total 120°), which is much higher than the FOZIMOA corner mount we discussed above. Your TV will be at an ideal viewing angle from most parts of your room. Considering the price, they should have offered even better angels. The upwards and downward tilt is okay though. You will be able to tilt your TV 15° upwards and 15° downwards.
The mount has a VESA mounting interface of 200X200 to 800X400mm. LCD and LED TVs from popular brands like Samsung, TCL, Sony, Hisense, Panasonic, LG, etc follow these mounting standards. It has a heavy duty steel construction meant for durability with a scratch-resistant finish.
The corner installation is easy and you will need two people for the task. In the package, all the standard hardware is available but if you have a rachet, it will be easier for you. This corner wall mount has good looks and it will go well with your interiors. It has got around 4.7 stars average ratings from satisfied customers on Amazon.
3. Mount-It Swivel TV Mount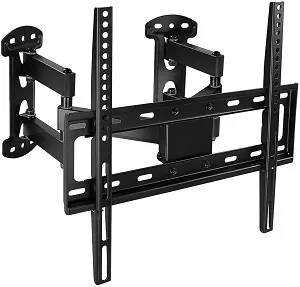 32-55 inches TV
Max weight capacity – 66 lbs
100x100mm to 400x400mm VESA mounting pattern
Here is another budget corner mount for your TVs by Mount-It. With the split backplates, the mount rests easily on the corner of your walls and comes with a full-motion swivel so that the TV can be viewed from different parts of the room. You can install it in the bedroom, living room, or any place with less space for an entertainment center.
The swivel offered here is 45° to the left and 45° to the right with a 15° tilt upwards and downwards to get the most favorable viewing angle. The mounting bracket also has extension capabilities from 4.33 inches from the wall up to 16 inches. TVs from 32 inches to as big as 55 inches will be accommodated in the corner with this much extension.
One special feature here is that the two extension arms come with 3 swivels each including one near the end that is mounted on the wall. So, you can very securely install the mount on any angled surface.
Mount-It offers a weight capacity of up to 66 lbs on this mount which is lower than other corner TV mounts. But it is still very secure for most of the standard TV available in the market. On average, a 55 inches TV weighs around 30-40 lbs.
The package includes a step-by-step manual to install the mount on your own. With the necessary tools which also come with the corner mount, you can set up the unit within minutes. In case you get the measurements wrong by any chance, the mount allows you post-installation adjustment of the TV up to 5° to the left and right side.
4. Forging Mount Long Extension Corner TV Mount Bracket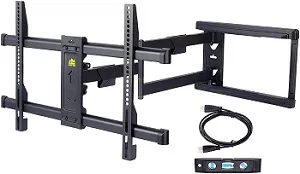 37-75 inches TV
Max weight capacity – 99 lbs
200x100mm to 600x400mm VESA mounting pattern
If you are looking for a sturdy and very secure mount for your big TVs, your search ends with this Forging Mount TV corner bracket. Made with tough and durable carbon steel, this Television mount can lift up to 99 lbs of weight. But it has passed the loading test of 310 lbs. So considers it fit for carrying flat panels at the top to keep the TV accessories.
Flat screen and curved TVs from 37 inches to 75 inches of famous brands like Sony, Samsung, LG, Vizio, etc can be mounted on this wall bracket. It comes with VESA mounting pattern from 200x100mm up to 600x400mm. You also get a cable management system at the back.
The most considerable feature of this mount is its long arm. These long arms can bring the TV up to 30 inches from the wall and the swivel can make it go a total of 180°. Not many reliable TV mounts will offer you this angle adjustment of 90° on the left and right.
Forging Mount has used an offset wall plate on this so it is installed on a single wall but can settle easily in the corner using the long arm and the swivel.
There is pre-set drill hole template on the TV bracket that makes the installation very easy. You just have to mark, punch with the drill machine, and mount the wall plate. Detailed instructions and the different screws needed for the mount are in the package.
The package also includes two covers for the wall plate so that the screws are not visible and the wall mount has a clean appearance. Though this is an expensive corner mount, the durability and adjustment level has earned it an average rating of 4.8/5 on Amazon from the buyers.
5. Monoprice Cornerstone Series Dual Articulating Arm TV Mount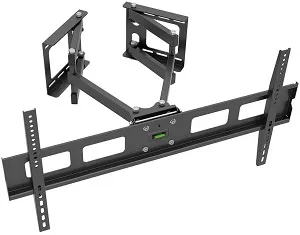 37-63 inches TV
Max weight capacity – 132 lbs
100x100mm to 800x400mm VESA mounting pattern
From 3D printers and musical instruments to home automation and audio-video solutions, Monoprice has it all. This corner TV mount is suitable for bigger TVs of 37 to 63 inches. You can install it to utilize the corner space of your room or even on a single wall at the center.
The dual-arm bracket design of this mount prevents your TV from sagging. The TV can be extended up to 24 inches from the wall but the swivel (45° on both sides) is not that impressive. You can tilt the TV 15° upwards and 15° downwards to get it at the perfect eye level.
The tough build of the corner mount makes its maximum weight capacity up to 132lbs. Flat TVs from any brand will be accommodated on this with complete stability. But they should come with VESA mounting hole pattern anywhere between the measurements from 100x100mm to 800x400mm.
You are not advised to install it on the drywall as it won't hold the weight well. The wall plates are 8.9 x 8 inches each and you will need at least two people for the installation. We did not find the wall anchors to be of that good quality. It would be great if you have them of your own or can purchase them separately.
6. Vermont Corner Mounting Bracket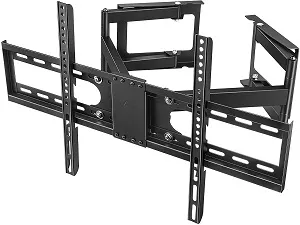 32-65 inches TV
Max weight capacity – 99 lbs
100x100mm to 600x400mm VESA mounting pattern
Here is a very pocket-friendly corner TV wall mount by Vermont. It comes with a split backplates design and can be installed at any angle in your room, be it the uneven corners or the center. The build of the TV mount including the arms is impressively strong. You can install TVs up to 99 lbs of weight on this safely.
Vermont has given the mount universal compatibility as its bracket can fit flat and curved TVs from 32 to 65 inches. If you have a curved TV, you will need the spacers that come in the package. The bracket has VESA standard mounting patterns that range from 100x100mm to 600x400mm.
From the wall, the mount retracts around 16.5 inches, which is not that impressive. The flexibility of changing the viewing angle is also pretty average as you would expect from a budget wall mount.
This corner TV mount swivels up to 45° left and 45° to the right. You will have to comprise with the tilting capacities as well with 5° upwards and 12° downwards. However, all this adjustability is sufficient to get a standard viewing angle and avoid the glares on the screen.
Installing the mount can be tricky as the instruction manual is not written in very clear English. But you will get the idea by watching any YouTube video. Also, you will need someone to assist you in the process as the mount is a little heavy.
7. ECHOGEAR Corner TV Mount with Cable Management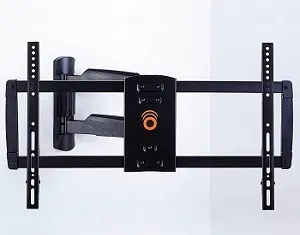 32-65 inches TV
Max weight capacity – 80 lbs
200x200mm to 600x400mm VESA mounting pattern
This is one of the best corner TV mounts you will find with a very reliable brand ECHOGEAR. With a clean, good-looking design, this TV mount can be installed in the corners or center of the wall in your living room, bedroom, balcony, halls, etc. The cable management at the back is perfect to avoid the messy looks from your TV cables.
It requires only one stud for the installation and you don't need to drill on two walls for mounting on the corner. The TV mounts that come with dual wall plates for 2 adjacent walls, can't make the TV fit parallel to the wall. With this ECHOGEAR corner mount, you can just slap it to the corner for more space while gathering.
You can mount TVs from 32 inches to 65 inches on this using the VESA mounting system. As the minimum measurement of the pattern is 200x200mm, you should confirm it with the mounting holes on your TV.
The weight capacity of the mount is only 80 lbs which is low in comparison to most corner mounts we mentioned here. But even if you have a 65 inches TV, they weigh around 50-60 lbs. So, you are good to go here.
The flexibility offered here is quite impressive. You can extend the TV from the wall up to 24 inches and the swivel gives 90° adjustability on each side. The tilt adjustability is 5° upwards and 15° downwards.
You receive a very clear and fun instruction manual in the package to install the TV mount. It will take roughly 20-30 minutes in providing your TV a perfect place.
Corner Mount vs Flat TV Mount
There aren't a lot of things different on these types of TV mounts. Corner mounts and TV mounts can have swivels, they can be made up of iron, steel, or other metals, their prices are similar and they can have the same lifting capacity. Here are few uncommon things between them that might help you in choosing one.
Build design
The corner TV mounts come with split mounting plates so that you can install them on it two adjacent walls or even on uneven surfaces. On the flat TV mounts, you get a single wall plate that goes parallel to the wall.
However, some brands like ECHOGEAR provide corner mounts with a single stud at the back. It can be installed at any part of the room and the installation process is also easier.
Installation
The installation of both types of mounts is almost similar. But as the corner TV mounts have mostly separated wall plates, it is not easy for a person to install a swiveling two-arm TV mount alone. On the other hand, a flat TV mount can be mounted alone.
Another very basic thing is that you need a lot of measurement for the flat TV mount and care if its alignment with the wall is alright. The corner mounts just go in the corner with measurements only required to drill the holes.
Space
This is one of the main reasons people go for corner TV mounts. They take up the unused corners of the room and you don't miss an empty wall in your room to mount the TV.
A flat TV mount will mostly require the center part of the wall. Though they also save a lot of space in comparison to TV cabinets.
The looks
If you are mounting the TV on a height above your head, corner mounting won't look as tidy as a flat mounting. Mounting at your eye level in the corner is a finer choice to make.
Secondly, most rooms do not have sockets and switches installed in the corner. So, all the cabling might spoil the looks of your room. If it is not for saving space, you should go for a flat TV mount or install the corner mount at your eye level.
Budget
The budget of these mounts depends on the build quality and the brand. However, you can buy a very cheap flat TV mount without a swivel and extending arms. Corner mounts mostly have extending arms and the swivel to adjust the viewing angle. So, it will be hard to find a cheaper version of these.
Corner TV Mount FAQs
Can you mount a TV in the corner?
Yes, you can mount a TV in the corner of your room using the corner TV mounts. The corner mounts are as safe as the regular ones and the installation process is also quite easy.
Why should you mount TVs in the corner of your room?
To utilize the corners in your small room, you can mount your TVs in the corner. It will save you a lot of space and also keeps the TV safer if you have kids and pets at home.
Do you need a special TV mount for a corner?
Yes, the corner TV mounts are different than the flat TV mounts. They have two separated wall plates at the back so that they can be installed on two adjacent walls separately. Other than that, there isn't much difference.
How do you mount a TV in the corner?
It is easy to mount a flat or curved panel TV in the corner of your room. Firstly, you need the dimension of your TV and its mounting pattern and then order a good corner TV mount. Most of the mounts come with a clear instruction manual. Even if they don't, the steps are quite easy.
You will have to place the wall plate of the mount to the wall and mark with a pencil on your wall where you see the holes for the screw. Using the drill machine, make holes on your walls. Avoid making holes on drywall. For mounting the TV, using wooden studs on brick or concrete walls are the best.
Now, attach the wall plate to the wall and the and TV bracket to your TV using the screws in the package. Lastly, attach the TV and the bracket to the mounted wall plate.
Can you corner mount a 70 inch TV?
Yes, big TVs from 32 inches up to 75 inches can be safely mounted in the corner of your room. There are a lot of reliable brands in the market that sell tested corner TV mounts so that you can place your TV in the corner and save space. We have mentioned the best corner TV mounts above that are for 32, 40, 43, 50, 55, 60, 65, 70, and 75 inches TV.
Conclusion
We hope you are able to choose the best corner TV mount for you to give your TV a safe home in a limited space. With a 45° swivel, the FOZIMOA full motion corner TV wall mount is a fair choice to make on a pocket-friendly budget. If you want more viewing angles and have got a good budget, the ECHOGEAR corner TV wall mount and the Forging Mount long extension corner mount provide a good utility.