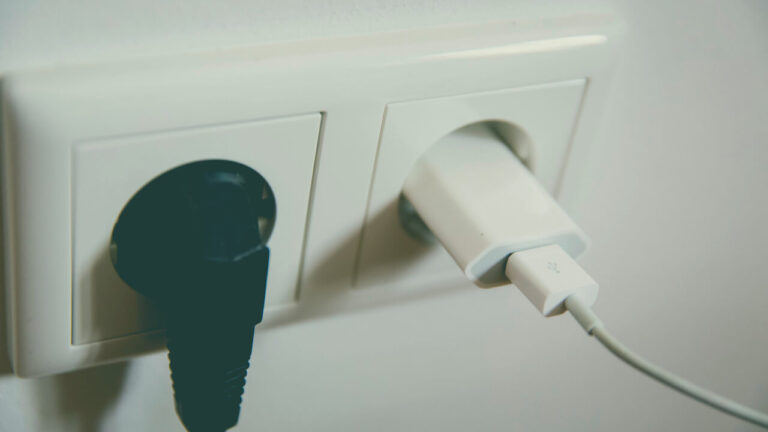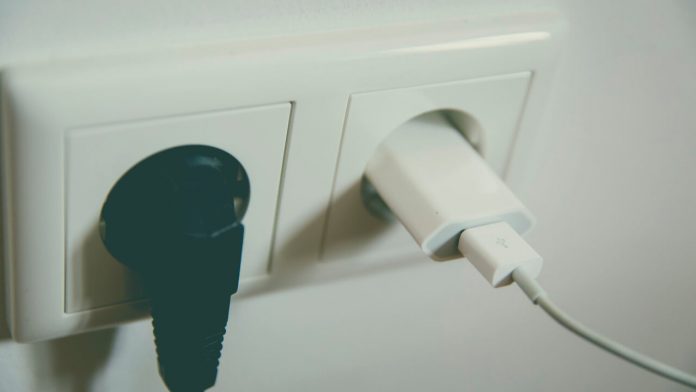 Electrical power surges are very common in most parts of the world due to lightning and bad weather. These power surges can heavily damage the electrical and electronic appliances connected to the main power supply of our homes. Power surges destroy the tiny microprocessors present in most electronic devices like TVs, computers, refrigerators, washing machines, hairdryers, etc. These small components are very sensitive to power instability.
Although we can not prevent electrical surges from happening, what we can do is that we can provide surge protection to our devices. So that when the lightning strikes, it won't fries up the appliances connected to the power supply.
We have already covered the surge protectors for TV. However, all the products listed in that article are multiple outlet surge protectors. So we did extensive research on the single outlet surge protectors and came up with this article for you.
Best Single Outlet Surge Protectors
1. Belkin Single Outlet SurgeCube
Belkin is a big name in the consumer electronics industry and rightly so as they always come up with great products. And this single plug surge protector from them is no different.
It comes with 3 line AC protection and 1080 Joules of energy ratings, rest assured that it is going to provide complete protection to your devices against powerful electrical surges.

Moreover, it features two LEDs that tell you about the condition of the connected device i.e whether the device is grounded and protected. Also, since it is a wall-mounted surge protector, it plugs directly to the AC outlet and saves a lot of space.
So overall it is a great surge protection device from Belkin and you should definitely have a look at it.
2. GE UltraPro Surge Protector
If you are looking for surge protection for hard-to-reach places like behind large appliances (For example, the refrigerator and washing machines) then this protector is a perfect choice because it comes with a loud 88-decibel alarm that alerts you whenever it needs replacement.
The problem with large appliances is that you can not move them easily, so if you have a power outlet behind the large appliance then it gets very difficult to check whether the surge protector is working fine or not. However, that's not going to be the case with this single socket surge protector, as it will alert you with an alarm when it expires.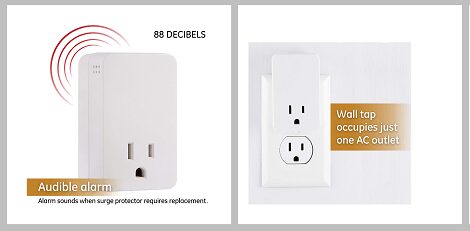 Other than the alarm it provides 1080 Joules of surge protection to the device connected to it. Which ensures the safety of the connected device against power surges. So yeah, it can be a great choice for you if you want a surge protector with an alarm.
3. CyberPower CSB100W Essential Surge Protector
CyberPower surge protectors are known for their great capacity to protect your heavy electronic equipment like television, refrigerator, laptop, etc. This tiny device has a surge suppression rating of 900 Joules, which can be considered pretty outstanding in this segment. It is fully capable of blocking and diverting the voltage during electricity spikes so that your equipment doesn't go through any impairment.
The technology involved in making this device is called metal oxide varistor technology and it also features an EMI/RFI noise filter. This noise filter eliminates high-frequency electromagnetic sound in power lines. The LED indicator is useful for knowing if the device is working and protecting properly. The casing of the adaptor is impact-resistant so you can rest assured about its durability.
4. Surge Protector for Refrigerator From Nippon America
It is a very common misconception among people that a refrigerator does not need a surge protector because there is no sensitive electronic circuitry in it. Well, it is true to some extent but during power surges, an excessive amount of heat is generated which can harm the internal parts of the refrigerator.
The three main parts that are under constant threat are the compressor, ice maker, and control board. Moreover, the compressor is an expensive component and you may end up paying a lot of money for a replacement if it gets damaged. Hence you should always connect your refrigerator with a surge protector like the one we are discussing here.
This surge protector from Nippon America is one of the best single outlet surge protectors for refrigerators and other large appliances that use current up to 15 amps. Moreover, it protects the appliances from both the high voltage (140 VAC) and low voltage (90 VAC). Also, it provides 175 Joules of surge protection to the connected device.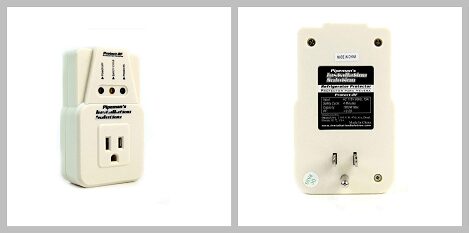 To tackle power fluctuations it supports a 3-minute safety cycle. This safety cycle switches off the appliance to protect the electronic parts from getting damaged for that period of time (3 minutes) during voltage surge. Moreover, it has 3 LED indicators that inform you about the current status of the connected appliance. So, you can invest in this surge protector for your refrigerator if you want a long life for it.
5. Tripp Lite Multipurpose Surge Protector
This Tripp Lite protector is a normal surge protector but other than electronic devices, it also protects the modem and telephone equipment.
It features a built-in tel/DSL (RJ11) jack that lets you connect the telephone or modem to it and save them from power surges. Also, it comes with a 6 ft long phone cord so you don't have to buy it separately.
Moreover, it provides 1080 Joules of surge protection to both the connected device and the connected modem or telephone. And not to forget, it conforms to UL 1499 safety standards. So you can rely on it for the safety of your devices.
Also, it provides you with a lifetime warranty.
6. GE UltraPro Surge Protector
Though little on the expensive side, GE UltraPro single outlet surge protector might be the best choice for the safety of your essential equipment. The protector is designed in such a way that it can be easily set in the wall sockets that are behind large devices. It also takes just one AC outlet for plugging it in. So the other wall outlet is free to use for some device or other surge protector.
This surge protector doesn't have a LED indicator but it features an 88 decibels alarm. The alarm goes off when the surge protector can't function anymore and you need a replacement. There are bigger versions of this product which have indicator light and more outlets including the USB outlets. This surge protector has a very impressive surge protection rating of 1080 joules. The electrical rating featured in the device is 120VAC, 15A, and 1800W.
7. Oviitech Single Surge Protector Plug
With a surge protection rating of 245 joules, this adaptor protects the plugged electronic equipment from sudden surges and storms. Even when the electricity voltage goes to its peak, the performance of this protector is promising. There is an indicator light in the protector that signals the safety of the plugged-in device. It means that the adapter is working fine, grounded properly and there is no risk involved.
There are no extra tools or techniques involved in using this surge protector. You just have to plug it in your wall socket and any wall socket can turn into an electronic surge protector. Travelers will find this device useful because of its lightweight design that gives easy portability. It will take just a small pocket space. The device has a power rating of 1875W.
People have showered very good reviews on this product because of its utility and attractive price. But few people haven't liked the blue indicator so much as it is a little bright and can be distractive at night. Also, the surge suppression rating is pretty less when compared to other protectors on the list.
Conclusion
Single socket surge protectors are a great alternative to surge protector strips as they are cordless and are easy to carry around. Moreover, they provide you surge protection wherever you need, even when you are traveling.
You can go with any of the surge protectors mentioned in the list above. However, if you want protection for your refrigerator and other large appliances then the surge protector from Nippon America is the best choice.
We hope you found the surge-protector as per your device's requirement. Though single surge outlet protectors lack plugs, it is best for single devices and carrying when you tour.