Are you scratching your head to find the best affordable hair dryers? Don't worry, we understand that it is not easy to choose the hair dryer under budget among the plethora of others available in the market. To make things easier for you, we have done some extensive research for days and came up with the list of best hair dryers under $50.
Quick Look At Top 5
Professional

Value For Money

For Travelers

Best Among All

Stylish Design

Product
BaBylissPRO Nano Titanium
Professional

Value For Money

For Travelers

Product
BaBylissPRO Nano Titanium
Best Among All

Stylish Design

Best Hair Dryers Under $50
1. NITION Hair Dryer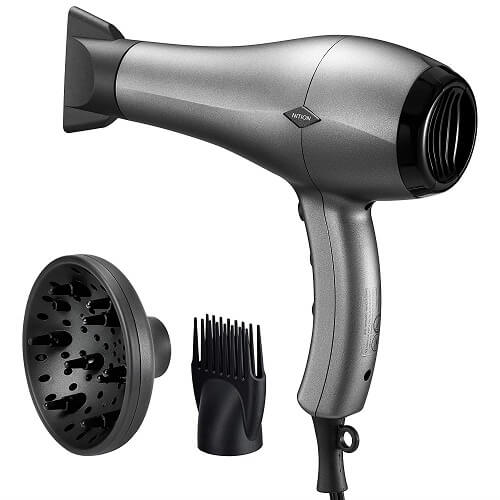 Lightweight & Powerful
453 grams
1875 W
Nanosilver, Argan Oil, and Tourmaline infused grill
The first product on this list is the NITION Negative Ions Ceramic Hair Dryer. This dryer has a ceramic coated outlet grip that is charged with elements that are used in the hair care industry for a long time. These elements are Nano Silver, Argan oil, and Tourmaline.
Whenever the air blows through the outlet grill, it gets infused with these elements and helps make your hair healthy, smooth, and shiny. Other than that it's a very lightweight product and stylish too. Moreover, it is very compact in size and you won't feel any issue handling it whatsoever.
Also, you get 3 attachments with this hair dryer. So that you don't have to stick to one hairstyle forever. The 3 heat settings and 2 wind speed settings help you make your desired hairstyle. Once you get your favorite hairstyle you can then use the cool shot button to lock that hairstyle for a long time.
Also, its 1875 Watt motor produces a very strong airflow that dries your hair quickly. Although it has a powerful motor, it does not make that much noise, so, you can dry your hair without disturbing others. Overall, it is a great hair dryer in the budget and you can go for it.
Has a powerful motor
Multiple heat and wind speed settings
Compact and stylish design
Infused ceramic coated outlet grip
Gets hot on continuous usage
2. JINRI Infrared Professional Hair Dryer
Now the next product on this list is a professional infrared hair dryer from JINRI. It is basically an 1875 Watt hair dryer that is capable of drying your hairs faster than its counterparts. Moreover, it has an AC motor that produces less noise and more power.
Also, it uses infrared for creating a long wave of heat energy that evenly dries your hair from inside out. The negative ion technology of the dryer breaks the water molecules and fastens the drying process. The other benefit of this technology is that it seals the cuticles and hence reduces frizz and provides shiny looks to the hairs.
This hair dryer is built with high-quality matte material and the overall design and feel of this dryer are quite impressive.
You also get other common features like multiple wind speed and heat settings along with the cool shot button. Apart from that, you get 3 attachments (Diffuser, Concentrator, and Comb) to make different hairstyles at home.
Has a high power AC motor
Ergonomic design
Quickly dries the hairs inside out
The buttons positioning could have been better
3. 
Remington D3190 Damage Protection Hair Dryer
Despite being the inexpensive hair dryer, Remington D3190 is one of the most highly-rated hair dryers on Amazon. It is simply due to the fact that this product provides more value at its price. The USP of this hair dryer is that it boasts an advanced coating technology. This technology protects your hairs from heat and damage.
Moreover, the outlet grill is made with a combination of ceramic, ionic, and tourmaline technology. The multi-layered grill ensures you get healthy and frizzles shiny looking hairs. Also, with its 1875 Watt powerful motor, drying your wet hairs is gonna take less time than usual.
The two attachments with this dryer can help you make your favorite hairstyles. Moreover, there are 3 heat and 2-speed settings that are given for better operations of this hairdryer. It is also easy to keep this dryer clean with its removable air filter.
Made out of lightweight plastic you might feel that this dryer is not durable. But again at this price point and the features you can't really complain much about the build quality.
Inexpensive
Lightweight and powerful
Protects hair from damage
4. Babyliss Pro
If you are searching for a light weighted, easy to handle and comfortable for traveling type hairdryer under 50$, then Babyliss pro is worth giving the attention. It comes in a compact dimension and weighs less than 500 grams so it is both durable and lightweight. The motor is of 1000 Watt which might not be as powerful as some other products in the list but it is powerful enough to quickly dry your hairs and add a style.
This titanium blow dryer emits heat at an even and steady temperature. Usually, titanium blow dryers are very helpful in reducing the drying time if one has thick hairs or have lots of hairs. You can use it worldwide as it is equipped for a voltage range of 110V to 250V. It also features 2 speed/2heat settings where you can set the temperature and speed of air emitted by the dryer.
The dryer comes with a foldable handle which makes it more durable and easy to use. Along with it, there will be a removable rear filter and stand to felicitate an easy cleaning. There is also the trustworthiness of Babyliss brand that got a good reputation in terms of hairdryers. So, if you are willing to purchase a handy, small and lightweight hairdryer, then Babyliss is a good option for you to go with.
Ultra-lightweight
Small and handy in size
Removable air filter and stand
Suitable for traveling
Budget-friendly
The motor is only 1000W
Diffuser not included
5. Trezoro Professional Ionic Salon Hair Dryer
If you are looking for a professional hair dryer for yourself in the budget then this dryer from Trezoro is the best choice. Its price is little over the $50 mark but during the sale you can easily get it under $50. Also, 2200 watt DC motor, making it the most powerful blow dryer on this list.
Moreover, it has a built-in ion generator that shoots 16 million negative ions per cm³. This many negative ions locks up to 90% of your hair's moisture and makes them super glossy. Also, it has a ceramic tourmaline grill that makes your hair even more healthy and soft.
Apart from that, it dries your hair in very little time. All thanks to its mighty 2200 Watt DC motor. With the fast speed and 2 nozzle attachments, it becomes the perfect hair styling tool for both men and women.
Not just that, this dryer is not only feature-rich but it also looks and feels very premium. With its silky touch body and non-slippery handle, it is very comfortable to hold it as well. So overall it is a great hair dryer you can buy online under $50.
Has a very powerful DC motor
Locks hair's natural moisture with negative ions
Premium design
Perfectly styles the hair of both men and women
Overheating issues due to powerful motor
6. CONAIR Hair Styling ToolKit
If you are searching for a hairdryer particularly good for drying men's hair, then Conair can be a good option for you. This product contains 1600 Watt motor along with 2 heat/2 speed settings through which you can manage the temperature and speed of the air emitted by the dryer. There are some additional attachments with the product which will surely grab your eyes.
The list includes
– A detail trimmer along with a multi-use handle that is good for eyebrows, ears and nose.
– Men's full-size Deluxe travel bag.
– Styling brush that is suitable for the purpose of smoothing and detangling the hairs.
– A multi-purpose 20 MM trimmer which is good for necklines.
– A styling comb which is suitable for all types of hairs.
The weight of this dryer is around 680 grams and dimensions are also compact which makes it compatible to use at home as well as pack the same in your travel bag. It folds up very sharp as it comes with a foldable handle. Also, it has a dual voltage feature which is another reason to consider it as a suitable product to carry while traveling.
Light in weight
Comes with foldable handle
2 speed/2 heat setting
Includes styling comb and styling brush
No diffuser and concentrator
7. Conair InfinitiPro Hair Dryer
If you want to dry your hairs like a pro then you need to go with this hair dryer from Conair. It has an 1875 Watt AC motor that dries your hair 50% faster than the average hair dryers. Moreover, it works on ionic technology that reduces frizz and makes your hair smooth and shiny.
It also uses ceramic technology that helps in uniform heat distribution and reduces the hair drying time. You can also customize the heat flow and wind speed with 3 different heat setting options and 2-speed modes.
This dryer also has a cool shot button which is a must in every professional hair dryer for locking the curls and styles. Also, for creating different hairstyles you get a diffuser and a concentrator in the box as well.
There's a 6ft long power cord provided with this hair dryer so that you can easily dry your hairs even if the AC outlet is far. A hanging ring is also provided so that you can hang it in a safe place once your hairs are dry.
Has a powerful AC motor
Makes hair smooth and shiny
Cool shot button for locking hairstyles
8. Conair Compact Hair Dryer
If you're a wanderlust and craving for a hair dryer that can be your buddy in your travel days, Conair Compact Hair Dryer is what you need. The product is 3 x 4.2 x 7.6 inches in dimension, so we can say that the dinky size of this product assures that it's not gonna take much space in your bag.
This Conair hair dryer comes with a foldable handle which makes it even more space-friendly and a perfect choice for the travelers. Not only that, but the product also has a dual voltage system which makes it a fine choice for globetrotting.
The product surely looks small in size but its powerful motor of 1600 watt is enough to blow your brain out. Just kidding, but it can easily dry your hair even though they are quite long in length. With two different speed controller buttons, you even adjust the dryer according to your hair type and hair size. The dryer gives you everything expected from a good hair dryer and that too at a low price.
Dual voltage
Can fold handle
Great for travel
9. Conair Styling Hair Dryer
Here comes another amazing product by Conair. If we talk about its appearance, the looks and design of this hair dryer are completely different from the usual hair dryers. It comes with ionic technology and that too with 1875 Watt power, making it a perfect dryer to get frizz-free hair and finally leaving your hair with a natural shine.
It doesn't matter what hairstyle you need or what hair type you have as the Conair styling hair dryer is absolutely perfect for everyone. Along with the dryer, you also get 3 attachments. A styling comb for straight styles, detangling comb for nice and easy styling, and a bristle brush for volume and waves and that too for peanuts price.
Conair styling hair dryer is designed with hinged filters, resisting the lint buildup in vents, hence increasing the motor life. If you're planning to take this wonderful product on tours, you won't regret it. The dryer has a dual voltage system that makes it an ideal choice while roaming all around the world.
Comes with 3 Attachments
Dual Voltage support
Unique design
10. Red By Kiss
As the name suggests, this hair dryer comes without a handle, which makes it a bit unique from other hair dryers in the market. Being handle-less, you have to grab the dryer from the body while styling your hair. The hair dryer comes with a triple-layered insulation technology, preventing it from heating up while in use. This Red By Kiss product offers tourmaline-ceramic technology which makes it a good to go product for dry hair people too. When we talk about the hair dryers at economical prices, not checking out this one can be a huge blunder.
In addition to the hair dryer, you also get a double-layered detangling comb for people with much-twisted hair. Also, you get a single-layered detangling comb and a concentrator to give you a salon-quality styling. What makes this product more professional is its 3 heat settings and 2 speed settings, making the dryer suitable for all hair types.
Unique Design
Powerful Motor
Comes with Single & Double-layered detangling comb
Not for those who need a handle
So these were the best hair dryers available under $50. As we have done the research based on various factors, you can choose the one accordingly. Whether you have thick or frizzy hairs or you want a ceramic or tourmaline technology dryer or looking for traveling, lightweight, or for other purposes as well, all the affordable dryers are listed.
Have A Look: Top 5 Wall Mount Surge Protectors
Best Hair Dryers Under $50 Buying Guide
Choosing a hair dryer these days is not as easy as it would have been back in time. Earlier in the days, the blow dryers were not that complicated as they would just blow hot air and dry our hairs. But now that ain't the case, dryers these days come with a bunch of useful features and boast new technologies that has redefined blow dryers.
The key things to look for when shopping for a new hair dryer are the material that it's made of, wattage, weight, and special features. You can read this buying guide to be more sure of what we are saying.
1. Type Of Blow Dryers
a) Personal Hair Dryers
The personal hair dryers were made for domestic usage and hence have low power motors when compared to professional dryers. Also, these blow dryers are easier to handle and lightweight so that anyone can use them without any professional help. These hair dryers are also quite affordable and anyone can have them without thinking much about their budget.
b) Professional Hair Dryers
As the name suggests these hair dryers are meant for professional usages and thus are used by pro hair designers and salon professionals. These dryers may look similar to ordinary hair dryers but are relatively very powerful. Also, the professional hair dryers mainly run on AC (Alternating current) and thus provide more power at low RPM. You can easily find these hair dryers in your local saloons. Also, these are quite expensive when compared to other dryers out there.
c) Travel Hair Dryers
The travel dryers have a compact design so that people can carry it wherever they go. These come with a foldable handle and are lightweight in design which makes them compact and easy to carry.
d) Wall Mount Hair Dryers
These are normal hair dryers but are mounted on the wall to save some space for you. You can get these dryers and mount them on your bathroom wall near the mirror for easy operations.
 e) Hooded Dryers
You must have seen these dryers in a saloon lately, but you can also get one for yourself at home. You just have to put your head under the hood and it shall dry your hairs while keeping your style intact.
Have A Look: The Best Coffee Pod Holders
2. Different Dryers For Different Hair Types
a) Thick And Frizzy Hair
For thick and frizzy hairs IONIC HAIR DRYERS are the best choice. The ionic technology reduces the hair drying time which is a must for thick hairs as they take long time to dry. Moreover, the ionic technology retains the moisture in the hair thus making the frizzy hairs look shiny all day long.
b) Curly Hairs
For curly hairs, any good hair dryer will do the job for you, however, make sure that the hair dryers come with Diffuser attachments. The diffuser spreads out the air equally on all parts of the head making it easier to dry stubborn curly hairs without losing the curls. If you already have a hair dryer then no need to buy a new hair dryer as you can buy the diffuser attachment separately.
c) Thin And Fine Hairs
People with thin and fine hairs are most concerned about their hairs as they are more prone to damage if not taken care properly. Ceramic Hair Dryers can be a great choice for people with such concerns as these hair dryers are less harsh on hairs as they evenly distribute the heat. For extra security, you can go with a ceramic hair dryer that comes with adjustable heat settings so that you can control the temperature of the dryer.
d) Hair Dryer For Men
Men's hairs are short and hence take comparatively very less time than drying long hairs. Hence a low wattage dryer is best suited for them, any blow dryer up to 1000 watts is good enough for men to take care of their hairs.
3. Technology And Coil Material Used In Blow Dryers
Different hair dryers come with different technologies for reducing the hair drying time. Here are some of the main types of hair dryers based on the technology and coil material used in them.
a) Ionic Hair Dryer
The ionic hair drying technology is based on the theory of positive and negative ions. In the ionic dryers, a built-in electromagnetic field produces negative ions which cancel out the effect of positively charged water molecules and reduces the hair drying time.
By breaking the positive water molecules it curtails moisture within the hairs and gives them a shiny look. However, it can also over-dry your hair if you don't use it properly and especially if you have thin hair.
b) Ceramic Hair Dryers
The ceramic hair dryers are the common types of dryers that can be used on any hair types. These are also less expensive when compared to an ionic hairdryer. In ceramic dryers, the material ceramic is used in the coil of the dryer which allows it to evenly distribute hot air, thus preventing damage to hairs.
The ceramic hair dryers are also known as Porcelain dryers, so, don't confuse yourself with that. Also, in ceramic hair dryers, the infrared technology is used which uses longer energy wavelengths to dry the hairs inside out.
c) Tourmaline Dryer
The tourmaline hair dryers use the same technology as an ionic hair dryer i.e it uses negative ions for quick hair drying. However, these dryers go one step further and use more numbers of negative ions than a standard hair dryer.
This is possible due to the semi-precious metal known as tourmaline which is coated on the internal parts and its coil which produces extra negative ions.
d) Titanium Dryers
Titanium is known for being a lightweight material and hence when it is used in hair dryers it makes them light and compact as well. Other than that, titanium is also known for its temperature consistency and hence provides an even heat distribution. However, using titanium material also increases the overall temperature of airflow, which can be good for people with thick hair but not for those who have fine hairs.
4. Attachments
Hair dryers are not just for drying your hairs but they are also capable of styling your hairs. There are different types of attachments that come with these dryers that help in styling.
a) Concentrator
The concentrator nozzle can be attached to the head of the hair dryers and is used to channelize the airflow to a specific part of the head. Also, these comes in different sizes but they all work like the same.
b) Diffuser
Like the concentrator which concentrates the airflow on a specific part of your head, the diffuser as the name says, is used to diffuse the airflow and reduce its intensity. The diffuser is best for maintaining the style and curls of the hairs and is therefore mainly used for curly hair types.
c) Picks
The hair dryer picks are similar to a comb and are used for creating volumes at the root. Also, these comb-like attachments can be used to untangle intertwine hairs and stretch out the curls. These come in different shapes and sizes, so if you have shorter hair then you can get a short pick.
d) Stylers
The styler is an attachment for lazy people out there who don't like holding the brush in one hand and dryer on the other. This attachment combines the hairbrush with the dryer for styling your hairs with single hand use.
e) Hair Bonnet Attachment
This attachment is a portable hair bonnet that you can attach to the mouth of your hair dryer and get salon-like hair care at home.
5. Wattage
Watt is a unit of power and in terms of a hairdryer, it measures how powerful the motor is. The more the wattage the more powerful is the motor. A higher power motor generates more airflow, thus, a dryer with more wattage takes less time to dry your hair when compared to a less powerful dryer.
Average hair dryers have wattage in the range of 1500- 1875 watts, which is sufficient for most hair types. But if you have curly or largely dense hairs then you can go with an even more powerful dryer. But you need to be cautioned while using a high wattage dryer as it can also damage your hairs if not taken care properly.
Note: It has been seen that a higher wattage dryer has a longer life when compared to low wattage dryers.
6. Weight
The weight plays an important role in choosing the best hair dryer. If the dryer is on the heavier side then it can cause wrist pain while using it. However, if the dryer is too lightweight then it can become a matter of concern for its durability. So choose a dryer carefully so that it's neither too heavy as a brick nor too lightweight as a feather. A good weight for a dryer is around 1 pound.
7. Cost
Hair dryers come in a wide range of price segments, starting around $15 and go up to even $500. Some of the most expensive hair dryers can even cost thousands of dollars. The variation in price is mainly due to the technology and materials used in the manufacturing of these dryers.
Professional hair dryers cost more than personal hair dryers simply due to the fact that it boasts more features and technology in them. However, that doesn't mean that cheap hair dryers are worthless.
8. Special Features
Dryers these days come with a lot of additional features that can help you in taking care of your hairs. Here are some of the cool features to look out for when buying a blow dryer.
a) Adjustable Heat Settings
This is a very handy feature that a dryer should have, with adjustable heat setting you can decrease or increase the amount of heat airflow from the dryers depending upon your hair type. If you have fine hairs then low heat settings are recommended for you, and if you have curly or dense hair then you can go with higher heat settings for quick hair drying.
b) Cool Shot Button
This is another handy feature to have in a hair dryer, when you press the cool shot button on your dryer, it starts blowing cool air instead of hot air. The cool air from the dryer helps lock curtails and makes them look shiny all day long.
c) Auto Shut-off
This is a great feature present in some of the hairdryers which shut off the dryer before it becomes too hot and damage your hairs. It cools down the dryer and makes it ready to use after some time.
d) Dual Voltage
Countries around the world use different voltages, like in India 220 V is used whereas in the USA 110 V is used. So if you are looking for a travel hair dryer then make sure it supports dual voltages.
e) Noise Reduction
High wattage hair dryers or the professional hair dryers which run on AC uses a very powerful motor. The more powerful the motor the louder it is. Hence noise reduction feature is given to some of the hair dryers to reduce the noise.