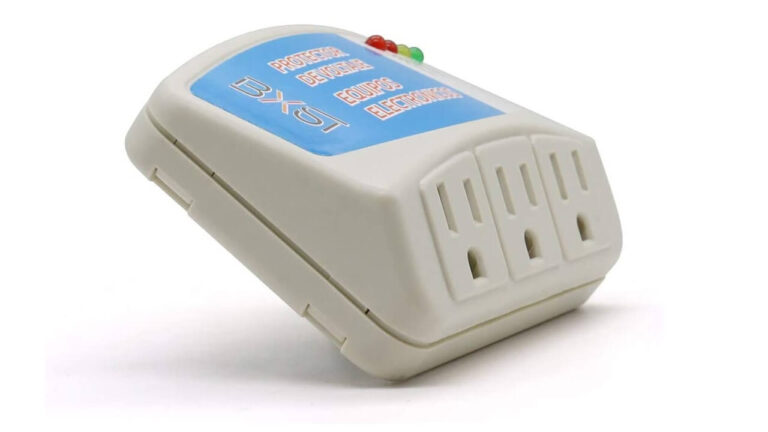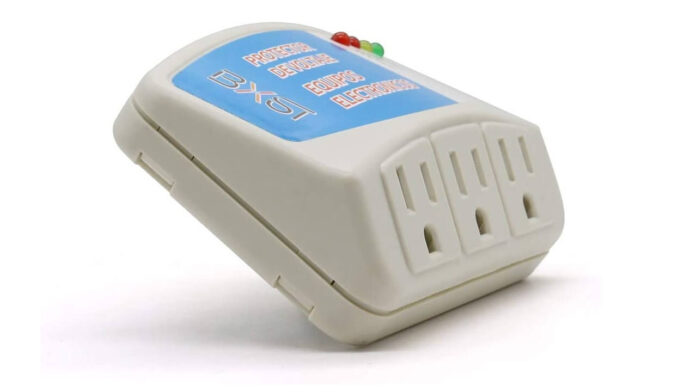 The ever-changing weather conditions are a common reason for a lot of sudden power fluctuations. Even if there is no harsh weather voltage spike may occur when your electricity companies switch power grids. In such scenarios, you need to take care of your appliances like washing machines and others.
Why do washing machines need surge protectors?
Washing machines have small microprocessors for which power grid failures and lightning strikes can be fatal. For saving your appliances against sudden current surges, you need surge protectors. These surge protectors prevent the extra power from reaching your device and divert it.
Here is a list of the 4 best surge protectors for washing machines. These surge protectors can be mounted on the wall for better connectivity with your washing machine.
Best Surge Protectors For Washing Machine
1. Appliance Shield Surge Protector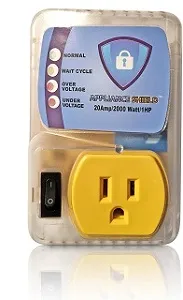 The appliance shield is only dedicated to making reliable surge protectors. This power surge protector is little on the expensive side but it offers five layers of protection that are important for appliances like washing machines, refrigerators, freezers, and dryers.
Once plugged in, these appliances will be safe from damage against low-voltage, power back surges, high voltage, power spikes, and lightning.
The Amp rating of this surge protector is 20 Amps. In case of voltage fluctuation, the power is disconnected from your electronic appliance for its safety. It connects the power automatically when the electricity connection gets stable.
There are 4 light indicators on the protector for signaling different power statuses. The 'normal' indicates when the device is connected and protected and the 'wait cycle' is for showing that the power is back but it's delayed for the appliance's safety. The two other light indicators are for showing low-voltage and under voltage.
2. BSEED Home Appliance Surge Protector
Here is one of the most affordable surge protectors you can get to provide a stable connection to your washing machine. Other devices like air conditioners, heaters, coolers, microwave ovens, and freezers can also be saved against voltage surge with this protector. In case of low voltage also, the surge protector will stop the electricity transmission and prevent your appliances.
This is a thick beryllium bronze hardware device that can resist temperature up to 750 degrees. The material is also corrosion-resistant and wear-resistant. The best thing about this surge protector is, it has 3 ports that can be used to connect more than one device. You can also purchase the single outlet surge protector variant though.
This surge protection device too has light indicators similar to the last surge protector we discussed above. The indicators are namely, output indicator, delay indicator, under-voltage, and overvoltage indicators.
3. Lavamatic Surge Protector for Washing Machine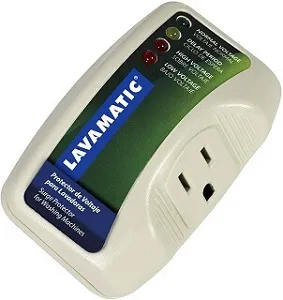 Lavamatic WS-10521 electronic surge protector is probably the highest-rated (4.7) surge protector you will find on Amazon. Problems related to unstable electricity like power grid failure, burnout, voltage fluctuation, and load shedding can be easily taken care of by using this device. It offers high voltage shutdown (135VAC) and low voltage shutdown (90 VAC) which works efficiently with front and top load washing machines.
After the power outage, this protector delays the start of the device by 3 minutes so that the electrical connection can be stabilized by then. This one too has 4 light indicators for high voltage, low voltage, normal (protecting), and time delay.
This is an affordable surge protection device in comparison to most surge protectors for washing machines. Also, you get a discount if you choose the pack of 2 surge protectors on Amazon.
4. Supco APP120 Surge Protector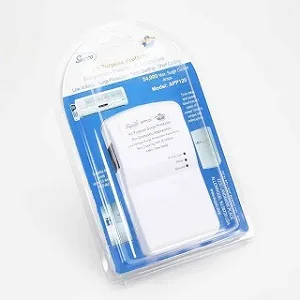 Supco APP120 surge protector is good for washing machines and other electrical appliances like dryers, refrigerators, dishwashers, air conditioners, etc. This surge protector is designed to save these appliances from low voltages, sudden power spike, and false starts.
This surge protector has one port and that too on the side. With most of the surge protectors, you have to leave the space at the back for the plug of the washing machine. The side plug-in on this device allows you to push your appliance close to the wall without causing damage to the plug and that saves you some space as well.
Supco APP120 comes with 3 light indicators. The 'protection' light LED indicator signals that the surge protector is working and your device is safe. The 'ground' light indicates that the device is connected to a grounded outlet.
The 'delay' indicator is for the time when the power comes back suddenly and the surge protector keeps the power shut for 4 minutes for the safety of the appliances.
Conclusion
To save your critical electronic items from blowing up, you need to install a trustworthy surge protector. Buying a high-quality surge protector is also important as the degraded ones can put your devices in more danger. We will also discuss the method to choose the device with utmost care. We hope you found the above-mentioned surge protectors for washing machines helpful.
FAQs Related To Washing Machine Surge Protector
What is the Utility of a Washing Machine surge protector?
As we have discussed that surge protectors protect washing machines against unstable connections and power grid failures. Most of these surge protectors can also be used with various appliances like refrigerators, dryers, freezers, dishwashers, ovens, microwaves, etc.
If you purchase wired surge protectors, they can also work as power distributors. But those wired surge protectors will be useless and create a mess if you keep your appliance at just one place near the power socket.
How to choose the best surge protector for a washing machine?
Here is the guide to choose the best surge protector for washing machine and other electronic appliances:
Joules Rating – As these products consume a large amount of energy, low rating protectors can wear out too soon. Make sure to purchase the high-rated Joule rating surge protector possible.
Design – You keep your washing machines and refrigerators near the wall so that they don't consume unnecessary space. But sometimes the bulky design of protectors and the power plugs can come in the way. If the surge protectors have side plug-in options, they save you some space and that design is also safe to move your appliances back and forth without fearing damaging the plug.
Number of Ports – Though you only need one port for systems like washing machines, additional ports can be used at times for different purposes in your cleaning area like a vacuum cleaner, dryer, etc.
Compatibility – You don't use a washing machine the whole day, as long as you are not in the laundry washing business. So, if your surge protector can be used for the protection of other devices, it will be great for your pocket. Lots of surge protectors in the list can be used with appliances like Air Conditioners, Freezers, Ice Makers, refrigerators, ovens, etc.
Delay Time – When you plug in electronic appliances or when the power comes back after the outage, there are high chances that the voltage will be high. The delay timer in the surge protector makes sure to start the appliance once the stable connection is established. Any delay time from 3-4 minutes is ideal to consider in a surge protector.
Light indicators – With critical electronic items like washing machines, you should know the status of voltage and protection. All the devices we discussed in the list above had light indicators to signal 'protection' and 'delay time'. Few devices also signal low voltage or over voltage connection.
Warranty – Not all surge protectors come with a warranty. It is always safe to ensure the product you are buying offers protection against the damage caused to/by it.