Every gadget that draws power from the AC outlet of your home is under the constant threat of electrical power surges. But, the gadgets with sensitive electronic circuitry like your 4K TV  are more prone to damage during voltage fluctuations and power surges.
However, a good surge protector can protect the TV from voltage upsurges and extend its life. But buying surge protector is not that easy. So, we shortlisted the best and unique surge protectors after doing research on products that are available online.
Quick Look
High Voltage
Best Budget
Smart Protector
2-in-1
Extension Cord
Product
Bestek Wireless Charger Surge Protector
High Voltage
Best Budget
Smart Protector
2-in-1
Product
Bestek Wireless Charger Surge Protector
Extension Cord
Best Surge Protector For 4K TV
1. Belkin Surge Protector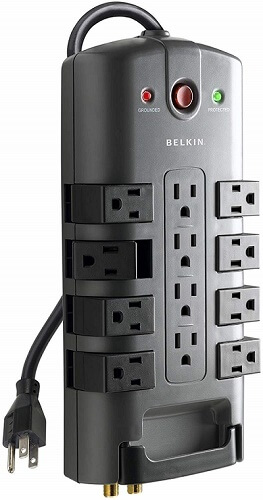 High Voltage Surge Protector
12 Outlets [8 Rotating + 4 Stationary]
4300 Joules Surge Protection
$44.45
The first product on the list is the Belkin Surge Protector. It is a 12 outlet surge protector i.e you can connect 12 devices to this and protect them from power surges. Out of 12 outlets, 8 are rotating and 4 are stationary outlets.
The rotating outlet helps in saving space and lets you connect multiple electronic devices easily. Also, it has an 8ft long cord, so you will not require an extension cord to connect all devices to it. It also features a cable management clip that helps you organize the cables.
Some technical specs of this surge protectors are that it supports an energy rating of 4300 Joules and maximum voltage spike up to 6000V. Remember, the more the energy ratings of a surge protector, the more safety it is going to provide to your TV.
If you own an expensive 4K TV then this surge protector is definitely what you need to protect it from electrical surges. Also, you get a lifetime warranty on this Belkin product. So, what are you waiting for? Go check it out.
Has rotating outlets
Comes with a long cord and cable management clip
High energy ratings
Provides lifetime warranty
2.
Bototek Surge Protector
The next surge protector on our list is the Bototek heavy-duty surge protector. It is a multi-outlet surge protector where you get 10 AC grounded 3 pin outlets with flat plug support and a 6 ft long power cord. However, the good thing is that out of all outlets 2 outlets are specially designed for large plugs and adapters with 2-inch spacing between them.
You also get 4 USB ports on this protector that you can use to charge your smartphone and tablets.
What makes this surge protector great for your 4K TV is that it is a UL Listed surge protector and has an energy rating of 2100 joules. While the recommended energy rating for TVs is only 1400 joules. Also, there is an On/Off switch on it which automatically shuts it off in the case of overload.
Also, it has a built-in intelligent circuitry that identifies the connected device and only passes the voltage to it according to its power need. It is an additional safety feature that ensures the protection of your device against power surges and voltage fluctuations.
Stylish and sleek design
UL listed and FCC certified
Has a built-in intelligent circuitry
No fast charging USB ports
3. APC Smart Plug Surge Protector
As the name suggests, it is a smart protector which means you can control the equipment connected to this surge protector using voice commands. However, for voice commands, you will need an external speaker like Alexa which must be connected to the same WiFi network as this surge protector.
However, out of 6 outlets and 4 USB ports, only 3 outlets and 2 USB ports are smart and the remaining outlets are standard ones. Apart from Alexa, you can also control these smart plugs using the APC home iOS app and APC home Android app.
You can also schedule the On/Off timing of devices connected to the WiFi ports using the APC home app from your smartphone.
Also, this smart power surge protector has an energy rating of 2160 Joules including UL certifications. So, you can rely on this surge protector for the safety of your electronics against powerful electric surges.
Support voice commands
Has a dedicated phone app
High energy ratings with UL certification
Not all outlets are smart
4. Bestek Wireless Charger Surge Protector
This surge protector from Bestek is one of the most unique gadgets you can find online. It is basically an 8 outlet surge protector docking station. Now the reason I call it a dock station because apart from being a surge protector it is a wireless charger as well.
For wirelessly charging, you just have to put your phone on top of this surge protector and your phone shall start charging right away. Other than 8 outlets you also get 6 USB ports to charge your electronic gadgets. Apart from that, you get a 6ft cord on this power station.
Talking of the energy ratings, this surge protector has a rating of 1500 joules which is enough to protect your TV and other electronics connected to it. Also, there are two independent switches provide on it for energy-saving purposes. Moreover, it has LED indicators that make it feasible to use it in the dark as well.
Overall with the vertical desktop design, this surge protector is one of its kind and is a great product for home and office usage. You would definitely like this product if you are a geek and always surrounded by a lot of gadgets. Because now you can easily and safely charge all your gadgets at ones.
Wireless charging support
LED indicators are provided
Great design
Energy ratings could have been better
5. Kensington SmartSockets
If you are looking for an extension board, then why don't you have a look at this smart surge protector-cum-extension board? It has a 16ft cord that makes it reach anywhere a surge protection is required.
Moreover, it has a circular tabletop design that makes it easily accommodate 6 AC adapters at once. Also, it provides all the 6 connected equipment with surge protection of 1500 joules.
The best thing about this surge protector is that you get matching color labels to match with color-coded outlets, that make it easy to manage the cords. Overall, it is a very stylish and sturdy surge protector that deserves your attention.
Works as an extension cord
Easy to manage the power cords
Nice circular design
FAQs
What is a Power Surge? 
An electrical power surge is an intense voltage fluctuation or upsurge that lasts for a few seconds. This fluctuation travels through the wires and cables and causes damage to electrical and electronic equipment.
What causes Electrical Power Surges?
The cause of electrical surges can be many like lightning strikes and tripped circuit breakers. Also, a large appliance like the refrigerator and air conditioners create surges during their On/Off-cycle.
How To Tackle Electrical Surges?
The easiest and most feasible way to deal with power surges is to invest in a good surge protector. These surge protectors in case of voltage rise, suppress the voltage and prevent damage to the equipment connected to them.
How Do Surge Protectors Work?
So basically what a power surge protector does is that it diverts the excess voltage to the ground wire, and prevents it from going to the connected devices. These protectors are able to divert the surges due to their internal components known as metal oxide varistors (MOVs).
Conclusion
So these were some of the best surge protectors you can consider buying for your TV. However, you can go with any surge protector for your 4K television that has an energy rating of 600 Joules and above. But we recommend you to go with these listed products because they provide more value than any ordinary surge protector.