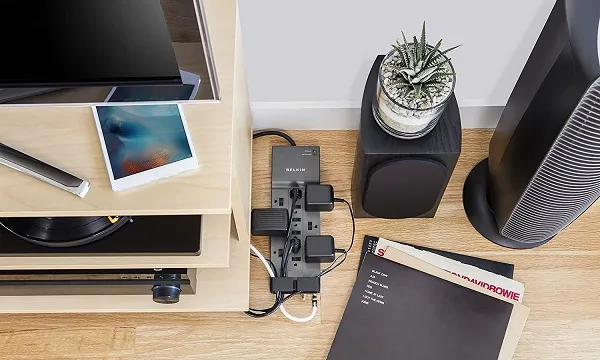 There are a lot of reasons that bring a sudden power surge to your home. Change in the power grid by electricity companies, faulty wiring, and lightning are some common reasons for the overflow of power towards your devices. These power surge and voltage spikes pose a big threat to your costly home appliances and gadgets.
As more and more people are taking preventive steps against these surges, a lot of surge protector brands have mushroomed in the market. One can't be assured of the quality of any random company and risk their critical appliances.
In this article, we have listed the top surge protector brands that you can rely on. These brands offer all kinds of surge protectors to protect your TVs, gaming consoles, streaming devices, PCs, portable devices, etc. To come up with this list, we have considered the builds, features, durability, and buyers' responses for the surge protectors by these brands.
Top 7 Surge Protector Brands
Belkin
Belkin is one of the best and most popular brands that make a wide range of energy solutions for office and home appliances including surge protectors. They are based in the USA and sell their products all over the world.
The wall mounts as well as power strip surge protectors by Belkin are among the bestseller surge protectors. From single outlet to multiple outlets, Belkin surge protectors make your power sources safer for your appliances. If you have a lot of appliances, you can choose their 12 outlets surge protector.
The budget of the surge protector also varies a lot and you have options for your small as well high-end devices. Some heavy devices like laser printers, desktop computers, and Televisions can be plugged in their devices without worrying about damage.
The most prominent thing about Belkin surge protectors is that they are durable. They are built with tough material and also the joules ratings they have are best in their range. You will find 600 to 4000 joules rating in their units. Belkin also specializes in making surge protectors with rotating sockets.
Tripp Lite
Tripp Lite is a very old electrical devices company that makes a lot of reliable products like UPS systems, power strips, surge protectors, cooling racks, TV/monitor mounts, connecting cables, etc. Their surge protectors aren't inferior to Belkin surge protectors in any sense. They too have a lot of surge protectors in the best seller category, be it, single outlet, long cord, high Joules rating, or portable surge protector.
Tripp Lite Isobar surge protectors are among the only reliable solutions for crowded offices like banks, hospitals, studios, etc. They come with a long cord, high-joules rating, fire-resistant metal housing, and transformer outlets for the bulky adapters.
The variety they offer is unmatched, from a normal 3 plug outlet to ethernet and modem outlets, they have a surge solution for all types of devices. Most of their surge protectors have average ratings of 4.8 stars on Amazon and other shopping sites.
Some of these devices are very costly but the features and compatibility they offer are unmatched. The Tripp Lite TLP1208SAT surge protector is one such example that comes with 12 power outlets along with coaxes, RJ11, and RJ45 protection.
APC
Schnieder Electric is a well-known brand that is specialized in energy and automation solutions. APC is their brand that makes UPS systems and surge-protectors that stand out from other brands. You can also get surge protection and UPS integrated into one device by APC.
Their surge protectors are passed through IEEE (Institute of Electrical and Electronics Engineers) testing and also comply with their local agency safety requirements. They are fully capable of saving your electrical appliances like TVs, computers, refrigerators from electrical surge and power spike.
Some units by APC have an indicator light that can detect wiring faults in your building. APC P11U2 surge protector is one such device that features 3 indicators including overload, protection, and working indicator. With the joules rating of 2880, it has 13 outlets including 2 USB ports for charging your phones.
If you are looking for a reliable multiple outlets surge protector but have a low budget, APC is the brand for you.
Kasa
Kasa has very few surge protectors in the market but they are equipped with the latest technology. They have smart surge protectors that can be controlled individually from your phone through their app. Some of the surge protectors are also compatible with the Alexa and Google Home voice controls.
The Kasa KP303 smart plug surge protector has been received very well by buyers because of its amazing utility. It has got a space-saving design with 3 smart power outlets and 2 always-on USB ports. The power outlets have individual buttons to turn them On/Off.
Kasa surge protectors are new but very reliable ones. As they provide the convenience of controlling your phone, you don't have to worry about forgetting to turn off your device while going somewhere. The feature of monitoring the energy consumption by individual devices is also something you won't find among most top brands.
GE
From HDMI cables to security systems, remotes, and surge protectors, GE specializes in making very affordable but good-quality electrical items. Most of their surge protectors are rated around 4.8 stars by buyers on various shopping websites.
They make surge protectors safe from all aspects. Their surge protectors have integrated circuit breakers and automatic shutdown technology to keep your connected device safe in cases of calamities.
The thing buyers like the most about their units are the cords. These cords are so well made with powerful wires and strong material. But not many of these surge protectors have longer cords to use them farther from the power source.
GE doesn't have many options in the wall mount category, but the available ones are also pretty impressive. And corded ones have got the mounting holes and you have got dozens of options for the corded ones. Most of their surge protectors are available on Amazon in packs of 2 with attractive discounts.
The UltraPro range of GE surge protectors is worth a mention here. These units have a lot of outlets and spaces. Some of them have USB charging ports that are attached to an additional cord to bring the charging point to your work desk or bed.
Amazon Basics
If you do online shopping frequently, you must be well aware of Amazon Basics. Not all products made by them can withstand the quality test. But it is not the case with their surge protectors.
Amazon Basics surge protectors give your electronic equipment safety from a sudden power surge at a low cost. The joules rating is the capacity of the surge suppressor to absorb the energy is also very different on these surge protectors. You will find units that have only 600 joules rating to the ones that have 4500.
The Amazon Basics S9P658O300A00 surge protector offers 6 rotating outlets that you can use all at once even if the adapters are big. It is very useful for your media, office, and home appliances and has a variant with 2 USB outlets. It is a wall mount surge protector that you can install quickly on heavy-use power sockets.
A lot of corded surge protectors come with the option to choose the length of the cords. Amazon Basics does not have a wide range of surge protectors like other brands and only a few of them have USB outlets.
CyberPower
The list of top surge protector brands will be incomplete without CyberPower. This is one of the few companies that make reliable battery backup surge protectors. For offices that can't afford to lose their data and gamers who play competitive online games, CyberPower devices are a must-have.
CyberPower CP1500AVRLCD intelligent UPS surge protector is one of the best sellers in its category with very high ratings by buyers. It not only protects your electronic appliances but has also got outlets for USB, VGA, coaxial cables and other network cables. The LCD screen at its front side gives you all the power status of the UPS as well as of the devices connected.
This brand also sells surge protectors without battery backup. CyberPower CPS1220RM is their high-rated surge protection device that comes with 12 outlets. It has a slim but long shape to take only a part of your working area. Its power cord is 15 feet long.
You can also find wall-mount surge protectors by CyberPower that have some with swivel power outlets and USB charging ports. Their UPS surge protectors are costly but the simple ones are available in different budget ranges. Most of the units they offer come with a warranty and accidental security.
Conclusion
A surge protector is a critical piece of device and it can cost you a huge deal if you are not wise enough in choosing a good one. These were the top surge protector brands whose protectors can save your electronic devices from power surges.
Before buying one for yourself you should determine your usage, and look for the joules rating and the number of outlets they provide. We hope you are better informed about the quality surge protection devices available in the market now.