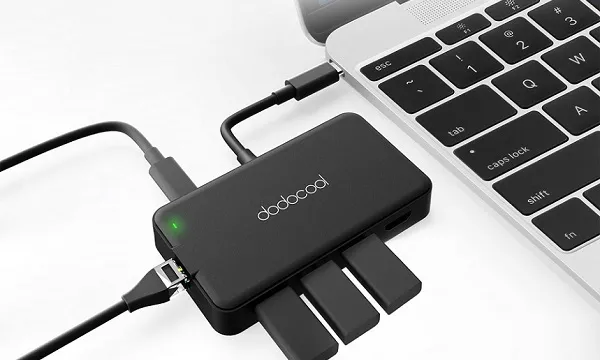 Are you looking to get one solution for all the hardware connectivity for your MacBook? We know how inconvenient it is to look for an adapter every time you have some work with your pen drives, SD cards, gaming devices, etc. Also, why would someone want their work desk so messy with all the adapters and wires?
To meet the hardware connectivity needs, dodocool has a USB hub for you. It's an adapter that can be used to connect your laptop to a phone, flash drives, external hard disks, keyboard, mouse, etc. Also, it lets you charge your phone and laptop at the same time.
Well, you don't have much to judge here because the device has a very simple function – to connect your gadgets. But, your lot of work will depend on it and you should know what you are getting your expensive devices into. Here is the dodocool 7-in-1 USB C Hub Adapter Review after few days of usage.
dodocool 7-in-1 USB C Hub Review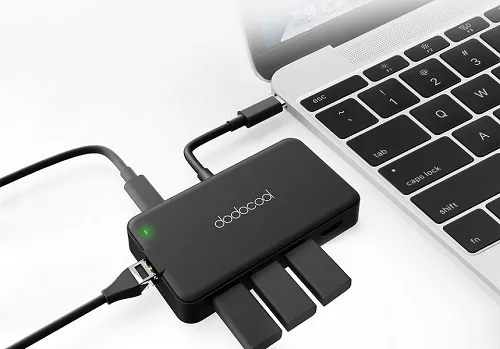 What's special in the Unit? Features and Specifications
These are the things that explain to you about the dodocool 7-in-1 USB C Hub Adapter and what you should expect from it.
Built-Design
The adapter is rectangular and is made up of strong plastic material with 4 types of slots on different sides.
There is also one small connecting cable and an LED indicator.
Its a compact adapter and has also got good looks to be on the work table.
Convenience
The device is easy to use and the different ports allow you to use just one adapter for connecting almost all the additional devices. Having a power delivery enabled Type-C port surely increases the convenience.
When you are transferring data and suddenly you need to charge the laptop, just plug in your laptop charger to this adapter.
If you keep the adapter on your work desk, it stays at its place because of 4 small rubber feet at the bottom.
You do not need any drivers for the adapter. Just plug your devices on the respective ports and you are done.
The amazing compatibility also make it very convenient to have just one adapter for connecting so many devices to your laptop.
Types of ports
You already know from the title that there are 7 ports on this adapter.
Firstly you have an RJ45 port that you can use to connect to high-speed internet. This Gigabit Ethernet port supports 10/100/1000 BASE-T networks.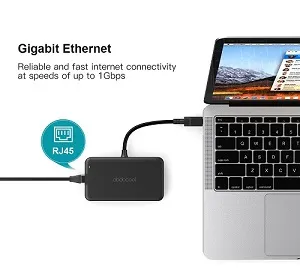 It has one type-C port for charging your connected devices. You can connect your laptop's charger to this and all other devices plugged in can be charged at once.
We won't recommend charging many devices at once but in case of emergency, it is very convenient for powering at least 2 devices.
There is an HDMI port that supports video transmission of high-quality resolution (up to 4K Ultra HD).
The second option to connect monitors or projectors is the VGA port that offers better refresh rate in the videos. This port is solo on one side so that those big plugs can be accommodated.
You can't use the HDMI port and the VGA port at once though.
Lastly, there are 3 USB outlets that are pretty sufficient to connect the mouse and keyboard along with a flash drive.-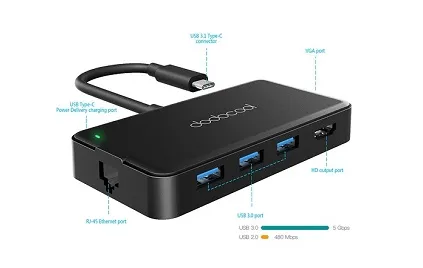 Portability
Portability isn't a concern with this adapter.
It isn't easy to find a smaller USB Hub with VGA and Ethernet ports.
The thin and compact design makes it easy to store in your laptop bag and carry around.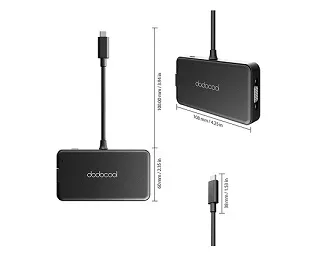 Compatibility
The device is compatible with almost all the popular brands' laptops with a C type charging port. You can use it to connect devices to your Apple MacBook, Dell XPS 13 9350, Huawei MateBook, Lenovo Yoga 900, Google Chromebook Pixel etc.
As we said earlier, compatibility offered on this dodocool USB hub is at its best with ports for almost all types of latest gadgets.
The ports on the adapter are compatible with phones, LAN connections, flash drives, keyboards, mouse, monitors, projectors, etc.
It might not work with some low quality USB/data cables.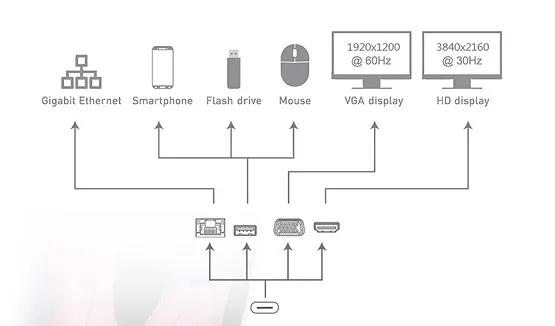 What's in the Box?
In the package, you get a dodocool 7-in-1 USB-C Hub with the type-C connecter attached to it. There are no other accessories as you do not need any with this USB hub. You get 1 user guide in English, French, German, Spanish, Italian, and Japanese and a warranty card.
Pros of Buying dodocool USB C Hub
Great compatibility with a lot of port types. (VGA, HDMI, Ethernet, Type-C, USB 3.0)
Fast data transfer.
Quality with a reasonable budget.
Good for charging your laptop and phone at once.
Cons in dodocool USB C Hub
The connector cable could have been longer.
No SD or Micro SD card slots.
Pricing
Depending on your location, you can buy this adapter for around $35-$40. It is a decent price if you consider the quality offered. Sure, there are USB hubs that are cheaper than this but some of them have fewer ports, while others don't behave well during heavy usage.
If you think this is out of your budget or your port requirements are more or lesser, you can look for other USB hub adapters by dodocool.
Final Judgement About dodocool 7-in-1 USB C Hub Review
If you start using a USB hub for your connectivity needs, you wouldn't want to unplug it every time for charging your laptop. Now, when it comes to charging a premium product like a MacBook, you want something very reliable. You might have seen in a lot of public forums and review sections about using cheap adapters that got their devices ruined.
dodocool 7-in-1 USB C Hub comes with a strong build and a resilient circuit. Besides that, the speed of the charge and data transfer is also quite well. In our opinion, the performance, convenience, and reasonable price are all good reasons to buy this USB hub.
FAQs about dodocool 7-in-1 USB C Hub
Does it support fast charge?
Yes, the dodocool USB-C Hub has 3 USB 3.0 ports and all of them support fast charge on your phones. The device also supports fast charging of the connected laptop.
Can you use the Ethernet and the HDMI cable at once?
Yes, you can use fast internet on your laptop through Gigabit Ethernet and still connect other devices through the HDMI port. This is especially useful for gamers.
Is this device compatible with Windows 10 PCs?
You can use this device with your Windows PC if it has a Type-C slot. But currently, the compatibility is with limited devices.
Can you transfer data from one flash drive to another using this adapter?
Yes, this device can connect up to 3 flash drives to your laptop. From your laptop, you can transfer data from one to another at a fast speed.