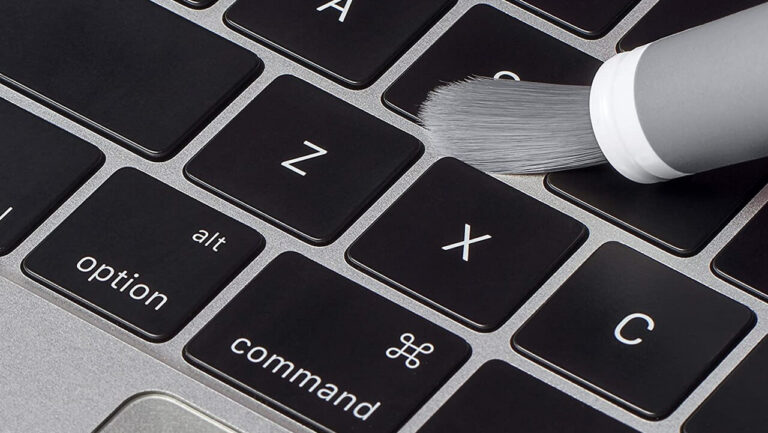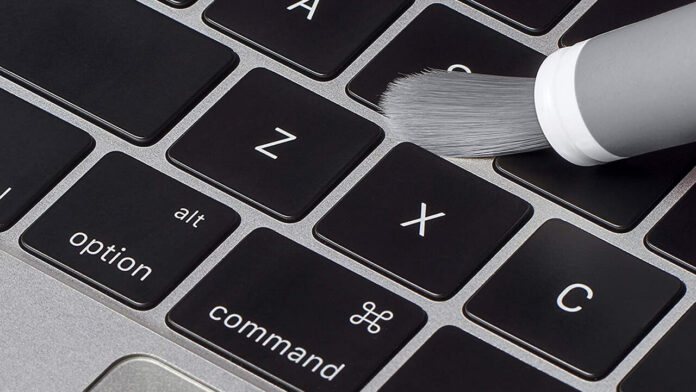 We all know that the keyboard is the most touched hardware of any computer system. Even if your keyboard is not used by other people, there are very high chances that there are a lot of germs accumulated on the keys daily. A lot of people eat while working or chilling on their system and that makes things worse. There are researches that show the objects that we touch daily have a hundred times more bacteria than on our washroom surfaces. Apart from this, dust and some tiny particles get stuck under the keys and it gets tough to pull them out. So, it is necessary to do a thorough cleaning of your keyboard at regular intervals. Here are the 10 best keyboard cleaners to help you stay safe from the attack of bacterias.
Top 10 Cleaners For Keyboard
Best Keyboard Cleaner Reviews
1. OXO Good Grips Electronics Cleaning Brush

The bristles of the brush you use in cleaning your keyboard need to be soft so that it does not harm your keyboard. OXO keyboard cleaning brush has soft bristles with a small silicone wiper that reaches all the corners of your keyboard and cleans efficiently. This electronic brush is not just for keyboards but you can also clean your computer screens, phones, and contact lenses with it. Small components like speakers of your earphones, camera equipment, etc can be cleaned with this brush.
After usage, you can retract the bristles so that they are safe from getting damaged. There is a cap for silicone wipers to protect it when you are not using it. You can clean this wiper with a damp cloth. The good thing about this brush is that it is very small and portable and can be kept in your bags, corners of the drawers, and even pockets. It is one of the most pocket-friendly options you have got for cleaning your keyboards.
2. APBFH Small Portable Nylon Anti Static Keyboard Brushes Set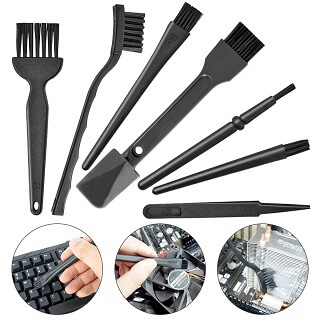 Here is a complete set of brushes for cleaning interiors and exteriors of lots of equipment for your daily use. The corners and edges of keys of keyboards, doors and window tracks, fans, car interiors, other computer parts are some of the things this set will be useful for.
These brushes can get food crumbs etc out of the way from your keyboards. The small components in the cars like vents, drawer corners, and buttons won't remain dirty anymore. If you are a Hardware engineer or technician, these brushes will be great to clean motherboards of PC and mobile phones without doing any harm to these respective devices. The mess collected in the vents of the laptop and CPU can also be cleared with these brushes.
3. Color Coral Universal Cleaning Gel for Keyboards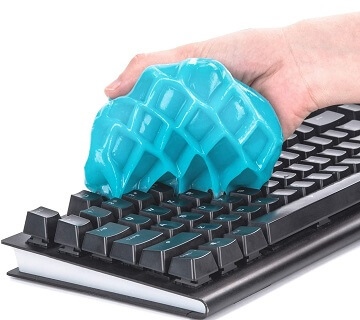 Color Coral has a cleaner for your electronic and electrical equipment in form of a gel. If you want to get done with cleaning your products quickly, you will find this kit very convenient. It is useful for keyboards, car and home dusting, camera, telephone, dirty spaces of your speaker, TV sets, etc.
The good thing is that the dust will stick to this gel but this gel won't stick on your hands. It smells of lavender and there is absolutely no harm caused to your skin by this. It comes in a pack of 5. You have to pick one and knead it into the ball and put this ball into the places you want to clean. You can use the gel again and again until there is unbearable dust collected on it.
The problem with traditional brushes is that the dust will be cleaned from one place and settle at the other. There is no effective mechanism to pick it up. But with this Color Coral keyboard cleaner, you will pick up the whole mess. It reaches all the blind corners where a wiping cloth can't find the ways to. With the brushes, you have to clean below all the keys one by one. But with this gel, you can clean within seconds.
4. Compucleaner ABS Plastic Electric High-Pressure Air Duster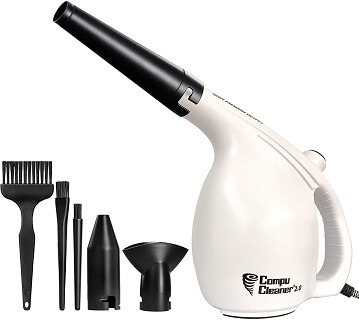 If you have to deal with lots of dust regularly, Compucleaner has a high-pressure air duster for you with some additional tools. It is an electronic device that blows off the dust and tiny particles from the surface and corners of your keyboard. To start it, you just have to press a power button and automatically switch off when you release it. You can clean your other expensive items like camera gears, motherboards, and laptops with them.
The airflow of this cleaner is around 70 CFM that uses 40 Amp current on 500 watts power. As this cleaner requires a power source to operate, they have made sure that the cord is long enough. It has a 9 feet long cord so that you can get into every corner of the device you are cleaning.
The air pressure can be decreased or increased according to your cleaning requirements. This is a lightweight cleaner so you don't have to worry about carrying it for long. Compucleaner 2.0 has received an average rating of around 4.7 stars on Amazon.
5. Brigii Mini Vacuum Air Duster and Hand Pump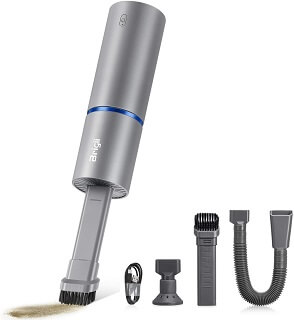 Here is a very small vacuum cleaner to clean the dust off your keyboards, other gadgets, and small surfaces within few minutes. It has 2 other functions as well. It can work as an air duster and a hand pump. The hand pump feature of this cleaner will be very useful when you travel with air pillows and mattresses. This cleaner comes with 4 types of crevice tools that can be attached depending on the type of area you want to clean. You get a Mini brush, flat nozzle, hose, and a blow nozzle. These crevice tools won't leave any corner dirty.
The filters of the vacuum cleaner can be washed and reused. The dust container too is very easy to clean, and put back. Briggi Mini vacuum cleaner comes with a 2500 mAh lithium battery capacity which allows you to use it for 15 minutes continuously. It will take around 4 hours to charge fully and there will be green light and indicator to show that the charge is full.
6. OXO Good Grips Keyboard & Screen Deep Clean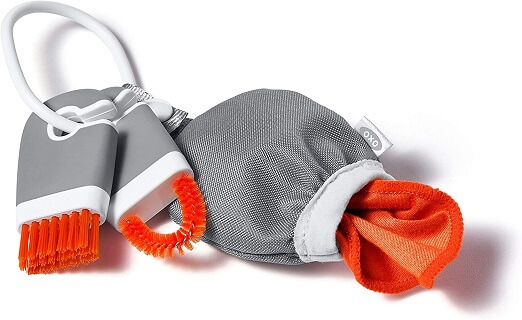 OXO has another very budget-friendly cleaner for you. It's actually a set of brushes and microfiber cloth for wholesome cleaning of your keyboard and other hardware. The microfiber cloth will be useful in cleaning fingerprints and dirt from your keyboard, laptop, TV screens, and camera lenses. It is tucked into the pouch and this pouch along with two other brushes is connected to a storage ring for keeping the whole set in an organized way.
As the cloth is enough for minor cleaning, the brushes can take on tough dirty patches stuck on the surface for long. The loop brush is ideal for cleaning keyboards as its bristles can reach below the keys and clear all the dirt piled up there.
7. Zonon Keyboard Cleaner with 200 O-Ring Switch Dampeners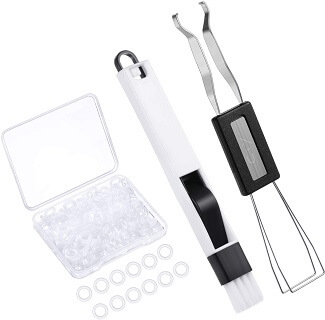 If you are looking for a cleaner for thorough cleaning of your keyboard, Zonon has a great option for you. You can actually pull your keys out and clean them underneath with the brush. For all this to accomplish, they give one keyboard piece puller and a track cleaning brush. Apart from this, if you want to modify your keyboard, you get 200 0-ring switch dampeners.
The O-ring switch dampeners you get in this pack can be put under your keyboard keys to reduce the noise when you press them. The typing speed is also enhanced with these keys because the actuation distance gets lesser. These keys are durable and you get a storage box to keep the extra keys safely. The keyboard puller in this pack makes the removal of the keys, quick and easy. The cleaner brush features nylon bristles that are durable and reach all the blind corners.
8. MECO Keyboard Cleaner with Cleaning Gel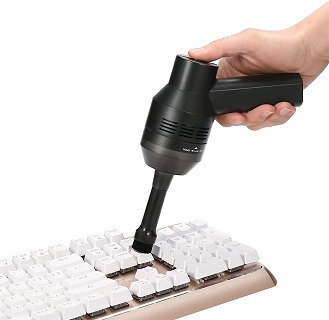 Here is another small cordless vacuum cleaner for your keyboard and working table. This is handy for cleaning all types of dirt like crumbs, hairs, dust, and powders. GECO vacuum cleaner can pick dirt as big as coffee beans and store it inside. Emptying the container and cleaning the filter is also very easy. You just have to twist off the container and empty all the garbage. The filter is made up of a sponge that can be washed with some water.
The power source of the cleaner is a rechargeable lithium battery of 2000mAh. Before using the cleaner for 10-15 minutes, you have to charge it for around 4-5 hours. Apart from the keyboard, this device is suitable for cleaning pet houses, car corners, and the sofa. All the pet hairs can be removed with this cleaner. You also get a cleaning gel in the pack for all-around cleaning of your keyboard.
9. Metro Vacuum DataVac Pro MDV-1BA cleaner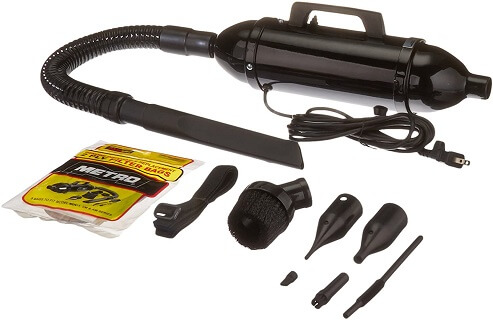 Metro Vac's DataVac pro series vacuum cleaner is one of the most wholesome and portable vacuum cleaners you will ever need. If your budget has no bar, it is definitely worth a try for cleaning all parts of your computer system and many more devices. It is a lightweight cleaner that works with airflow of around 70 CFM. Other than this, the pack has all the tools to give your system the most effective cleaning.
They provide you a flexible hose of 19 inches that can reach all the tough corners. There are plenty of attachments provided with the cleaner like a crevice tool, a soft-bristle brush, and a micro-cleaning toolkit for cleaning extra small spaces. You also get waste paper bags to throw away the trash when the bag is full. Most of the components including the main cleaner are made up of quality steel so durability should not be the concern here. For the motor in the cleaner, there is 2 years warranty.
10. Tihoo Keyboard Vacuum Cleaner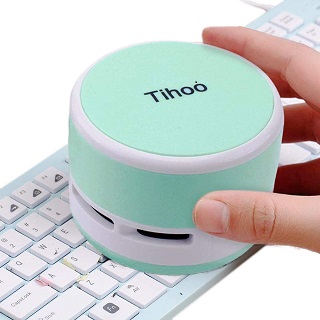 Check out this budget vacuum cleaner for your keyboard, other electronic systems, and their components. This is a very convenient and portable desktop vacuum cleaner with a weight of just 0.35lb. You can clean the mess from your workstations, sofa, dining table, pet house, etc. With this mini-size cleaner, you can easily get rid of cigarette ash, bread crumbs, eraser crumbs, and dust particles. Corners at your home and can be made hygienic with this device.
The diameter of the device is bigger than most of the small vacuum cleaners so that there is a bigger cleaning area and you get done with the cleaning quickly. You also get a nylon brush to clean tough substances. It will be a good gift for school students and office workers as they can keep it within minimum spaces. It isn't a rechargeable device as it works on 2 AA batteries that you'll have to get separately.
Have A Look: Top 5 SSD Laptops Under $500
Conclusion
So, it is advisable to use a portable cleaner so that you don't end up with more mess than before. The best keyboard cleaners in this list are durable and well trusted by thousands of customers on Amazon. We hope you found these useful.
FAQs
How to clean your Laptop and Computer Keyboard?
For simply clearing the big particles, hold the keyboard and turn it upside down. Then tap at the back gently. All the dried dust will go away this way. But the gunk can't go like this. For that, you'll need brushes.
Take a soft-bristles brush and clear horizontally and vertically. You'll have to tap it again like before or if you have a small vacuum cleaner, that will be the most convenient option. You can look for amazing portable vacuum cleaners for your keyboards above.
Cleaning gels also prove to be very effective for cleaning keyboards. You don't have to spend much on them and there is no inconvenience of storing or clearing the dust. The dust and dirt just stick with the gel and when it gets dark after some time, you can replace the cleaning gel with a new one.
What to Look for in a Keyboard Cleaner?
Not everyone is equipped with the knowledge of buying these miscellaneous products. We have made purchasing guide for keyboard cleaners so that you know how to choose a good one.
Multi-purpose– One can't simply afford to spend money on different types of cleaners for different components of their desktop. There are many cleaners in this list that are capable of doing a thorough cleaning of all the devices like venting fan, motherboard, keyboard, lenses, etc. The cherry on top will be that these keyboard cleaners can also clean your cars, pet houses, furniture at your homes, office, etc.
Budget – You will get this substance at a vast range of the budget for sure. But it also depends on your cleaning habit. You will get very pocket-friendly soft-bristles brushes, but can't store the dust for you like a vacuum cleaner can. But then vacuum cleaners can't clear the sticky mess that the brushes are capable of dealing with. But some of the high-budget cleaners come with all the essential cleaning accessories required.
Space and Portability – As we said earlier, there is no point in ending up with more mess on the working table. So choose your keyboard cleaner depending on the places where you'll use it, keep it, or how often and far you need to carry it. OXO cleaners are very portable for that matter and the MECO vacuum cleaner is impressive as well.