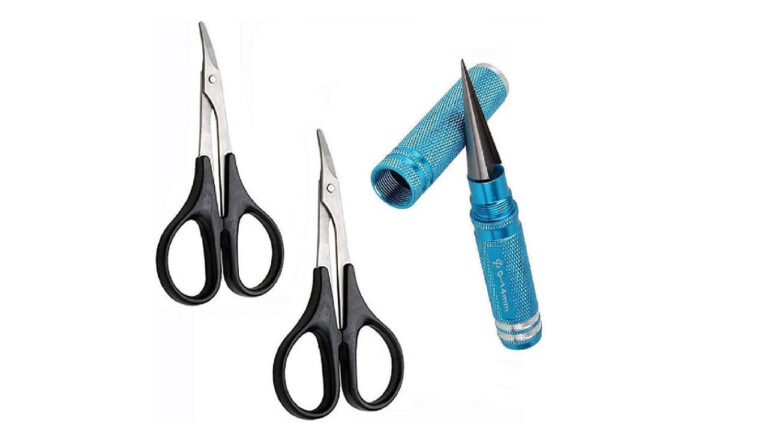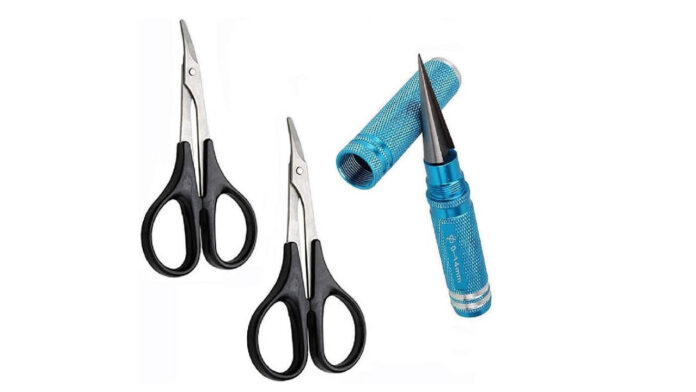 A regular RC hobbyist knows the importance of customizing their vehicle. After you buy an RC car, changes are needed according to the terrains, level of races, and a lot of times for making the car look more appealing.
You need different RC tools to successfully implement those changes and one of such tools is the RC body reamer.
RC reamers are used for mounting holes on the new body shells of your RC cars, boats, helicopters, etc.
Using a drill or a pointed knife for such a purpose might ruin the body of your vehicle. There is also a risk of getting a badly pointed reamer which might result in creating an inaccurate hole.
Where Do You Find The Best RC Car Reamers?
You can purchase good RC reamers online and your search ends on this page. Here, we have chosen the top 5 best RC car reamers for people who work on RC bodies regularly.
All these reamers come with different types of scissors that help you further in enhancing your car's body.
1. Hobbypark 0-14mm Hole Puncher Reamer w/Sleeve and Curved Scissors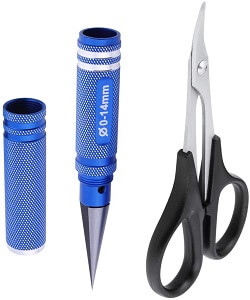 Hobbypark offers a wide range of RC tools and it is one of the best products from them. This is a hard and strong steel-built RC body reamer to carve out accurate holes.
Its tip is pretty sharp and capable of punching holes on the polycarbonate body of your RC cars, trucks, helicopters, boats, canopies, etc. Because of its clean performance, this reamer has got around a 4.7 stars average rating on Amazon.
The hole saw size by this RC Lexan reamer is adjustable from 0 to 14mm. The matching cap that comes with the reamer is helpful in avoiding accidents with the sharp point of the reamer.
Its overall length with the sleeve is around 130mm. You also get a stainless steel curved scissor in the pack to make perfect canopies for your RC car.
2. Treehobby 0-14mm Body Aluminum Reamer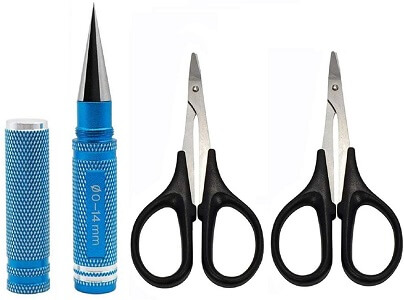 Here is another high-rated RC body reamer that can work easily on RC cars or different brands like Traxxas, Losi, Axial, HPI, HSP, etc.
You can drill very efficiently with this reamer on other vehicles too, such as drones, planes, tanks, boats, etc.
The tip of the reamer is made up of superior quality steel that lasts long. This tip is curved and uses your minimum efforts when you are drilling the holes and they end up making very smooth rounded cuts.
The plastic handle of the reamer features a slip-resistant design and is firmly connected to the tip.
You also get a protective cap that matches the handle's color. Most of the RC reamers come with single pair of scissors and they get bunt too soon.
To trim the new RC car's body with precision, they have included 2 stainless steel scissors in the package.
3. FFCC RC Body Reamer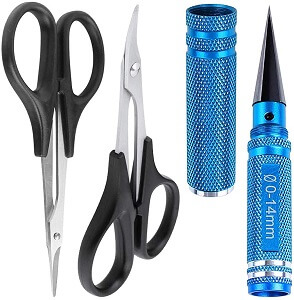 FFCC has this small RC body reamer which has been received well by RC hobbyists. Like the Treehobby's package, you get 2 scissors here as well.
But only one of these scissors is curved and capable of trimming the Lexan car body from the corners.
The other scissor is like the regular ones but is very much useful in cutting through straight lines.
The reamer's hole size ranges from 0 to 14 mm and is perfect for drilling the polycarbonate material.
Its tip is made up of steel and features curved edges for smooth, round holes. You can punch holes with this reamer on all types of RC vehicles of different scale sizes.
It is a lightweight reamer that you can take with you to the race track in your pocket. FFCC assures about the quality of the product they sell and in case of dissatisfaction, they even offer a refund.
The good quality material of this reamer, RC hobbyists have rated it with an average of 4.7 on Amazon.
4. Apex RC Products Body Reamer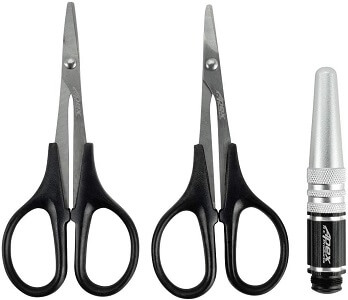 From batteries to servo extension chords, Apex RC products are known for their superior quality. Here is another phenomenal RC tool by them to make mounting holes on your new car shell.
This RC body reamer is a little expensive than the ones we have discussed but totally worth every penny.
The tip is as sharp as it can get and carves perfect holes for the body posts. The handle of the reamer offers a firm grip and it can turn into a cap after you are done working.
The curved scissor you get with it is suitable for trimming the Lexan body's curves precisely and the standard scissors are for cutting through straight lines.
5. HobbyPark 0-14mm Body Reamer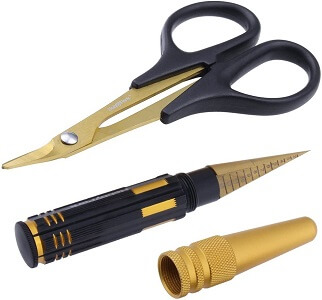 Here is another Lexan body reamer by HobbyPark. It comes with a slip-resistant design handle that facilitates a firm grip while working.
The metallic blade of the reamer has indications for hole sizes that you can see while working. These indicators allow you to drill accurate holes from 0 to 14mm.
This body reamer has protective sleeves for safe storage. The comfortable grip and the smooth operation have earned the reamer 4.6 stars on Amazon.
In the package, you get a curved scissor, capable of cutting Lexan bodies with ease. The reamer shows durability but there are complaints about the scissors loosening their sharpness after a while.
We would advise you to not use these things on rough, semimetallic, or metallic surfaces.
FAQs
How To Carve Precise Holes in Your RC Car Using Reamer?
No one wants to ruin their RC car body with holes here and there. To mount the body on the chassis or to mount tails on the body, you need to carve holes with accuracy.
To do this, you will need a permanent marker, curved Lexan scissors, a hobby knife, and a body reamer. Then, follow the easy steps given below.
Step 1
Align the car's body or the shell with the chassis below. And with the help of the hobby knife, mark the extra parts of the body.
You need to exert a little pressure on the body while being careful about your safety at the same time.
Step 2
With the Lexan scissors, cut out the extra parts in the shell, following the marks created with the hobby knife.
Step 3
Now, you will have to mark the parts of the car's body accurately where you need to punch the holes.
For accurate marking, you can determine the screw points by applying the PlayDoh beneath the car shell.
Many people also apply paint over the screw points on the car's frame or the chassis and then put the new body shell over the car to determine the screw points.
Step 4
After you have determined the screw points, use a marker to highlight those points. You can also directly mark with the RC body reamers.
You do not need the tactics in Step 3 for mounting holes to attach a tail to your car. You can simply put the tail and mark with the permanent marker.
Step 4
Now, use your RC reamers to carve holes on the marked points. You are strictly advised to not use drills or other pointed objects to carve the holes.
The reamers with the marked diameters provide the most utility in this work as you will be able to get the carving measurements accurately.
What to look for in an RC Body Reamer?
RC reamers are not complicated at all. They are very simple tools with just one task of drilling holes.
Yet, most of the time, especially beginners, encounter a faulty product. Here is a small buying guide to tell you what to look for while buying an RC reamer.
The tip – This is the most important part of the reamer. Not just you have to make sure that the tip is too sharp, the reamer has to have curved edges above the tip so that smoother holes can be carved. It should be made up of a good quality steel or any other strong metal. The ideal hole size range of the reamer should be around 0-14mm. As we discussed above, there are RC body reamers with their tips having indications about the diameters.
Cap – As the tip of the reamers are way too sharp, one should avoid the risk of putting it somewhere without the cap on. Having a cap is also good for carrying the reamer around.
Handle – The handle of a RC body reamer should have slip-resistant grips. As the tips are too sharp, a minor slip can result in a bad accident. If you work on many cars, you will also need the handle to have a comfortable grip. The connection of the tip and the handle is should also be very strong. Most faulty RC reamers fail here and their tip often detaches while working.
Other tools – To install a new body, you will need other tools. The scissors are very important but they must be capable of trimming a polycarbonate material. Many RC brands provide you two types of scissors for cutting curves and cutting straight lines respectively.
Warranty – Many RC reamers come with a warranty. So, even after reading a buying guide, you stumble upon a flawed product, they may refund or replace it.
Conclusion
Stumbling upon a trustworthy body reamer is rare. Most of those tools you find are either incapable of drilling the RC body's surface or if they do, the metallic blade gets stuck in the body and spins freely from the handle.
These were the best RC car reamers for making error-free mounting holes. We hope they will prove to be very helpful tools for you.