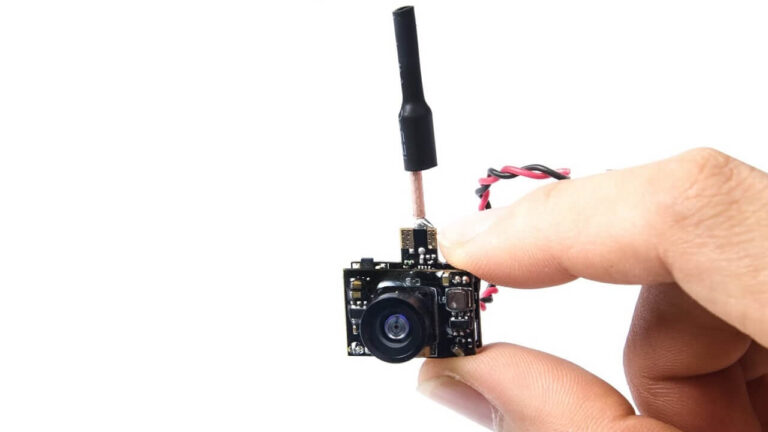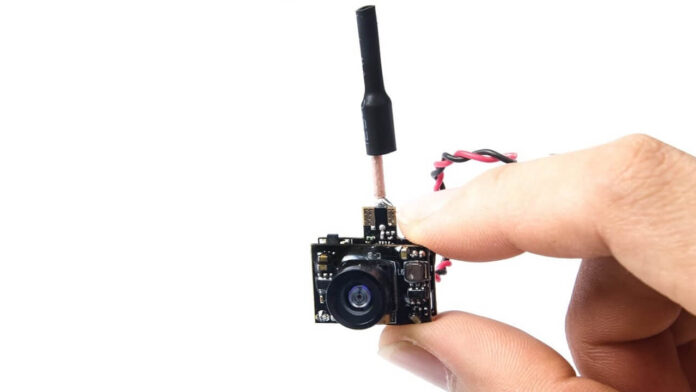 Every now and then, new options appear in the market to enhance your RC car driving experience. FPV cameras are in trend these days among RC racers for having a closer view of the race track and surroundings.
With the help of FPV cameras for RC car, you can rule the race tracks effortlessly looking at the obstacles in real-time. You can also choose to record your performance simultaneously and use the footage for analysis of your performance.
If you are looking to take your racing game to the next level, here are the 5 best FPV cameras for RC car. These cameras will give the driver a first-person view and make driving more engaging and enjoyable.
Best FPV Camera For RC Car List
1. AKK Micro FPV AIO Camera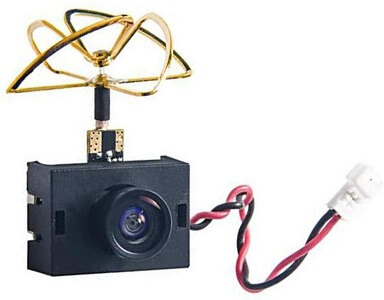 This is one of the best budget FPV cameras that can be installed on different types of RC cars for a real-time view of the race track. It is an all-in-one device that features a video camera, a transmitter, and an antenna.
The output power of this FPV camera is switchable between 25mW, 50mW, and 200mW. You can use this CMOS camera with 5.8GHz goggle and a monitor to look at what is happening in front of your car.
The 120° field of vision horizontally and 150° diagonal field of vision provided by this AKK micro FPV camera are very impressive at this price range. You will be able to get the picture in 600TVL resolution.
This FPV camera features a Nickel-plated 4 leaf Antenna with RHCP circular polarization clover that helps establish stable signals. The signal range of this camera is also ideal for micro RC aircraft.
You can install the camera instantly and it's ready to be operated with your favorite RC car. It needs a 1S LiPo battery to be attached for functioning. This camera is of very small size and weighs around 5.2 grams.
2. Crazepony Spotter V2 Micro FPV AIO Camera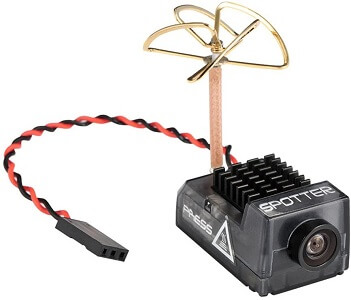 Crazepony spotter V2 is an all-in-one FPV camera and video transmitter that can be used with your RC cars, planes, and boats. This is the second version of the popular Crazepony hobby spotter with useful changes like the stronger exterior build and the OSD with integrated Mic. The Mic here makes your driving experience more real and fun-filled.
In this, you have the option to adjust the 5.8 GHz video transmitter between 20mW and 200mW. The cloverleaf antenna here makes sure that the signals are strong.
You can operate this camera on 40 different channels which means it is very suitable to be used in large groups. The channel selection power switch available on it lets you select the channels.
This FPV RC Car camera offers portability with most of the FPV goggles and the displays available in the market. There will be a 170° wide-angle view on your FPV screen with a resolution of 700 TVL. The camera weighs only 9 grams and does not affect your vehicle's acceleration or speed in any manner.
3. AKK A5 5.8GHz FPV Camera With Transmitter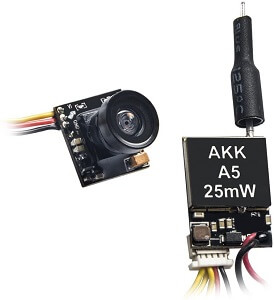 Here is another low-budget FPV camera that is rated highly on Amazon. It is suitable to be used with ultra micro RC quadcopters, RC vehicles, and fiber frame kits. The camera is designed to work smoothly in all ranges, be it indoors or outdoors. The signals are strong and stable up to 150 meters of range.
You don't have any other option here when it comes to the output power of video transmission as there is only 25mW available. It operates on a 5.8GhHz frequency with 5 bands and 40 channels. You can use the button control for choosing different channels.
It is a very lightweight, quick, and easy to install camera that is powered by a 1S lithium-polymer battery. You can connect it to OSD and get a real-time experience of driving. It provides a 120° field of vision and image resolution of 600TVL.
4. AKK BA3 AIO FPV Camera For RC Car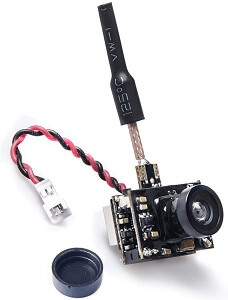 AKK has a lot of inexpensive FPV camera options for you. This is an all-in-one FPV camera with a transmitter and a brass dipole antenna, perfect for RC cars, quadcopters frames, and other RC vehicles. It weighs only 4.7 grams, so no extra load falls upon the vehicle you are operating.
There are 3 output powers to switch to i.e. 25mW, 50mW, and 200mW. All the goggles and the monitors supporting 5.8GHz frequency will be able to support the output display through this camera. It runs on a 1S LiPo battery and is very much capable to be operated in low light conditions.
This FPV camera provides a 120° horizontal field of vision which is not up to the mark but useful enough for you to navigate your path easily.
40 channels can be chosen through the button featured on the camera. You can fly or run your vehicle with a large group of people both indoors and outdoors. There is no audio carrier in this camera.
5. Wolfwhoop WT05 Micro AIO 600TVL Camera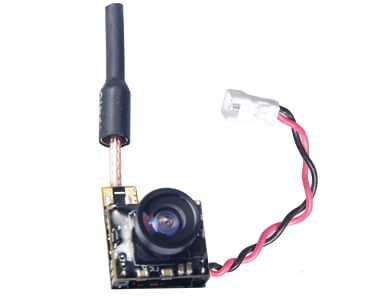 This is probably one of the smallest FPV cameras that can be attached to your radio-controlled vehicle and ultra micro drones. It is lightweight and also perfect for using it with tiny whoops. This dedicated FPV camera weighs only 3.4 grams and looks almost the size of a one-dollar coin.
Wolfwhoop WT05 is an all-in-one camera with an FPV transmitter and a dipole brass antenna. The whip antenna maintains a lower profile and offers promising durability.
The camera comes with only one output power option of 25mW. It offers nice power filtering that works smoothly on a 1S LiPo battery. The frequency offered here is 5.8GHz with 37 channels to choose from. FPV goggles and monitors that have similar frequency receivers are compatible with this camera.
You get a 120° horizontal view on your FPV screen of 600TVL resolution. To install this camera on your drone or RC car, you do need any special mechanical skills and it can be installed easily within minutes.
Conclusion
There are very few RC cars that come with a built-in FPV camera. Even if they do, they are either expensive or offer very little durability. These were the best FPV cameras for your RC cars and tiny whoops.
You can add any of these FPV cameras to your RC car with no effect on the speed and stability. The FPV cameras buying guide at the end can help you further in choosing the right FPV camera for your RC vehicle.
Some RC cars come with pre-installed FPV cameras. We are mentioning their specifications for your convenience below.
2 Best RC cars With FPV cameras
If you are not sure whether you want to customize your old RC car or not, you can have a look at these RC cars with inbuilt FPV cameras.
1. DEERC DE36W RC Car/Truck With FPV Camera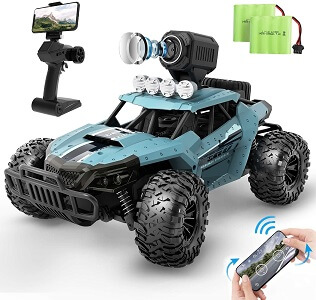 This DEERC radio-controlled car cum truck comes with a 720P HD camera for clear views, videos, and photos from your RC car ride. You can get all the data on the phone app. The app is not just for the data but you can also control the car with it through Wi-Fi from distance up to 100ft.
It comes with a 2.4GHz frequency remote controller as well that allows you to drive this RC car from a range up to 165 feet. This RC car comes with 2 lithium-ion batteries which have a run time of 25 to 30 minutes. The car can go up to 15-20 km/h.
The design of this car is built to last on tough terrains. It houses anti-skid, rugged tires. The strong shock absorbers and anti-collision beam make it tougher than most of the FPV camera RC cars available today.
2. Gizmovine Remote Control Car With Camera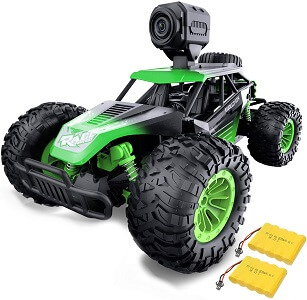 Gizmovine has this stylish RC car/buggy with an HD camera for good-quality photos and videos. The camera can be adjusted up to 45° so that you can choose the better view yourself.
This one too comes with dual control system i.e. the 2.4GHz radio controller and the mobile phone app. You can view your racing track and change directions from the same screen and also share your photos and videos on your social media accounts.
The build design of this RC crawler is impressive and meant for tough performance. There are four independent suspension springs so that you can drive safely on uneven terrains. It also features a strong crash-proof bumper to protect the body in case of any crash. You get 2 RC Car batteries of 500mAh each in the pack that gives 25-30 minutes of playtime.
Which is the best small FPV camera for RC cars and drones?
Wolfwhoop WT05 Micro all-in-one VTX + antenna camera is a coin-sized FPV camera weighing around 3.4 grams. It is perfect to use with RC cars, drones, and tiny whoops. There is a button control in it to switch between different channels. This FPV camera provides a resolution of 600 TVL which is pretty standard according to its price range.
Things to consider before buying an FPV camera for RC cars
There are lots of platforms from where you can get FPV cameras. But when it comes to gadgets as delicate as this, you have to make sure you are going for the most suitable device. Here are the things you should look for before purchasing an FPV camera.
Size – This is the foremost aspect to be considered while buying an FPV camera for your RC vehicle. You have to make sure that the size and weight of the camera do not put any burden on the RC car. If the RC car gets heavy, the speed and balance are going to be affected severely. All the FPV cameras in this list are lightweight and very suitable to be used with any scale-sized RC vehicle.
Imaging sensor (CCD or CMOS Sensor) – All the FPV cameras featured here have CMOS imaging sensors. CMOS cameras consume less power and work in low-light conditions. They also offer higher resolution with sharper images. CCD imaging is mostly meant for expensive cameras and work nicely in bright lighting conditions.
Field of View – The larger field of vision (FOV) means that there will be a large area you can see on your display while racing or flying a drone. The smaller the FPV camera lens size is, the better the FOV you get. Crazepony spotter V2 AIO FPV camera we discussed above has the highest FOV in this list i.e 170° wide-angle view.
Camera resolution – It goes without saying that a good camera resolution offers a clearer picture. If you want a perfect racing experience and high-quality live video, look for the best camera resolution you can get in your preferred price range. The camera resolution of FPV cameras is measured in TVL (TV lines).
Compatibility – Before finalizing the camera, make sure that it goes with the display device you have like goggles or the monitor. Most of the above FPV cameras here offer a 5.8 GHz frequency that are compatible with most of the devices available in the market.
Microphone – Microphones are useful in providing you immersive RC racing experience. You can easily hear the car's motor running as well as the battery beeping when low.