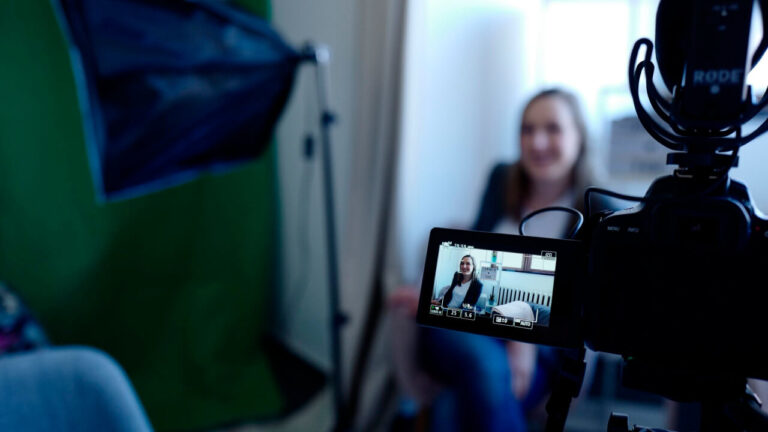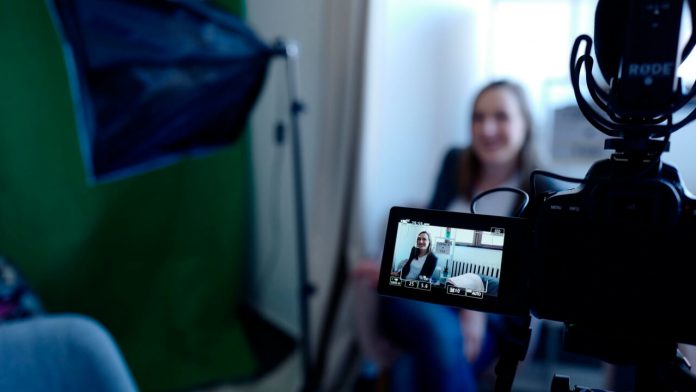 Green screen backgrounds have been widely used in the production of movies and music videos for a long now. But the general public has only come to know about them lately, and that's because the green screen techniques were not accessible for all.
However, with the rise of video-sharing sites like YouTube and Dailymotion, people now are creating their own videos, short films, and music albums. To stay ahead of the competition everyone wants to create the most professional-looking videos and for that, they need a green screen backdrop.
These chroma backdrops are not just for YouTubers but also for gamers who do live streaming on platforms like Twitch and Discord. So if you are among the aspiring YouTubers or Gamers then have a look at our list to pick the best green screen backdrop that will help you create awesome content and win your audience.
Best Green Screen Backdrop
1. Elgato Green Screen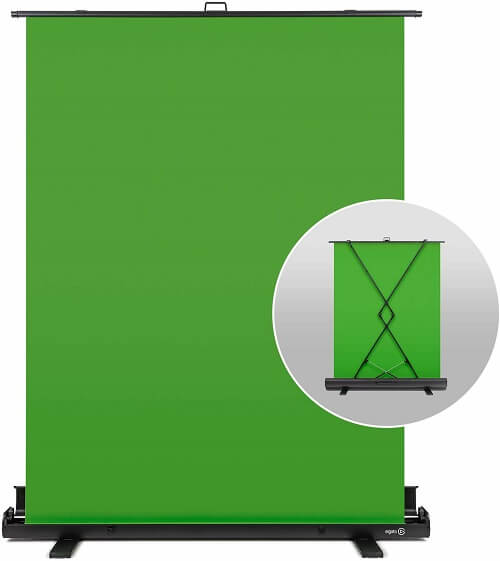 This ain't any ordinary green screen that you buy online. Because with this backdrop you don't have to invest in a background stand support system. The Elgato Green Screen comes with its own collapsing stand in an aluminum case. You can easily extend the screen to the dimension of 58.27 x 70.87 inches and easily collapse it back to carry it along.
The screen is made out of polyester fabric that reduces light reflectiveness and enhances the Chroma key effect. It is very easy to set up as well so you can take less time for setting things up and invest more time in making videos. Overall, it's a great retractable green screen if you're not intimidated by its price.
2. Neewer Green Screen Backdrop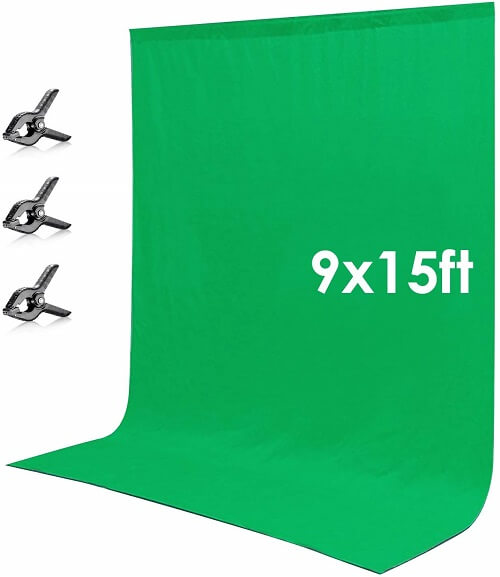 This could be the best green screen backdrop for you from Neewer as it is budget-friendly and is made out of single-piece muslin fiber. It promotes a non-glossy surface which is ideal for using chroma compositing techniques in video or photography. Also, it is very easy to keep it clean as well, you just need to dust off the surface after every use and you are good to go.
Also, you get three clamps in the box that will help you hang the backdrop onto a stand with a sturdy grip. Moreover, the backdrop only weighs around 4 pounds so it's very easy to hang it and fold it back all on your own. The best thing about this backdrop is its dimensions, it is large enough to be used for a full-body shoot.
You can use this Neewer backdrop for wide applications such as for film making, shooting interviews, making educational videos, etc. You should definitely have a look at this backdrop if you are looking for a professional green screen at an affordable price.
3. LimoStudio Green Screen Backdrop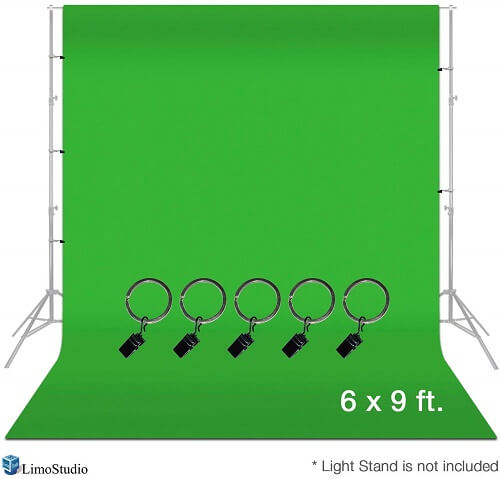 If you are totally out of budget but still need a green screen for your studio work, then there's no better option than this backdrop from LimoStudio. It is probably one of the best green screen backdrops for video and photography at such a low price.
This backdrop is 6 ft wide and 9 ft long which makes it ideal for working even in a congested space. On top of that, it's extremely lightweight so it is very easy to install and place it wherever you want. Build with muslin fiber it is wrinkle-resistant, however, if it still gets wrinkled somehow, you can easily fix it by hot iron steaming.
You also get 5 metal rings with clamps to firmly hold this backdrop in the background. It is a great choice for new YouTube creators and gamers who are looking to start streaming gameplays on their Twitch and Discord servers.
4. Neewer Lighting Kit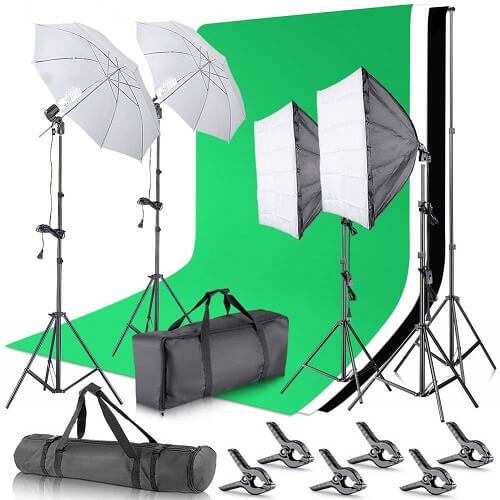 If you are looking to start your own studio then you would need a full lighting setup to get things started. You can either assemble the light setup or you can buy a complete lighting kit at once.
However, buying a kit is a better decision because you get all the lighting equipment in a single package and you'll save some money as well. The Neewer Lighting Kit is one such kit that you can buy at an affordable price from Amazon.
With this kit, you get 3 muslin fabricated backdrops in green, white, and black colors. To hold the backdrops you get a background stand support system. For hanging the backdrop on the support system you get 6 backdrop holding clamps.
For lighting, you get 4 LED bulbs (45 Watts), 2 bulb holders, 2 umbrellas, and 2 60x60cm Softbox.
To hold the umbrella and softbox you get 4 light stands (70 cm each). Not just that but there are two carry bags as well for carrying the lighting kit and the background stands support system. Now all you need is a camera along with this kit to start your own indoor photography studio.
5. Prism Backdrop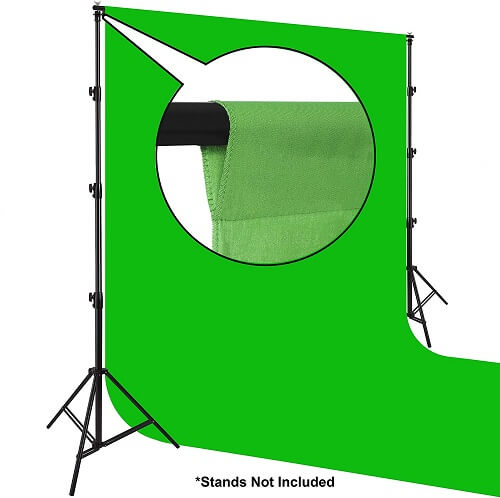 The prism backdrop is the largest green screen on this list. If you want a large video background then you should go with this product. It covers the area of 10 (wide) X 20 (length) Feet. Not just that it is large but heavy as well at 150GSM (Grams per Square Meter). It is heavier than most of the green screens out there.
A 3.4-inch rod pocket is given at the top of the backdrop which is sufficient enough for most of the stand rods. Moreover, it is flocked on one side that makes it absorb more light which is great for capturing stunning images and videos.
However, the best thing about this backdrop is that it comes with a lifetime guarantee. So, if you don't like it for some reason, then you can get a full refund or replacement at any time.
6. Emart Green Screen Background Kit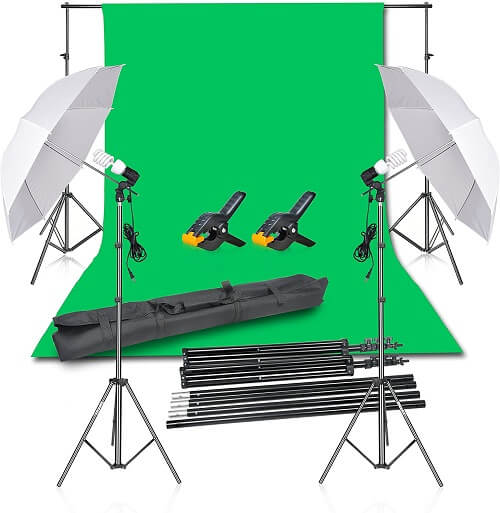 For people who are looking for a complete green screen kit for photo and video shoots then this Emart backdrop kit is for you. In this, you will get all the necessary equipment required for a shoot.
It comes with a 6×9 ft green screen background which is machine washable. And to perfectly hold the backdrop, you get a heavy-duty aluminum alloy backdrop support system.
The umbrella reflector provides white daylight that helps in eliminating the flashlights and spots to perfectly capture the photo or a video.
Apart from the easy setup of this kit, you can wrap it up quickly and store it in the bag you get along with it.
Overall, this umbrella studio lighting kit is perfect for those who want to capture photos as well as shoot videos and can later apply some cool backgrounds.
7. Fotodiox Collapsible Green Screen Background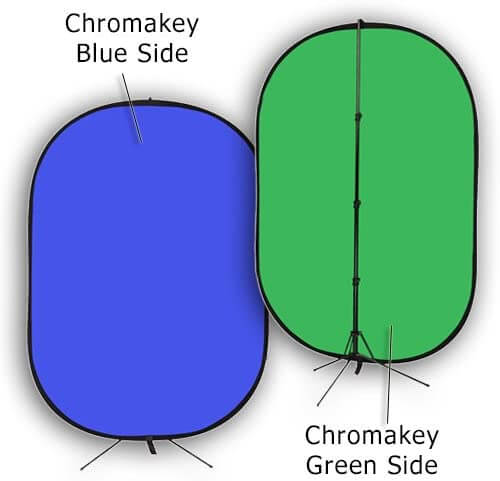 Fotodiox green screen backdrop is the most portable one on the list. The actual size of the panel is 5×7 ft and when folded it is 30×30 inches to carry it easily in the carry bag you get along with it.
It comes in a Green and Blue background for light and dark scenes respectively. The stand support comes with it makes the background firm and stable to capture the shoot perfectly.
Overall a good backdrop for people who keeps on switching the location for the shoot. Also, you don't need to worry as the products come with a 2-year warranty.
Have A Look: Best TV LED Backlights
Final Thoughts On Best Green Screen Backdrop
So these were some of the best green screen backdrops that you can buy online. Depending upon your area of work and usage you can select the background from this list. If you want a green screen for outdoor usage then go with the Elgato green screen. Similarly, if you want to shoot full-body videos then Neewer green screen is the better option. We hope you liked this list and will share it with your fellow YouTubers and Gamers.