The Beyblade Burst cartoon series took the kids' world by storm after which the production of Beyblade Burst tops came into being, thanks to toy companies. With children around the world getting obsessed with these spinning tops and the game getting its own Beyblade Burst World Championship, people around the world are now looking for the best Beyblades available to try different combinations, strategies, and win at the game. Here is a comprehensive list of the best Beyblades available online.
Quick Look
[amazon box="B01MZGX3KO,B01K19VN82,B072MZ4FNV,B07JCM53Y5,B07Z75KTM5,B08LGHW7HJ,B01F6VS3KQ,B08LG2WX61″ template="table"]
Best Beyblades Of 2021
1. Beyblade Burst Avatar Attack Battle Set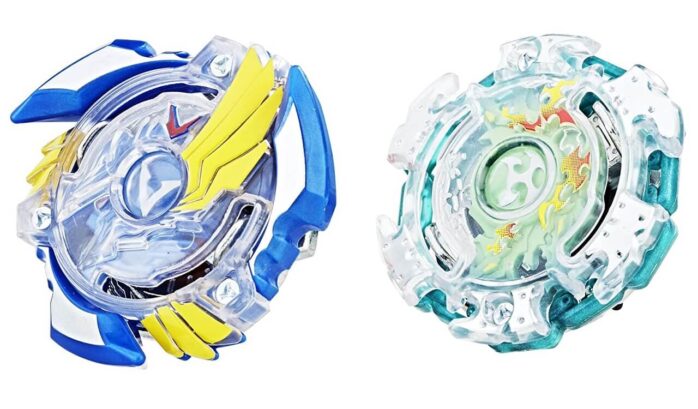 This cool Beyblade Burst product on Amazon marked fit for ages 8 years and above, includes two energy layers, two forge discs, two performance tips, one avatar attack Beystadium, two launchers, two avatar attacks Beystadium accessories, and instructions. This Beyblade Burst Set comes with two versatile Beyblade burst tops and stats for each top are as follows:
Beyblade Burst Valtryek V2 D01 TA06 top battle stats (scale of 1 to 10) (Performance may vary):
Attack – 6, Burst – 4, Defense – 1, Weight – 2, Agility – 8, and Stamina – 0.
Beyblade Burst Kerbeus K2 D04 TD04 top battle stats (scale of 1 to 10) (Performance may vary):
Attack – 0, Burst – 2, Defense – 8, Weight – 6, Agility – 3, Stamina — 1.
Lightweight
Spacious stadium (dimensions 5 x 18.5 x 14.5 inches)
2 feet stand, making it very stable
Tops' components can be mixed and matched with each other and most Beyblade Burst tops
Beyblade launch pockets are small
The set's claw is shorter than the sword
Tops' components cannot be matched with Beyblade Burst Rip Fire tops
Overall, a good battle set suitable for having unconventional battles.
2. Takara Tomy B-59 Beyblade Burst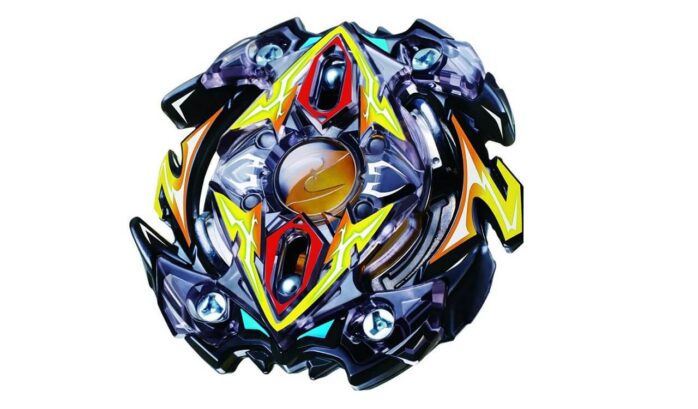 Highly popular amongst children and with an Amazon rating of 4.6 stars, this stamina-type starter set comes with one complete Beyblade top and a grip launcher but does not contain the NFC chip. This product weighs 4.8 ounces with dimensions as 2 x 1 x 2 inches, suitable for ages 13-15 years. The stamina top has a Z2 (Zillion Zeus) energy layer, an infinity forge disc, and a weight power driver (performance tip). The top of the Beyblade can be designed with the stickers available in the set.
Metal balls in the energy layer and weight driver helps with the stamina
4 upward and 2 downward spikes protruding for added spin time and stability
Can spin up to two minutes straight
Does not have a good defense
Prone to bursting
Overall, the product is the epitome of innovation in Beyblades and also has been given the title of the longest spinning Beyblade in the Burst lineup.
3. Beyblade Burst Evolution SwitchStrike Starter Pack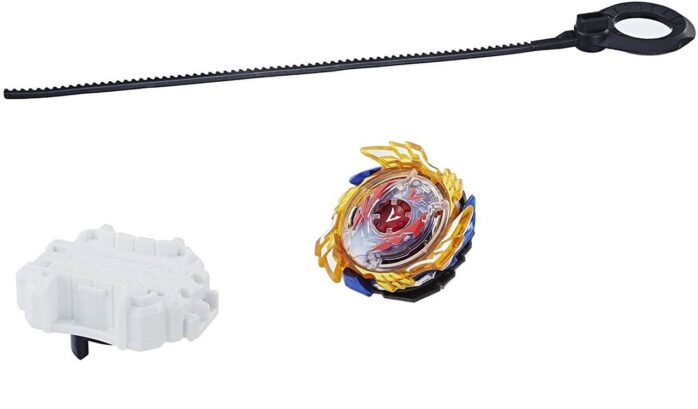 Rated 4.7 stars on Amazon, this pack includes one attack type Beyblade Burst right spin top, right or left spin launcher, and instructions. Aimed at striking the opponent down, this cool-looking top has a Genesis Valtryek V3 energy layer, a Two-Part forge disc and a DR26 (aka 6V) performance tip. The product is suitable for anyone aged 8 years and above and comes in appealing and attractive colors. What makes this Beyblade Burst top exceptional is its TA11 SwitchStrike features. The stats for the top are:
Attack – 9, Burst – 6, Defense – 0, Weight – 4, Agility – 7, Stamina — 0.
Good attack power
High-speed spin
Not easily breakable
Requires Beyblade Burst Beystadium (sold separately)
Prone to bursting
A little bit pricey
Overall, the top is excellent when used to attack in the stadium and very popular amongst kids for its durable properties.
4. Takara Tomy B-127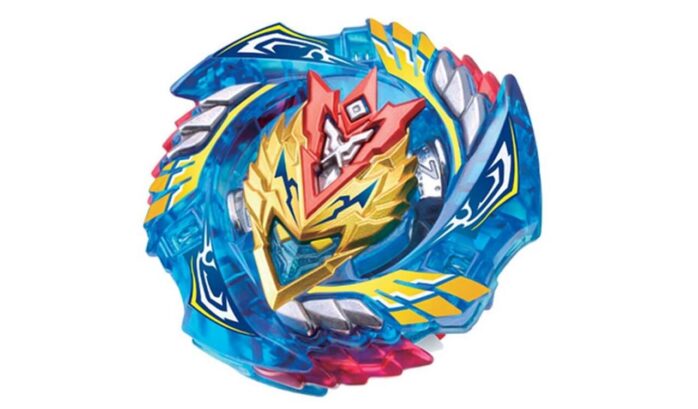 The third generation top of the popular Beyblade franchise with its amazing attack patterns is sturdy and has a very good competitive value. This Beyblade Burst is suitable for ages 13-15 years and comes with a small "Proto Launcher" and does not come with an NFC chip.
The attack type Beyblade top comes in attractive colors and the make has a lot of details. It has a Cho-Z Valkyrie energy layer, a Zenith forge disc, and the Evolution driver with hidden rubber blades in the energy layer.
The opponent has to deal with the blades before they can even touch the Beyblade's body which makes the top indestructible.
Very hard to burst if launched fast enough as it has a burst resistance plastic piece
Rubber blades or 'wings' for additional strength and attack
A thick, wide and well-made energy layer
Small size of the Proto Launcher poses some grip issues
The top is prone to damage
It is a little tough to get the rubber out
Overall, this Beyblade can be considered almost invincible due to its attack power, strength and anti-burst properties in the battle.
5. Beyblade Burst B-148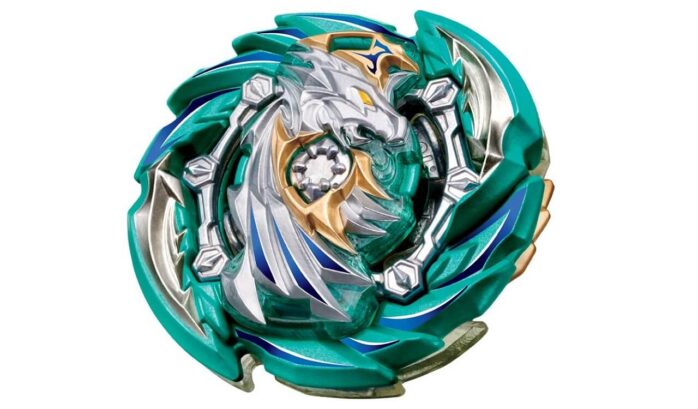 This appealing Booster set comes with a right spinning Beyblade Burst that has an excellent defense, and the reverse click gimmick is really fun to play around with. It does not come with a grip launcher and is suitable for ages 3 and above.
This stamina type Beyblade is compatible with Beyblade Burst products only and can keep spinning for a long time. It has a slightly shorter performance tip with a spinning metal plate.
The wings in the energy layer of the Beyblade open during rotation and keep it spinning for a long time
Does not burst easily
Special golden wings on the bottom of the energy layer give a lock-reversal special move
Prone to losing easily if attacked
Might get a little unstable at times
This cool-colored Beyblade is highly recommended amongst all other Beyblade Burst stamina types and the lock reversal gimmick makes the product worthwhile.
Have A Look: Top Board Games For Your Kids
6. Takara Tomy B-157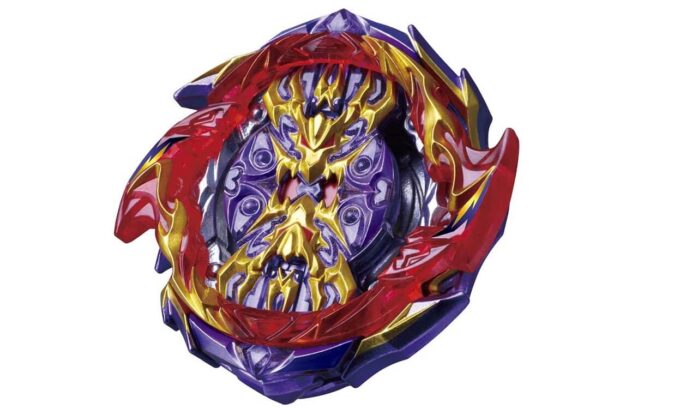 This Beyblade Burst having a super strong defense is rated 4.6 stars on Amazon and the pack contains one Big Bang armor and the Big Bang energy layer, a forge disk, a yard metal driver, cool stickers for decoration & design, and an instruction manual.
The product by Takara Tomy does not include a launcher and is suitable for ages 6 and above.  What makes this right spinning defense type Beyblade Burst outstanding is that it comes with an infinite lock system and Big Bang Armor for the attack.
Increased attack power with the armor counter blade
The armor can be used with other infinite locking systems
Tough to burst
The main armor interferes with the launcher sometimes which may make it difficult to launch
Launcher not included
7. Beyblade
Battle Burst Evolution

B-129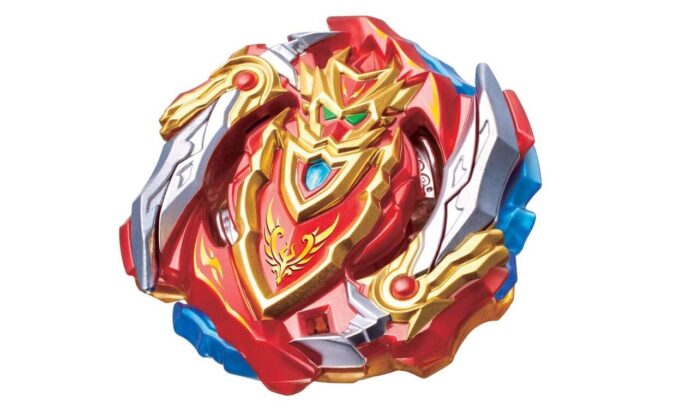 Suitable for 13-15 years of age and above, this attack type right spinning Beyblade Burst has above average teeth, which save it from bursting. The product has the advantage of turbo blades, which, when activated make it an invincible player in the battle.
It comes with a left/right launcher and does not have an NFC chip and includes an attractive Cho-Z Achilles layer, a very heavy 00 forge disc, and a Dimension driver which can switch between three different heights and a whopping 6 different modes of attack and spin. The metal protrusions cause intense damage than the plastic ones as compared to other blades.
Does not burst easily due to burst stoppers
Metal blades for added damage
Forge disc has protrusions to cause added damage on contact
Very stable
Requires a very hard launch for burst stoppers to activate
Layer is too wide for the disc to make contact and attack
Overall, this Beyblade is a very strong contender on the battlefield and is perfect for anyone who wishes to have an all-rounder top.
8. Beyblade Burst Epic Rivals Battle Set Game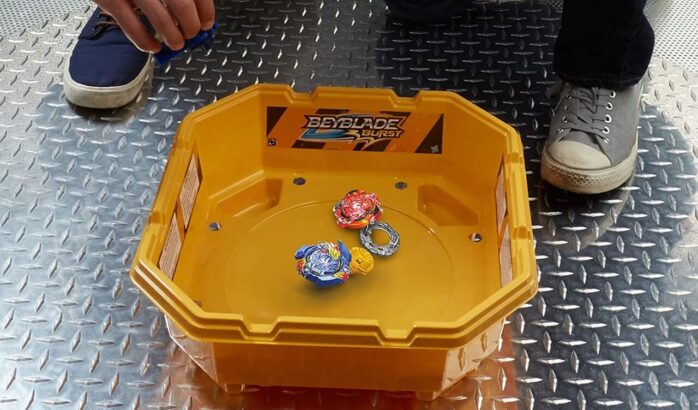 This product includes 1 Beyblade Burst Beystadium having four pockets, 2 right-spin Beyblade Burst battling tops and 2 right-spin launchers. The two iconic burstable tops included are Victory Valtryek V2 D01 TA06 attack type top (having a Valtryek V2 energy layer,  D01 aka Boost forge disc, and an A06 aka Variable performance tip) and Spryzen S2 D02 TB03 balance type top  (having a Spryzen S2 energy layer,  D02 aka Knuckle forge disc, and a TB03 aka Unite performance tip).
Spacious stadium for starters (dimensions 4.02 x 14.49 x 14.49 inches)
Heavy tops provide an exciting combat
Stadium has pits and holes around the edges for an added challenge
Stadium has deep walls to keep tops from flying out of it
Launchers are a little flimsy
The corner traps can end some battles easily upon contact
Overall, this medium to small battle set suitable for ages 8 years and above is the perfect gift for fans of the Beyblade Burst anime series and kids who are new to the cool world of Beyblade Burst battling.
9.
Bey Battle Burst GT B-155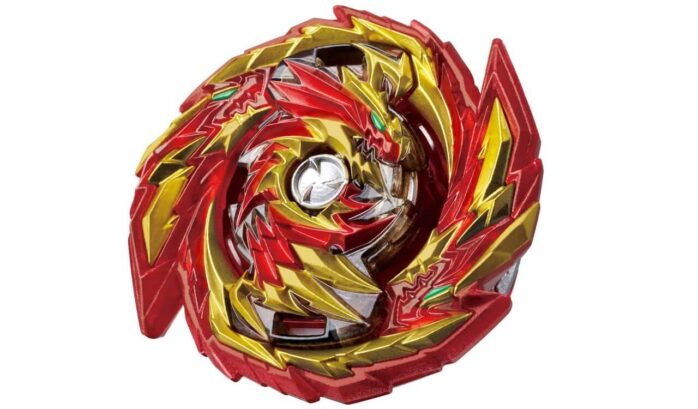 This Beyblade Burst top can spin left/right by turning the base over. The product comes with a powerful Long Bay Launcher LR and is suitable for ages 6 years and above.
This cool attack type Beyblade has a golden plastic covering on its energy layer which moves back and exposes the rubber over time, increasing its attack power.
The pack includes the top with a Gachi chip and this Master Diabolos can easily dominate the arena with a Generate driver that fuses the driver with the forge disc.
Special driver that deforms immediately after a shot and increases defense after the stadium is hit
The double spinning feature gives it a very strong attack and a good defense mode
Highly aggressive and very fast
Does not burst easily
Beyblades might get stuck on the launcher sometimes
This Beyblade is definitely a cool update from the first Diabolo Beyblade as it has a much stronger defense, attack, and stamina which makes it a must-have.
Have A Look: Top 6 Thanos Infinity Gauntlet
It is never too late to venture into the addictive and cool world of Beyblade Bursts. These third-generation Beyblades are manufactured with great attention to detail in the attack and defense arenas.
Excelling at all the Beyblade strategies feels like a great feat in itself and there is always so much to discover and unearth with all the different top combinations available. All one needs to do is buy a stadium, the right tops, launchers and one is all set to be entertained for a long time with the joy of battling and experimenting with different designs and styles.
All the Beyblade products mentioned above are worth the money if one is really into these toys. Children around the globe are obsessed with these spinning tops so much so that these have developed a niche for themselves online and the kids just can't seem to get enough of these attractive battle games. So, 'Let it rip!' with these best Beyblade Burst sets.
And before you move for the purchase, we recommend you to go through the Beyblade Buying Guide.
Beyblade Burst Buying Guide
The Beyblade Burst animation series has managed to build a strong fan base in the children's world with kids of all ages obsessed with these rotating tops that come with parts that can be modified, mixed, and matched with other similar tops. Usually, parents of these kids or people who joined the Beyblade bandwagon are not familiar with Beyblades, their mechanisms, and how they should go about when buying one. Here is a comprehensive guide for those people who are looking to buy some of those spinning little things that the young ones are currently so obsessed with.
The Building Blocks Of A Beyblade
Beyblades consist of three parts – an energy layer, a forge disc, and a performance tip (driver).
Energy layer – is the part of the Beyblades that comes in contact with the opponent's Beyblade during a battle. Its design decides a Beyblade's attack/defense strategy. They may have additional features like dual-layer and retractable blades or edges for more attack and stamina. Energy layers have a two-piece polycarbonate disk and have 'teeth' that hold the Beyblade top together.
Forge disc – is the part of the top that gives it weight and downward pressure. Its weight decides a Beyblade's performance style. The manner in which the disc's weight is distributed across the Beyblade decides what style the top is. They are usually made out of metal and some Beyblades even have a two-layered forge disc.
Performance tip – is the part that comes in contact with the stadium floor and helps the Beyblades spin. Its width decides a Beyblade's speed and stamina. Upgraded modern Beyblades come with new features that let one adjust the height of the performance tip or the driver which significantly affects the Beyblade's performance and can be used to create different strategies.
Recently, a new part has been launched in the market called an 'Armor' which gives Beyblades additional weight and blades for more protection and attack.
These components can be swapped with each other to create some unique combination tops and it is in this mixing and matching that all the creativity and fun lies.
A major manufacturer of Beyblades, Hasbro, declared that there are more than 5,000 combinations that can be achieved with the number of Beyblades that exist today. Each combination can change the outcome of a battle differently.
The bursting of a Beyblade helps one score maximum points during a Beyblade match which is why bursting is an important goal to ensure solid victory. When a Beyblade bursts, its individual components fly apart and the top basically dismantles then and there.
Beyblade Burst is a series of Beyblades that explode towards the end of a match, helping the opponent score the most points in the battle.
Types of Beyblades
Beyblades can be left-spin, right-spin, or both, left/right-spin. There are four types of Beyblades manufactured worldwide – attack type, stamina type, defense type and balance type Beyblades.
Attack/Striker Type
The attack type Beyblades have a flat performance tip to increase the surface area of contact with the Beystadium (the area where battles between different Beyblades take place).
These types of Beyblades are fast and aggressive when in action and have blades around the edges of the energy layer to lock onto other Beyblades and destroy them by slowing them down.
Although the high speed and aggression help obliterate the opponent Beyblades, these types of Beyblades slow down easily too due to unpredictable movements caused by a forge disc whose weight is not evenly spread.  These attack type Beyblades are what one should buy if one is into bursting the rivals' Beyblades.
Stamina/Endurance Type
The stamina type Beyblades have a narrow performance tip so that there exists minimum friction between the tip of the Beyblade and the Beystadium. The point of this top is to keep rotating in the battle-zone so that points can be scored which is possible due to a forge disc where the weight of the disc is evenly spread, unlike attack type Beyblades.
This stamina type Beyblade can be bought if one wishes to outperform a rival's Beyblade by maximizing the spin time which gives them an advantage over all other Beyblades, including combination ones.
Defense/Defender Type
The defense type Beyblades are the heaviest in nature as compared to other Beyblades. These weighty tops work towards the reduction of the collision of the choc with the rival Beyblades during a battle.
What makes these Beyblades different from the rest of the Beyblades is that the energy layer is super smooth with no serrated surfaces to attack rivals. However, they have good retaliation power. They have good stability and might also come with a driver that has a ball tip for good stamina and balance.
One should go for these if one wants to challenge the attack type Beyblades.
Balance/Combination Type
These Beyblades are also called combination type Beyblades since they combine elements from all the other three types of Beyblades. These tops can mix elements from each type to make them more versatile and customized for one's personal style of attack in the battle.
Beyblade Battle Equipment
For a scintillating battle experience, the two must-have equipment pieces are – a Beyblade stadium (Beystadium) and a top launcher (Beylauncher).
Beystadiums
A Beystadium is a space where a Beyblade battle takes place. Made out of plastic, these come in a variety of colors, shapes, and sizes, all with the purpose of containing the Beyblades within them and preventing the tops from flying around when attacked.
A Beystadium usually has four pockets or pits where a Beyblade can fly into and get stuck, giving the opponent a winning point. The floor of the stadium has an embossed cyclone ridge so that a Beyblade can move effortlessly.
At the very center of the stadium is a raised circular bump that allows the Beyblades to come into contact with each other during a battle. Some stadiums also have holes and curved edges in them for an additional challenge.
For beginners, a Beystadium with the classic four pits in the corners with the least challenge will be suitable.
Beylaunchers
It is indeed possible to launch a Beyblade top by hand. However, launching strength is compromised, when launched manually. Furthermore, some Beyblade tops come with additional blades on the layer that come out in action when the top spins at a very fast speed which is sometimes impossible to do by hand.
A Beylauncher is a top launcher made out of plastic with a segment where the Beyblade top is attached and a ripcord-like gripper meant to be pulled so that the top can be launched into a battle. The harder one pulls, the harder a Beyblade rips into the stadium with strength.
Launchers can be left-spin, right-spin, or both, left/right-spin. As is evident, one must buy a launcher in accordance with the type of spin one's Beyblade comes in.
What to keep in mind while buying Beyblade battle equipment
Before setting off to buy a Beyblade product, there are a few things that must be kept in mind so that one gets one's money's worth in the battle. One needs to maximize diversity so that the tops can be mixed and matched further to create unique Beyblade beasts.
Tips for buying launchers
The right launcher can up one's Beyblade game significantly. As mentioned earlier, launchers come in three different spins and some even come with stickers for their design.
A launcher aligns with one's strategy can also open the door to several new strategies when played with a little. One must always go for a sturdy launcher with a solid grip for assurance of a speedy launch to bring out the best in a Beyblade.
A flimsy launcher or a loose ripcord made out of cheap plastic can be prone to damage and not give the Beyblade an edge over the opponent.
Tips for buying stadiums
For beginners, a classic and simple Beystadium with the traditional four-pocket system would be great. Stadiums that have holes around the edges on the floor are for people who like an extra dose of a challenge since the Beyblades can get stuck in them. It is also said that the sturdier the Beystadium, the better.
Also if the Beystadium is covered from the top, it would prevent a Beyblade's parts from flying around after it has been burst so that is a plus point on safety.
Tips for buying Beyblade tops
It is always advised to buy a few Beyblades at once for battling because if one buys only two, the outcome of the game is most likely going to be the same every time which will eventually bore everyone.
There are three generations of Beyblades to choose from, with the third generation being the most upgraded and strong. Some of them are Spryzen S3 and Takara Tomy B-127. Even the GT B-155 Master Diabolos is an absolute beast when it comes to battling.
Since the Beyblade anime series came out on Netflix, people all around the globe have been checking these cool tops out. The admirers of these toys have developed a niche for themselves and trying out new combinations of these Beyblades is taken very seriously by ardent fans of these tops.
The day a Beyblade is launched with a new feature, people get very excited to try it out and see the feature in action. In such a scenario where entire channels dedicated to Beyblades and their battles have managed to secure millions of subscribers on streaming platforms, one must be very careful with the Beyblades one buys for oneself.
A wrong spin launcher for a top can result in a complete waste of money. The vast varieties of tops with more diverse individual parts can easily confound a beginner in the Beyblade world. Scores of Beyblades come out with a new feature almost every year and this can make it a tad bit tough for some people to keep up with the upgrades. For those who are newly venturing into this attractive, colorful world of Beyblades, one would suggest that they buy a couple of tops and launchers along with a stadium to battle in and they would be good to go!
Sources: