Sketchbooks serve as a platform for creative expression for artists of all sorts. Whether you are an amateur or a professional, a personal sketchbook that records all your thoughts, doodles, rudimentary as well as final art pieces and scribbles, is essential to you.
But how do you decide which sketchbook to buy amidst hordes of the same in the market without creating a hole in your pocket? Well, you have come to the right place because here, after extensive research, we have listed out the 10 best sketchbooks that are cheap yet awesome.
Best Cheap Sketchbooks Reviews
1. Strathmore 455-3 400 Series Sketch Pad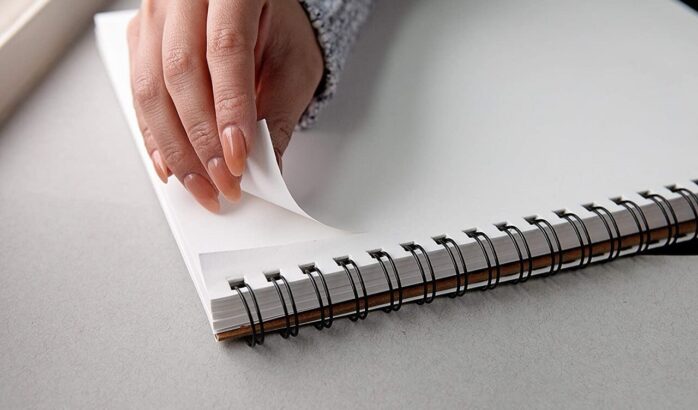 View on Amazon
This sketchpad by Strathmore is meant for artists who want to practice and refine their drawing and sketching techniques.
Features
Each pad has 100 sheets of good quality paper.
It comprises of heavyweight sketch paper.
This sketchbook has pages with a fine-tooth surface that is conducive for artists to experiment with their strokes and styles of sketching.
It is suitable for a large range of dry media including charcoal, graphite pencil, oil pastel, color pencil, soft pastel, and sketching stick.
The pad is constructed of acid-free paper which will preserve your drawings for a long time.
This pad comes with a hard-wearing double spiral binding that holds the pages firmly together.
The sheets are microperforated making it easy to have a clean separation of the pages from the pad lest you want to dispose of a page or use the paper for something else.
These micro-perforations are built in a way that prevents accidental tearing as it requires deliberate force to start the tear.
The sheets can withstand recurrent erasures without damaging or causing tears in them.
Specifications
Brand: Strathmore
Model: 455-3
Weight: 1.19 pounds
Size: 9″x12″
No. of Sheets: 100
 High-quality heavyweight sketch paper
A fine-tooth surface that adheres easily to dry media
 Endurance to multiple erasures
 Microperforated sheets
 Sturdy double spiral binding
 Acid-free paper that ensures the preservation of your works
 Entertains only dry media. Heavy inking and watercolour pens bleed through the pages a little.
2. Fashion Angels Fashion Design Sketch Portfolio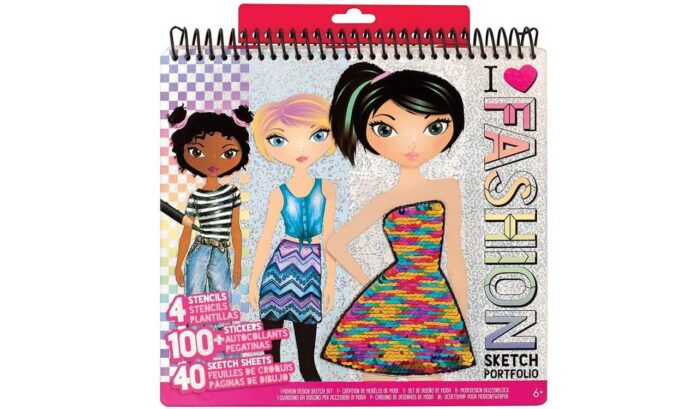 View on Amazon
Customized for those with a flair for fashion designing. Each page of this sketchpad has a basic cue – an outline of a model – to trigger your creativity into unleashing designs and combinations of clothes and accessories that are in vogue.
Features
This portfolio consists of 40 sheets of sketch paper with each sheet having a pre-printed outline of a model that can be used as a base for the artist to build a new design of costumes and accessories.
The pad has a durable spiral bind, sturdy front and back covers made of heavy-duty hardboard and is easy to carry around.
In addition to the model outlines, this design sketchpad comes with 4 removable stencil pages that bear over a hundred fashion and accessory shapes that will help you in designing chic outfits. These stencils can snap in and out of the spiral binding of the pad.
The creative process of designing can be made much more engaging using the 100+ stickers with which the designs can be embellished.
This portfolio has four instructional pages complete with a page on color theory that makes it educational as well for children, especially beginners by imparting drawing techniques and tips to them.
Even if you run out of sketching pages, you get to continue using the stencils which are real assets for an aspiring fashion designer.
This pad is best suited for young children and teenagers who are interested in fashion designing. But it can be used by adults as well.
Specifications
Brand: Fashion Angels
Model: 11451
Weight: 0.75 pound
Dimensions: 10.5 x 0.75 x 9.88 inches
No. of Sheets: 40
 40 sheets of good quality sketch paper with pre-printed outlines of models
 Durable spiral bind and heavy-duty hardboard front and back covers
 4 detachable stencils with 100+ accessory and outfit shapes
 Very engaging
Good for kids
 Educational benefits from instructional pages providing tips on drawing techniques
 100+ stickers to experiment with different styles
 The clothes in the stencils are form-fitted and hence they need to be impeccably aligned to the template.
3. Strathmore Tan Drawing 400 Series Toned Cheap Sketchbook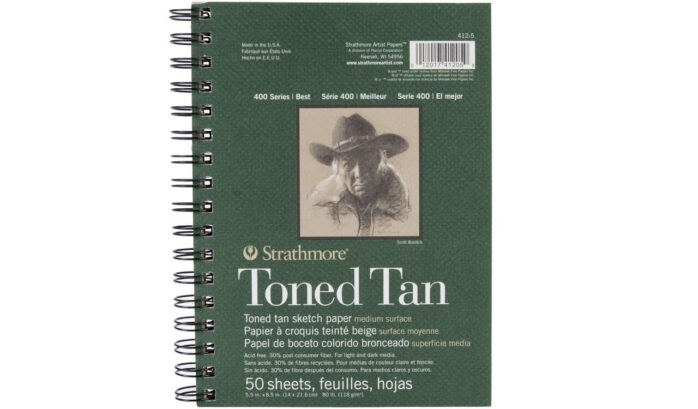 View on Amazon
This budget-friendly sketchbook is perfect for artists who want to explore a wide range of values from light shades to dark ones owing to its toned sketch papers.
Features
It has 50 high-grade sheets that are toned and colored tan.
The sketch paper is 80 lb.
The tan background being mid-toned allows the artist to juggle between lighter highlights and darker shadows, thereby increasing the range of shades that can be experimented with.
The sheets of this pad are 100% recycled and have 30% post-consumer fiber.
The back cover of this sketchpad is made of sturdy chipboard which, apart from the double binding, adds to the durability of the pad.
Each of the sheets is microperforated, facilitating the easy yet neat removal of the sheets from the pad as required.
This sketchpad is conducive to both light and dark dry media like graphite, charcoal, white gel pens, sketching sticks, markers, colored pencils, and pens.
Specifications
Brand: Strathmore
Model: 412-5
Weight: 0.55 pounds
Size: 5.5″x8.5″
No. of Sheets: 50
50 high quality toned sheets that are colored tan
 Perfect for exploring a wider range of shades from light to dark
Heavyweight sheets of 80 lb which are 100% recycled
 Micro perforations in each sheet to enable easy detachment of sheet from the pad
 Durable double binding and a sturdy backing of heavy chipboard
 Heavy markers bleed through the sheets
 Wet media cannot be used on this sketchbook
4. Pacon 4794 UCreate Sketch Diary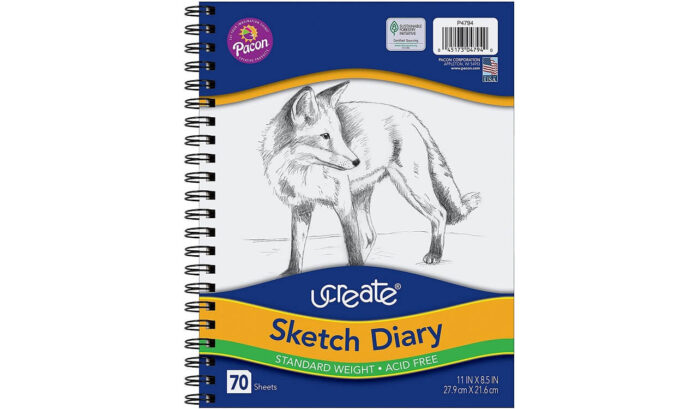 View on Amazon
Ideal for quick study sketches and drawings, Pacon 4794 UCreate Sketch Diary has been manufactured to cater to the needs of beginner and intermediate artists at a low price.
Features
This sketchbook contains standard weight sheets that are seventy in number.
The all-purpose sulphite drawing paper is white with 94 gsm.
The pad is held together by a durable spiral binding placed on the side that gives flexibility in turning the pages yet hold them together tightly.
The drawing sheets are acid-free and hence adds longevity to your drawings.
It is favorable to dry media and accommodates experimentations with various drawing media including pencil, crayons, color pencils, soft pastels, and the like.
The sketch diary is easily portable and is lightweight, weighing only eight ounces.
This pad is recyclable as well as sturdy, lasting a long while.
Specifications
Brand: Pacon
Model: PAC 4794
Weight: 8 ounces
Size: 8.5″ x 11″
No. of Sheets: 70
 70 standard weight sketch papers
 94 gsm sulphite drawing sheets
 Recyclable
 Lightweight and easily portable
 Acid-free paper increasing longevity of the artwork
 Durable Spiral Binding
 Watercolour will soil the pages and other wet media will bleed through
 No micro-perforations
5. Bienfang R237104 Sketchbook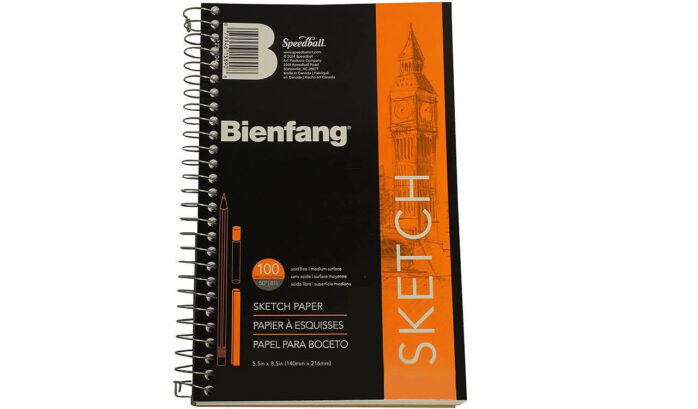 View on Amazon
One of the best cheap sketchbooks from Bienfang. Useful for sketching in the classroom as well as at home, this sketchbook is apt for anybody ranging from children to adults.
Features
This sketchpad consists of 100 sheets of white-colored drawing papers.
The sheets are of 50 lb.
This sketchbook assists in quick sketching or experimenting with new drawing techniques or practicing old ones.
It can be used by a beginner, an intermediate as well as a professional artist as it is very handy and easy to carry.
The pad is wire bound on the 8.5-inch side. The spiral works impressively holding the papers intact and without ripping the holes.
The pages are slightly toothy and textured, capturing the media well enough in them.
It is competent to handle multiple erasures without causing any damage to the pages.
The art media that can be used on this pad include, but are not limited to, graphite, color pencil, soft pastel, charcoal, and crayons.
The drawing sheets are acid-free, adding the quality of experiencing the benefits of this pad.
Specifications
Brand: Bienfang
Model: R237104
Weight: 9.6 ounces
Size: 5.5 x 8.5 inches
No. of Sheets: 100
 100 sheets of lightweight white drawing papers
 Can be used by anybody without any age bar or degree of proficiency in art.
 Lightweight and easy to carry
 Acid-free sheets
 Endures multiple erasures
 Sturdy wire binding
 Slightly textured paper to grasp the media used
 The front cover seems to be a little flimsy as it is made of thick card stock, not hardboard
 Not suitable for wet media
6. Strathmore 350-6 300 Series Sketch Pad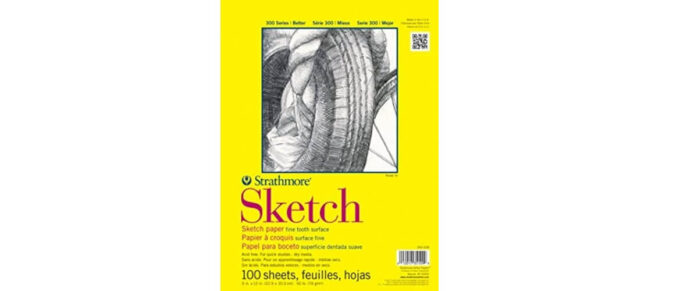 View on Amazon
This sketch pad is one of the best versions of Strathmore sketchbooks and is tailor-made for artists to work on their artistic skills and try out new stroke styles.
Features
It comprises of 100 lightweight drawing sheets.
Each page has a fine-tooth surface and is acid-free
It is spiral bound at the top and holds the sheets together pretty well.
This sketchpad has a back cover that is made of heavy chipboard.
The drawing sheets are microperforated, ensuring a clean tear of the pages from the pad if you want to separate your art from the book.
This pad is most compatible with dry media like graphite, color pencils, crayons, and the like.
The good quality pages and firm biding ensures limited wear and tear of the book after prolonged usage.
Specifications
Brand: Strathmore
Model: 350-6
Weight: 10.9 ounces
Size: 5.5×8.5 inches
No. of Sheets: 100
 100 lightweight sheets
 Acid-free drawing paper
 Durable spiral binding
 Fine-tooth surface
 Heavy chipboard back cover
 Microperforated sheets
 Acrylic paint, sharpies and other wet media seep through the pages
7. Melissa & Doug Sketch Pad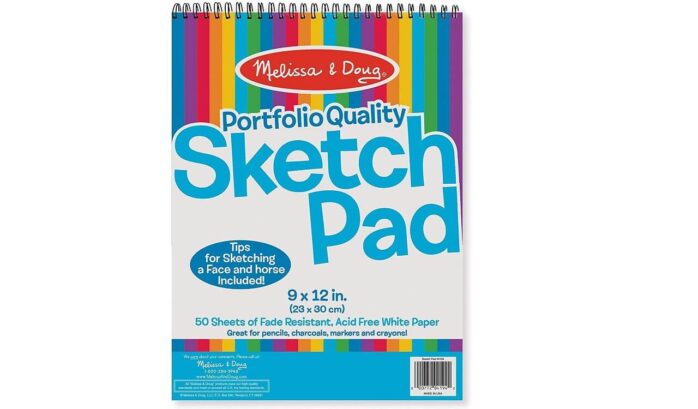 View on Amazon
Tailor-made for artistic children, this sketchbook assists kids and young children in inculcating an affinity towards drawing and sketching.
Features
It is the proud owner of fifty high-quality drawing sheets.
Each drawing paper in the pad is fade-resistant and is of portfolio quality.
This sketchpad is spiral bound and is durable, outliving its every-day use by the children.
Being acid-free, the drawing sheets ensures that the works of art are preserved for a long time.
This sketchpad has heavyweight papers on which a large variety of media can be used from graphite to color pencils. The pages are so thick that even markers don't bleed through.
The sheets are slightly textured and bode well with recurrent erasures.
This sketchpad comes with drawing instructions that teach young kids to draw a face as well as a horse. Budding artists will find this helpful and this pad is kid-friendly as well as budget-friendly.
It has a stiff back cover which adds to its sturdiness.
Specifications
Brand: Melissa & Doug
Model: 4194
Weight: 12.8 ounces
Size: 9 x 12 inches
No. of Sheets: 50
High-quality heavyweight drawing paper customised for kids
 Fade-resistant sheets
 Durable spiral binding
 Acid-free pages
 Endures recurrent erasures
 Sturdy back cover
 Thick pages that can support even markers
 Wet media cannot be used on the pad
 No micro-perforations
8. Strathmore 25-508 STR-025-508 Sketchbook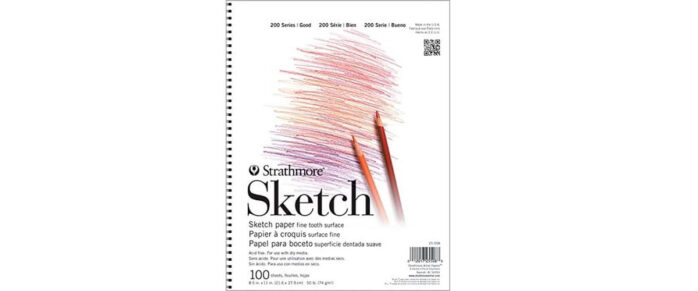 View on Amazon
This cheap price sketchbook is perfect to be used in studios and while on location because it is easy to carry.
Features
Enriched by 100 off-white drawing sheets, this sketch pad is best suited to medium range artists who wish to perfect their techniques by practicing.
The pages are thick and bleeding is minimum in them. They can even accommodate markers without embossing the strokes on the back.
This high-quality sketch pad supports dry media like graphite, charcoal, color pencils, oil pastels, and sketching stick.
The drawing sheets are lightweight, measuring 50 lb.
Being acid-free, this sketchbook ensures that your drawings have a long life.
The pad is sturdily built and is wire bound, adding its robustness.
The drawing sheets are strong enough that they don't smear or rip easily.
The 8.5 x 11 inches size sketchbook is available at an affordable price.
Specifications
Brand: Strathmore
Model: 25-508
Weight: 16 ounces
Size: 8.5″x11″
No. of Sheets: 100
 Thick off-white drawing sheets of high-quality
 Acid-free
 Sturdy and durable
 Spiral-bound
Smooth pages of 50 lb
 Minimum bleeding of dry media
 Is not suited for wet media like acrylic paint and watercolour.
9. Bienfang R237117 Sketch Pad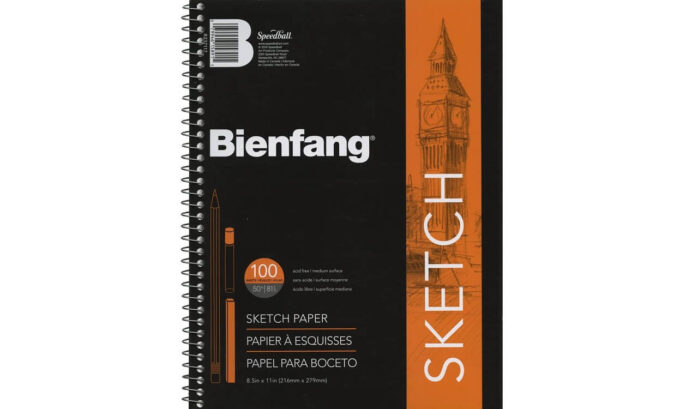 View on Amazon
Bienfang R237117, being a larger version of Bienfang R237104, shares many similarities with the latter and is ideal for mastering drawing techniques through incessant practice.
Features
This sketchbook measures 11 x 9.25 x 0.5 inches and comprises high-quality sketching papers that are 100 in number.
The drawing sheets are inherently acid-free and make sure that the creative pieces that they bear last for a long time without any disintegration or fading.
Bienfang R237117 is wire bond and hence tightly yet flexibly hold together its pages without hindering their turning.
The sheets are lightweight measuring 50 lb.
Color pencils, graphite, crayons, soft pastels, charcoal, and pens are some of the dry media that can be used on this sketchpad.
The pages are lightly textured and this is a favored surface by artists because of its ability to adhere well to the media, especially charcoal.
It endures erasures over and over again without harboring any damage.
Despite being meant for dry media, watercolors can also be used on this pad without the sheets buckling too bad.
Specifications
Brand: Bienfang
Model: R237117
Weight: 19.4 ounces
Size: 8.5 x 11 inches
No. of Sheets: 100
 100 good quality lightweight sheets
 Sturdy and wire-bound
 Slightly textured surface – conducive to charcoal media
 Acid-free
 Handy
 Endures multiple erasures
 Minimum buckling under ink and vigorous shading
 Supports light watercolours despite being meant for dry media.
 The pages are not perforated – removing a page can be messy
10. Strathmore 105-975 400 Series Sketch Artist Tiles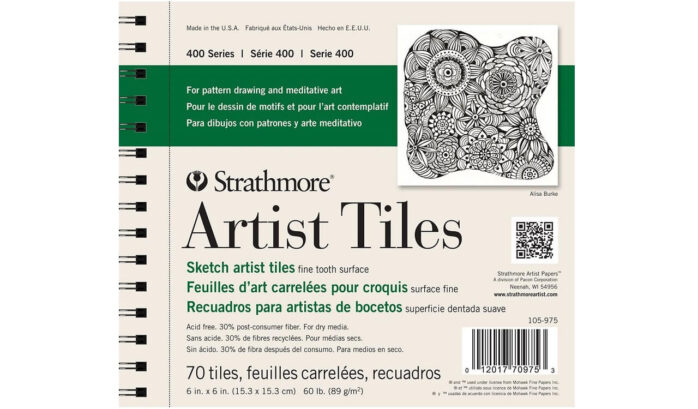 View on Amazon
Meeting the demands of many, Strathmore released 105-975 Artist Tiles to facilitate meditative art and other purposes of artists. It is a travel-sized book that makes it possible to carry it around anywhere as it fits even in a small purse. It is the cheapest sketchbook among all on the list.
Features
This sketchpad contains 70 tiles that measure 6″x6″ each.
These pre-cut square tiles are perfect for meditative art with repetitive patterns, for instant sketching as well as for workshops.
The tiles have micro serrations that allow you to tear the tiles after completing your artwork without any perforations post tearing, giving a clean cut.
This sketch pad is wire bound and this kind of binding enables you to open and close the pad completely as the spiral does not hinder the movement of the pages.
The tiles are acid-free and hence your drawing will not turn yellow with age.
Compatible with dry media.
Due to its small size, it is easy to carry it around.
It has a vellum surface facilitating fine drawing.
Specifications
Brand: Strathmore
Model: 105-975
Weight: 7.4 ounces
Size: 6″x6″
No. of Sheets: 70
 Easily portable
Quite affordable
 Vellum surface
 Micro serrations present to facilitate clean tear
 Ideal for meditative art
 Acid-free pages
Media bleeds through the pages if not careful
Have A Look: Fastest RC Car
Buying an inexpensive sketchpad that meets all your needs is difficult, but now that you know what to choose from. You will have an easier time selecting the sketchbook that best suits your creative expression.