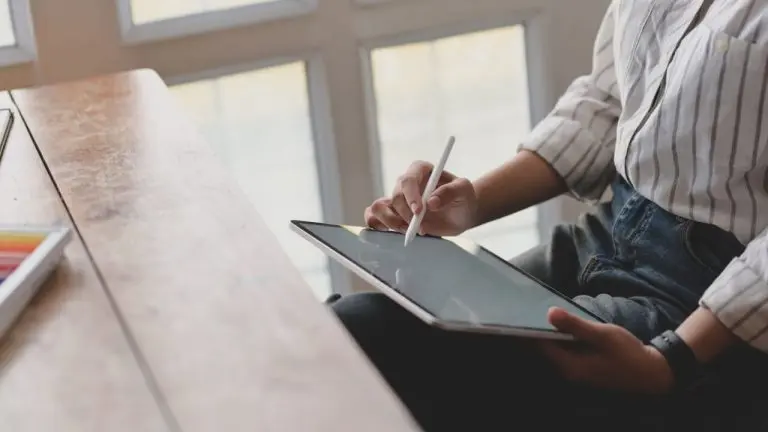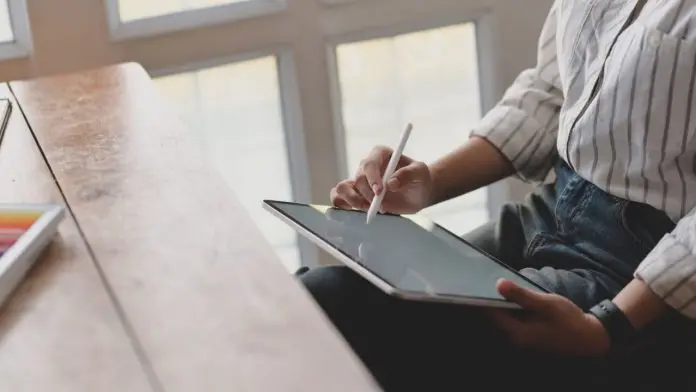 Imagination is man's greatest gift and art is a visualization of that imagination. For centuries we have been practicing the skill of art and our tools have evolved constantly throughout history.
The introduction of drawing tablets created a paradigm shift and revolutionized the skill of the art for artists around the world. Gone are those days of burning through multiple sheets of paper due to constant errors and carrying around a bag full of brushes, paints, and supplies.
With a digital drawing tablet, you can create your art pieces anytime, anywhere without worry about lapses in perfection! With all the tools and features provided by drawing tablets, your creativity is bound to achieve limitless heights!
To help choose an affordable drawing tablet, we have come up with this article and presented you with the best cheap drawing tablets for the artist within you!
So grab your tablets and bring your imaginations to reality now!
Our Recommended 7 Best Cheap Drawing Tablet Reviews
1. Boogie Board Jot 8.5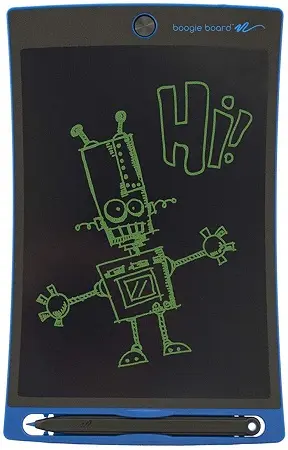 If you're looking for a drawing pad that could emulate the feeling of a natural pen and paper, we have the perfect one for you! The Boogie Board Jot 8.5 with its ultra-lightweight LCD screen perfectly replicates the sensation of a traditional pen and paper for your optimal comfort along with its smooth paper-like texture.
You can now also erase any errors with just the touch of a button and with no hassle. With a stylus included, you can take notes, write reminders, doodle, and draw as you want and with the help of its built-in magnets, you can even stick it on your refrigerator door! Say goodbye to sticky notes as this display tablet is going to be your new favorite alternative!
SPECIFICATIONS :
Weight: 3.98 ounces
Screen Size: 8.5 Inch
Dimensions : 10.8 x 6.8 x 0.6 inches
2. Sunany LCD Drawing Tablet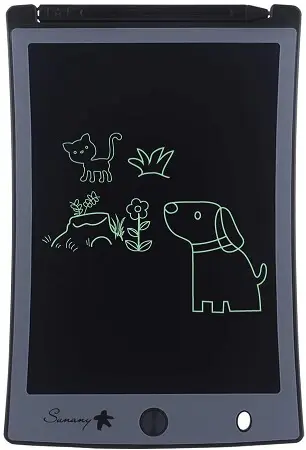 Doodle your mind away with the Sunany LCD tablet 8.5! Made with safe and friendly ABS material, the Sunany LCD tablet is perfect for multi-purposes such as note-taking, reminders, drawing, sketching, and much more. Want better accuracy for your art? You can even adjust the thickness of the lines by the amount of pressure you apply to the screen!
It also possesses a one-click lock screen button to prevent anything from being erased by fault. Not only that but with built-in magnets, you can attach the tablet to your fridge door too. The Sunany LCD tablet is free from radiation and glare emission so you can work longer without straining your eyes.
SPECIFICATIONS :
Weight: 3.95 ounces
Screen Size: 8.5 Inch
Dimensions : 8.7 x 5.9 x 0.18
3. VEIKK S640 Ultra-Thin Graphics Tablet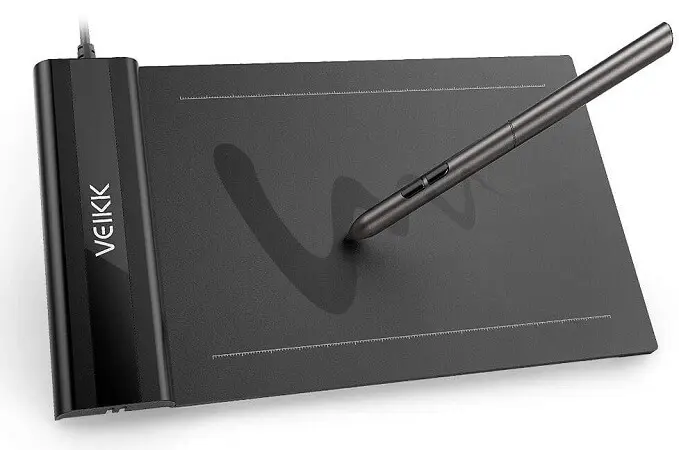 One of the finest and inexpensive tablets on our list, the Veikk S640 as the name suggests is an ultra-thin and ultra-lightweight tablet making it one of the sleekest and highly portable tablets that you can use anytime, anywhere.
Along with its pressure-sensitive screen and USB interface, the tablet also comes with an intelligent pen that requires no charge so you can enjoy an uninterrupted session of creativity.
This drawing tab is designed for OSU gameplay and can access a variety of software such as Photoshop, Autodesk sketchbook, Z brush, etc. It is also perfect for attending online lectures, seminars, conferences with its ability to support Microsoft Office, Zoom, Microsoft Teams, etc. A highly versatile and recommended gadget indeed!
SPECIFICATIONS :
Weight: 10.4 ounces
Screen Size: 6 inches
Dimensions : 2 x 6.8 x 1.1 inches
Compatibility: Windows, Mac, and USB compatible
Pressure sensitivity: 8192 levels
Resolution: 5080 LPI
Average battery life: 10 years
Flash Memory: 1 GB
4. Huion Inspiroy H640P Graphics Tablet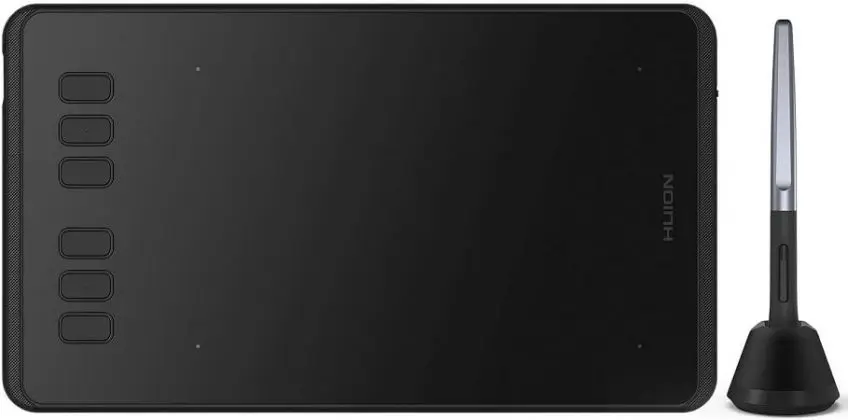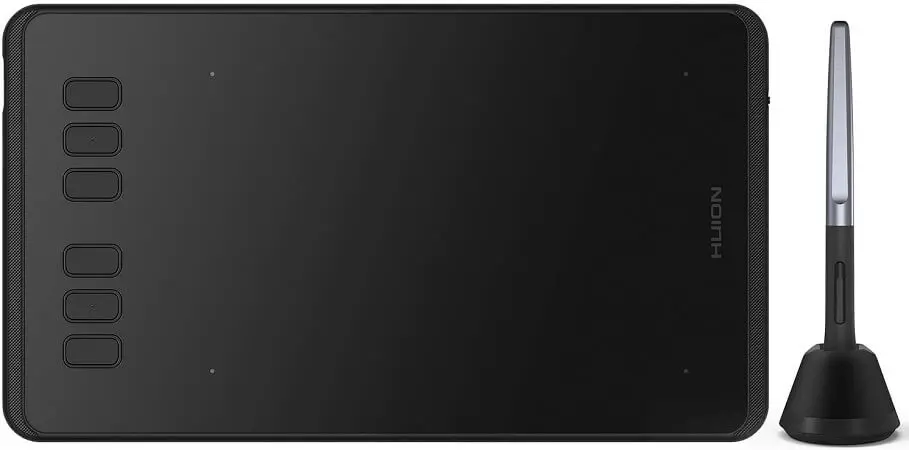 Another cheap drawing tablet to our list, we have the Huion Inspiroy H640 which has a beautiful bezel-less design giving the device a sleek look with a smooth, fine screen texture replicating the experience of the traditional method of drawing on paper. It comes with a battery-free stylus preventing any interruptions to your drawing experience.
The pen is highly pressure-sensitive and imitates the strokes you make according to the pressure applied on the screen resulting in supreme accuracy. Being a highly versatile tablet, the Huion Inspiroy is perfectly compatible with Windows, Mac OS and can even connect to Android devices using an OTG connector.
It also allows access to various art software such as Photoshop, Adobe Illustrator, Corel Painter, Z Brush, etc. catering to your creative needs. With the Huion Inspiroy you can even conduct lectures online or attend conferences, meetings, webinars, and utilize Microsoft Office software thereby satisfying all your official needs. The tablet is undoubtedly an irresistible purchase!
SPECIFICATIONS :
Weight: 9.5 ounces
Screen Size: 6.3 x 3.9 inches
Dimensions : 10.23 x 5.81x 0.3 Inches
Compatibility: Windows 7 or above, Mac OS 10.12 or above, Android 6.0 or above(Not compatible with iPhone/iPad)
Pressure sensitivity: 8192 levels
Resolution : 5080LPI
5. XP-PEN Star G640 Ultra-Thin Tablet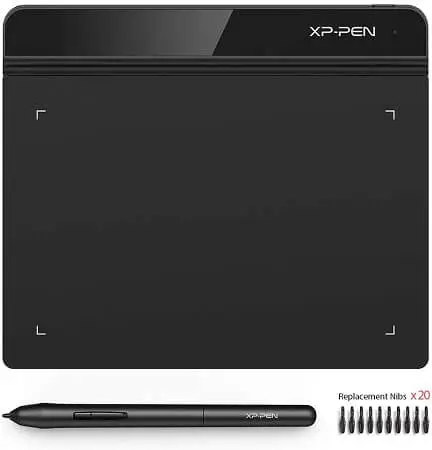 The XP Pen Star G640 creates an impact among users with its sleek ultra-thin, compact, and appealing body design. It's perfectly made for OSU Gameplay and allows the user to create flawless designs by allowing access to Photoshop, Autodesk sketchbook, SAI, Comic studio, and many more art software.
Online teaching and learning as well as Office utility purposes such as using Microsoft office, attending online conferences, meetings, and webinars are all possible with the tablet.
Moreover, the XP Pen Star also comes with a battery-free pen equipped with a one-click toggle button to switch between pen and eraser making it highly efficient for both left and right-handed users. This standalone drawing tablet is perfectly compatible with MAC and Windows providing users with an admirable variety of choices.
SPECIFICATIONS :
Weight: 12.8 ounces
Screen Size: 10 x 6.25 Inch
Dimensions : 7.5 x 6.5 0.1
Compatibility: Windows (10, 8, 7), MAC OS 10.10 and above (Not compatible with iPhone/iPad or Android)
Pen Pressure Sensitivity: 8192 levels
Resolution: 5080LPI
6. Boogie Board 8.5 Inch LCD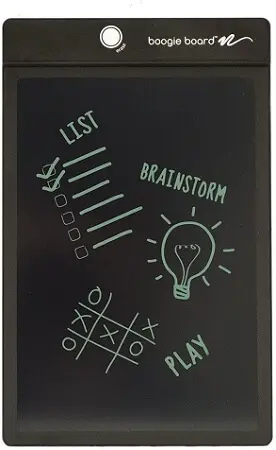 Starting off our top 5, we have the Boogie Board 8.5 inch LCD (Black) which possesses a more sleek and professional look with an ultra-thin 1/8 inch body compared to the previous Boogie Board on the list having a more casual appearance.
The Boogie Board 8.5 has a one-touch erase function for conveniently erasing any errors and refreshing the screen entirely. The pressure-sensitive screen provides accurate lines with variable thickness according to the pressure applied by the user on the screen.
Not only can you use the stylus pen provided with the board but you can now also use your finger to draw, write, doodle, and create your art! A feature that previous tablets and boards were incapable of doing and were fully dependant on the stylus for functioning.
The Boogie Board 8.5 is perfect for, note-taking, practicing handwriting for children, and much more!
SPECIFICATIONS :
Weight: 6.4 ounces
Dimensions : 10.8 x 6.8 x 0.6
7. Kimiandy 8.5 Inch LCD Drawing Tablet
One of the highest-rated and affordable tablets on our list, the Kimiandy 8.5 LCD tablet is engineered to give the most natural pen and paper experience with its smooth LCD screen, lightweight body and emits no radiation or harmful light thereby protecting your eyes so you can draw, doodle and take notes for as long as you want with zero strain!
Not only does it have a one-touch delete button for conveniently erasing and refreshing the screen, but the built-in magnet like other LCD tablets also allows the user to attach the tablet to your fridge door or other surfaces serving as an effective reminder tool. It's an efficient way to reduce the usage of sticky notes and paper wastage for sure.
The Kimiandy pen tablet makes for a great present for kids and even comes with replaceable batteries to ensure your child spends hours doodling away his creativity!
SPECIFICATIONS :
Dimensions : 5.9 x 0.2 x 8.7 inch
Screen: LCD
Weight: 6.4 ounces
8. Boogie Board Jot 4.5 E-Writer Tablet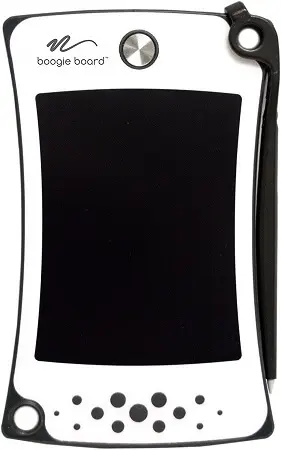 Boogie Boards are certainly one of the most popular E-Writing tablets in the market and this model is a must-have for sure! The Boogie Board Jot 4.5 possesses cutting-edge patented liquid crystal technology with a durable ultra-lightweight LCD screen built specifically to provide the most natural pen and paper-like experience a tablet could offer.
It is completely portable and travel-friendly due to its pocket-sized dimensions and ergonomically shaped body to provide maximum grip to the user. MoreoverIt also comes with a clip-on stylus and contains strategically placed portholes within its body allowing it to be clipped onto lanyards or hung on nails.
The Boogie board jot 4.5 has 50% increased brightness than previous models providing sharp contrasts for optimum visibility. You can now draw, doodle, or take notes with the finest vision and with a touch of a button, simply erase and refresh the screen with ease ready to be used again. Make your life easier with the Boogie Board Jot 4.5 LCD tablet!
SPECIFICATIONS :
Weight: 4 ounces
Dimensions : 7.7 x 5 x 0.4 Inches
9. Sunany 8.5 LCD Tablet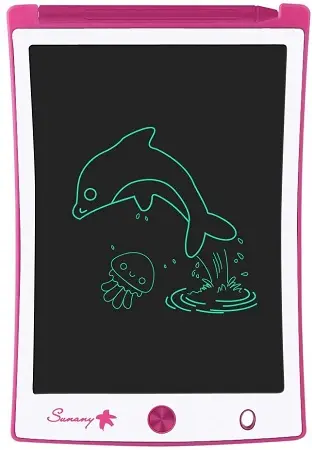 The Sunany 8.5 is the perfect Christmas present your child could receive! Made from high-quality durable plastic and an LCD screen that emits no radiation or glare, the tablet ensures your child's eyes are safe and mind jubilant!
The screen is also pressure sensitive which allows the user to adjust the thickness of every line depending on the pen pressure applied. Furthermore, not only does it have a one-touch erase button to refresh the screen but it also has a lock button that prevents any work on the screen from being erased accidentally. The Sunany 8.5, which is available at a cheap price, is certainly going to keep your kid engaged with creativity and amusement!
SPECIFICATIONS :
Weight: 5.6 ounces
Dimensions : 8.7 x 5.9 x 0.2
10. Huion HS64 Graphics Tablet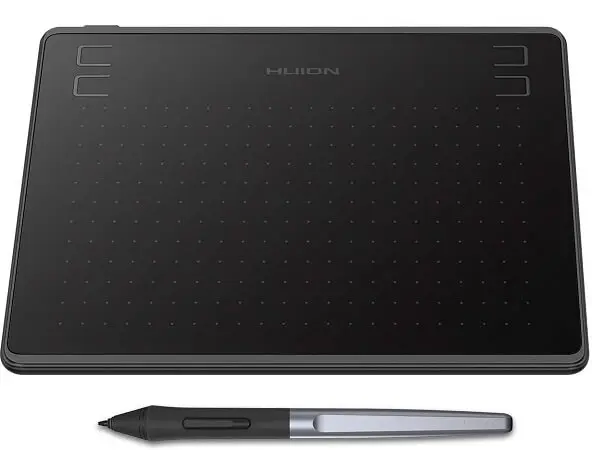 Concluding our list, without a doubt we saved the best cheap drawing tablet for last. The Huion HS64 Graphics Tablet is one of the finest multipurpose tablets that utilize its lightweight, sleek body that enables the user to conveniently carry it around with no hassle. The tablet's screen size is just about perfect for users to work effectively and comfortably with the perfect grip and zero strain to the eyes.
The tablet also comes with a battery-free stylus pen and 4 customizable press shortcut keys for optimal functioning and endless creativity. Moreover, the Huion HS64 tablet is also fully compatible with Windows, MAC OS, Android devices and can even provide access to multiple art Softwares such as Photoshop, Illustrator, Z brush, Clip studio, Corel Painter, and several more.
You can also conduct online lessons or attend webinars, conferences through the tablet making it marvelously convenient for every user. With numerous positive reviews, the Huion HS64 is bound to provide the best tablet experience and bring your imaginations to reality!
SPECIFICATIONS :
Weight: 10.6 ounces
Screen Size: 4 x 2.5 inches
Dimensions : 7.87 x 6.69 x 3.15 inches
Compatibility: Windows 7 or above, MAC OS 10.12 or above, Android 6.0 or above (Not compatible with I phone/ I pad)
Pressure Sensitivity: 8192 levels
Resolution : 5080LPI
Average battery life: 5 years
Have A Look: Top 10 Inexpensive Sketchbooks
So those were the best cheap drawing tablets that you can choose from. But before you move for the purchase, we recommend you to go through the below buying guide.
Things To Know Before Buying A Drawing Tablet
In the 21st century where technology has something in store for everyone, how can artists be left alone? The canvas is now turned into computer screens and the paper and pens into drawing tablets and stylus. Moreover, new-age artists prefer these graphic tablets for illustrating their art more than anything else because it saves paper and also is more convenient to use.
If you are looking to buy a new drawing tablet but don't know how to choose one for yourself. Then this buying guide will surely help you with that, so stay tuned and read the complete guide to be able to choose the perfect drawing tablet.
Types Of Graphic Tablets
The first thing you need to know about these tablets before anything else is that a graphic table which is also known as a drawing tablets is of two types one which comes with a built-in display and the other which doesn't have a display at all.
1. Display Tablets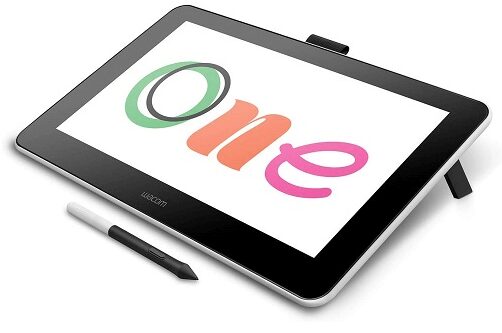 The display tablets are the tablets that have a display so that you can draw anything on it without looking back and forth on the computer screen. It is more convenient for a beginner to use these tablets as it gives them the same perspective as they are drawing on paper using a pen. However, these tablets tend to cost more than non-display tablets.
2. Non-DIsplay Tablets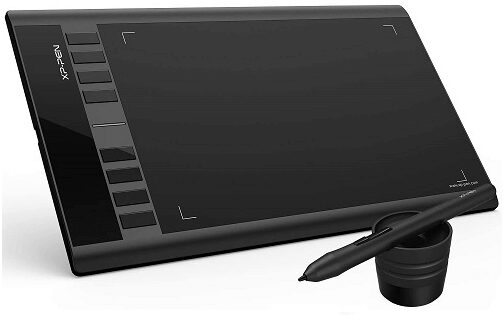 These are the more basic types of drawing tablets that are being used by illustrators for a long time. These tablets don't have a screen but a pressure sensing drawing surface that senses the strokes made by the stylus and shows them on the screen. Such tablets are connected to the computer using a USB cable but some can also be connected wirelessly.
These tablets are quite inexpensive when compared to the display tablets and get one easily under $100. Moreover, non-display tablets are quite compact and are also more durable than the former.
Pressure Sensitivity
The pressure sensitivity of a drawing tablet is its ability to sense the strokes made by the stylus i.e if you press the stylus lightly then a thinner line will be drawn on the screen and if you press it harder a thicker line will produce.
The reason why you should get a tablet with higher pressure sensitivity is that it allows you to produce lines with finer distinction thickness levels, which is vital for creating high-resolution graphics.
The pressure sensitivity level in graphic tablets ranges from 300 to 3000, while a tablet with a sensitivity of approx 1000 is good for beginners. An expert, on the other hand, should get a tablet that has pressure sensitivity over 2000.
Resolution
The resolution of a drawing tablet is measured in lines per inch (LPI) i.e how many lines a tablet can produce per inch of the screen. The higher the resolution the more details you can add to your graphics.
Responsiveness
The responsiveness of a tablet is how fast the strokes made on the surface with the stylus reflect on the screen. Before purchasing a graphic tablet, do read the customer reviews and notice if anyone is complaining about the lag. However, a lag can be due to the tablet's driver/software issue but if you read a lot of people complaining about the same then it's better you choose a different tablet for yourself.
Dimensions
Most people confuse the overall size of the tablet with its active drawing area. The size of the drawing area is different from the actual size of the tablet itself. The active area is the area where you draw on the tablet and it varies from tablet to tablet. You should get a tablet with a drawing area large enough so that you don't have to zoom in and out frequently to draw large graphics.
On the other hand, the overall size of the tablet includes the active area, control buttons, and bezels around the active area. If you want a portable graphic tablet then you should get one with a compact overall size.
Stylus
A stylus is the most important part of a display tablet, without it, you can not even think of drawing anything on the tablet. Moreover, it provides the feeling of as if you are holding a pen or brush in your hand which further enhances your drawing experience. There are basically three types of stylus you get to see with a graphic tablet.
1) Battery Powered Stylus
These are the stylus that comes with a built-in removable battery, which needs to be changed once it is dead. Since these stylus have a battery, they are thicker in dimension when compared to other stylus.
2) Rechargeable Stylus
The rechargeable stylus needs to be charged before using them. Also, these stylus are slimmer than the battery-powered stylus. Moreover, the rechargeable stylus can last up to 8 to 10 hours of continuous usage so you don't have to charge them frequently.
3) Non-Rechargeable Stylus
These are the most modern types of styluses that do not require charging. This makes you focus more on your art than on charging the stylus.
You can go with a tablet that comes with any of these styluses according to your convenience and budget. But make sure the stylus is easy to hold and offers a comfortable grip.
HotKeys
Most of the graphic tablets come with control buttons or keys on them and the stylus. These keys are mostly programable and you can customize them to use them as a hotkey for some specific tasks. Having programable buttons on the tablet or stylus can save a lot of time, so you must get a tablet that has such keys.
Battery
A battery is not a big concern when it comes to these tablets because you are mostly going to work with your drawing tablet in your home or office. But if you want to get a portable tablet that you can carry with yourself then make sure it has a decent battery life of about 4-5 hours.
FAQs Related To Drawing Tablet
1. Can we use graphic tablets without a computer?
Generally, a graphic tablet is used with a computer as an input device, but the tablets with a display of their own can be used without computers to draw art on them.
2. What are some advanced features to look for in a drawing tablet?
An expert should look for a tablet that must have advanced features like tilt sensitivity and a multi-touch display. These features make it easier to use the tablet and produce an awesome piece of art.
3. Do drawing tablets come with a warranty?
Yes, most of the tablets these days come with at least one year of manufacturer warranty.
4. How long do drawing tablets last?
The non-display tablets are more durable and last more than the tablets with the display. However, if you take good care of your tablet then it can easily last over half a decade or even more.
5. How to clean a drawing tablet?
To keep your device free of dust and debris you need to do regular cleaning of it. Use a microfiber cloth to wipe off the dust from the screen or surface of the tablet. You can also use a screen cleaning wipe or spray if normal dusting is not enough.